Posted 7th July 2016 | 5 Comments
HS2 may be diverted around Sheffield, says report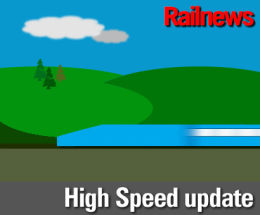 UPDATED: 09.40

NEW proposals to solve the dispute about the site of the future HS2 station in Sheffield by diverting the line east of the city and serving the centre by a spur to the Midland Main Line instead have been welcomed by high speed rail campaigners.
The plans, unveiled today in a report by HS2 chairman David Higgins, have rejected previous plans to create a new station at Meadowhall on the grounds of expense, and the alternative of reviving the former station at Sheffield Victoria has also been ruled out because it would be intrusive and also costly.
The new option proposes that HS2 services between London and Sheffield would use a spur off the high speed line and travel directly to the existing Sheffield station. These trains, potentially running twice an hour, could also call at Chesterfield.
HS2 Ltd said high speed services to Sheffield using 'classic' trains could also continue later on to Meadowhall, Rotherham or Barnsley.
The report says the new route would cut journey times on services between London, Leeds, York and Newcastle, and would also reduce the cost of the project by around £1 billion.
HS2 Ltd said it will also investigate the possibility of a parkway station on the new route, which partly follows the M18 motorway.
HS2 Ltd chairman David Higgins said: "Projects of HS2's size, scale and significance should seek to provide the maximum benefit for the people they serve. I have listened to the very constructive comments and discussions that have taken place on how HS2 should best serve South Yorkshire and recommend the option of HS2 services using the existing city centre station.
"Decisions of this scale sometimes involve compromise, and through dialogue I believe we have reached the best solution for South Yorkshire."
Chair of the Sheffield City Region LEP Sir Nigel Knowles responded: "I am delighted that we have had the time to work constructively to ensure the city region could be best served by Britain's new high speed rail network, which we expect to include trains calling at Chesterfield in the south of the city region, a parkway station as well as the line into the centre of Sheffield. Connectivity with the rest of the UK is a major factor in achieving our growth plans. Of equal importance is the inter-connectivity within the North, via HS3, and we look forward to working with the government and other partners to bring that into fruition as quickly as possible. So I welcome David Higgins' report and look forward to the Secretary of State's decision in due course."
The recommendations for South Yorkshire have been welcomed by high speed rail campaigners Greengauge 21, which said HS2 Ltd should be 'congratulated'.
Greengauge 21 director Jim Steer said: "The preferred approach put forward by HS2 brings major cost savings as well as bringing HS2 to the heart of the city of Sheffield. It means that across the North, all the cities served by HS2 will have central locations rather than parkways. It also means that the North East will get slightly faster HS2 services -- and can be directly connected to Sheffield too."
The report is now being considered by the secretary of state for transport, who is expected to make a decision later this year.
Reader Comments:
Views expressed in submitted comments are that of the author, and not necessarily shared by Railnews.
Its a shame David Higgins hasn't talked to Howard Davies, and focussed more attention on saving costs at the southern end of HS2. Its a shame nobody at the DfT has enough 'joined-up thinking' to include Heathrow in HS2, and thereby save another £10-12bn by not having to build a 3rd runway.

If HS2 included a Denham-Heathrow spur off the existing HS2 route, and a north-London link onto HS1, all short-haul flights from Heathrow to Manchester/ Leeds/ Paris/ Brussels would be able to be replaced by rail; and save up to 30 daily LHR departure slots for developing the new intercontinental air service links desperately required by the UK.

If HS2 were then built via the much 'cheaper' route option via The Chiltern line/ Banbury/ Warwick/ Small Heath route, another £10bn could be lopped off the bill.

That's £20bn saved without really trying......

If only the DfT would realise that HS2 was the key to solving airport capacity in the south east as well, we'd have an awful lot of funding for an awful lot of other deserving schemes on the railway that we could all have fun identifying.

I'm not sure why the Victoria option is seen as being intrusive and costly.

Not all HS2 trains need serve Sheffield; therefore, consideration should have been given to constructing a loop to serve the city, and such a loop could be constructed by using either current or former rail corridors for the majority of its route.

It would leave the HS2 consulted route in the Beighton area, then use the former GCR line to Sheffield Victoria; the loop would then briefly leave current/former rail corridors to swing round to an approximate north easterly direction, and follow the approximate route of the Wicker branch back to the Midland Main Line, rejoining it close to where it crosses the A6109. It would then use the existing MML corridor to Meadowhall, then curve round in an approximate north westerly direction to rejoin HS2.

If the Sheffield loop was to be constructed using similar principles as used for HS1, it could be used by more than just HS2 services; Victoria could become Sheffield's main station, with MML and XC services from the south using the "old road" between Chesterfield and Beighton, and XC could use the existing routes north of Meadowhall. Low level platforms on the MML where in intersects the former GCR line should be provided.

However, if HS2 north of Meadowhall was to be considered as a high speed passenger railway providing extra capacity in South and West Yorkshire, the possibilities are enormous; a Barnsley Parkway station could be added around Cudworth, and Wakefield could be served by another loop passing through Kirkgate. Obviously, such added interventions would increase cost, but the potential benefits should be far greater than will be achieved from either the consulted route, or from that now being suggested for a route through the M18 corridor.

This sensible proposal has been designed for HS services to continue north of Sheffield once Transport for the North has decided how they would fit in with their 6tph aspirations between Sheffield and Leeds.
David Higgins says that 2 or 3tph might be HS2's Leeds to Birmingham services, which would fit in well with 2tph being extensions of HS2's Euston to Sheffield via Chesterfield & 2 or 3tph being Inter City Express units from St Pancras (or Cardiff via Oxford & Bedford) to Sheffield via Leicester.
I favour 2 Birminghams, 2 Eustons, 1 St Pancras & 1 Cardiff, which would allow the second St Pancras to continue to Wakefield via Barnsley and Meadowhall.

Many of the complaints about Euston are based on it not not being a through station so could we be creating another similar station in Sheffield ?

Why can't we look at building a sub surface or raised station which could service Sheffield City Centre,and then continue north to re-join HS2 thus providing services in both directions something which would become more relevant when the HS3 plans come forward .

Of course we now have to wait to see who the new PM is for certainty on HS2 despite it having massive support on both sides of the commons during its passage through that stage of hybrid bill.

Much is being made about saving a billion pounds but you could save much more by reducing the contingency and still building what is planned .

This is a sensible proposal, which meets Sheffield's aspirations for access from the South, benefits Chesterfield FWIW, and apparently costs less. Perhaps somewhat less satisfactory for services to the north, unless there are to be substantial improvements to existing routes.
It also prompts the question whether Derby might be better served by such a method, again using "classic" trains, rather than using Toton.