Posted 4th November 2016 | 3 Comments
New HS2 franchise will take over West Coast in 2019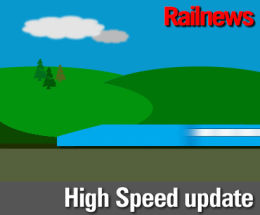 THE Government is creating a new 'partnership franchise' to run trains on HS2 as well as classic intercity services on the broadly parallel West Coast Main Line.
The present Intercity West Coast franchise is being run by Virgin, but this is a short contract which has already been extended more than once and is now being extended by a further 12 months to approximately 1 April 2019. The next franchisee will then take control roughly seven years before Phase 1 of HS2 is due to open between London and Birmingham.
The contract will be known as the West Coast Partnership, and is expected to run from 2019 to at least 2029 and possibly until 2031.
Transport minister Andrew Jones, whose responsibilities include HS2, said: "We are embarking on a new chapter in our modernisation of the railways and we need world-class expertise to deliver it.
"HS2 will be the backbone of Britain's railways, creating more seats for passengers on the West Coast and increasing capacity on the rest of the network.
"By combining the franchise we are ensuring we get the right people on board at an early stage to design and manage the running of both services in the transition stage. The new franchise will attract highly experienced companies, who have the right experience, which ultimately means a better deal for passengers -- both now and in the future."
The Government is hoping to gain Royal Assent to the Hybrid Bill which authorises Phase 1 before the end of this year, but this will depend on the Bill completing is progress through the House of Lords.
The chairman of HS2 Ltd David Higgins said: "This is a real opportunity to ensure HS2 services complement and enhance existing ones. I have always been clear HS2 will not be a standalone railway but fully integrated with the wider network. It will provide a new backbone for our railways, modernising services to better serve towns and cities up and down the country.
"Bringing on board a new partner to work with HS2 Ltd now will help ensure we are working towards the same goal."
The DfT said the winner would be a 'strong private sector partner', which must 'combine experience of delivering both conventional and high speed railway operations, transforming customer service through the use of cutting-edge technology'. The franchisee will also be required to work 'closely' with local transport authorities, Transport Scotland and the Welsh Government.
It is being predicted that West Coast passengers will see benefits before the launch of HS2 through 'the early introduction of new technology' being developed for the high speed line.
Rail Delivery Group chief executive Paul Plummer said: "The rail industry is working hard to ensure HS2 is seamlessly integrated with the existing network as one railway and this decision is crucial to enabling that. It also signals a smooth transition when the new line opens in 2026.
"HS2 will become a very important part of Britain's railway for decades to come, and will play a huge part in managing the capacity challenge that we face. Rail companies are investing more than £50billion as part of the Railway Upgrade Plan to build the bigger, better, more modern railway that Britain needs to carry even more people and freight safely, quickly, reliably and efficiently. That work will continue while we build HS2."
The invitation of formal Expressions of Interest for the new Partnership is due before the end of this year, followed by the Invitation to Tender in October or November 2017.
Reader Comments:
Views expressed in submitted comments are that of the author, and not necessarily shared by Railnews.
Does this mean we might finally see someone suggest the obvious connection of the HS2 line near Curzon St station to the main lines feeding New St from the east, to provide through services to destinations like Wolverhampton & Shrewsbury - and maybe Wrexham?

WHY?
Surely some element of competition would keep both providers on their toes.
Creating a monopoly always leads to bad service and rip off prices.