Posted 24th March 2016 | 9 Comments
House of Commons gives approval to HS2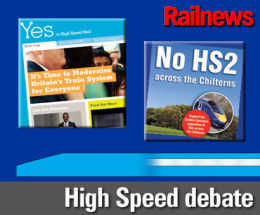 MPs in the House of Commons have voted in favour of the first phase of HS2, which will run between London, Birmingham and Lichfield with an early extension to Crewe. The Hybrid Bill was approved at its third reading on 23 March by 399 votes to 44, and will now go to the House of Lords.
Opponents of HS2 accused the Government of 'rushing' the Commons process, although it is customary for major debates to accompany the second reading of a Bill, rather than the third.
The project continues to be mired in controversy, but the Government insists that construction will start next year with a target opening date of 2026. Lines onward to Manchester and Leeds are set to follow in 2033, while discussions are underway about links northward to Scotland involving a junction in the central belt with another high speed line connecting Edinburgh and Glasgow.
Plans for an east-west rail route across the Pennines are also being developed, with the alternative names of HS3 or NPR (Northern Powerhouse Rail). This is likely to involve some new construction plus some upgrades to existing railways. The first funding for development of this route to begin was announced by the Chancellor George Osborne in his Budget on 16 March, when he said: "I said we would build the Northern Powerhouse. We're building the roads. We're laying the track. We're making the Northern Powerhouse a reality and rebalancing our country."
Transport secretary Patrick McLoughlin said the third reading vote in the House of Commons had brought HS2 'one step closer to reality'. He added: "As we enter this new phase I make three pledges: we will work closely with those communities affected by the HS2 route, we will keep a firm grip on costs and we will drive maximum value for money from this new railway."
Some MPs in some of the areas affected by phase one voted against the Bill, but opposition from communities in the Chilterns and Warwickshire has become less vocal in recent months.
However, a group proposing an alternative scheme has stepped up its efforts to achieve a rethink. The group, HSUK, wants an alternative route using motorway corridors to be considered instead. It is thought that the maximum speed on such a route would be 360km/h, rather than the 400km/h of HS2.
Colin Elliff and Quentin Macdonald of HSUK have reacted with dismay to the news of Parliamentary approval, at least in the lower chamber. They said: "It is deeply worrying that only one option for a high speed rail line has ever been presented to Parliament. There is no evidence that HS2, either with or without HS3, has ever been designed as a national network and there has been no consideration as to how the line will operate.
"It beggars belief that MPs can blithely nod through a scheme that has been so ill-informed from the outset. Although the task of designing a fully integrated national rail network is a highly technical matter, it is relatively simple to demonstrate HSUK's overwhelming technical superiority as a national railway network.
"HS2 Ltd knows all about the superior HSUK alternative, but continues to pursue its own discredited proposals."
Meanwhile, HS2 Ltd has hosted the first of its Health and Safety briefing events for companies in its supply chain. The initiative includes a new brand – Safe at heart.
Ben Ruse of HS2 said: "To deliver our health and safety aspirations, it will be essential for our philosophy to be shared by our contractors and suppliers at every level. We have committed to only work with suppliers that share our values and will contribute to good safety leadership."
Reader Comments:
Views expressed in submitted comments are that of the author, and not necessarily shared by Railnews.
One major advantage of the timing of the HS2 bill for stage 1 is that it's 2nd and 3rd readings have occurred in successive parliaments thus adding to the democratic backing for HS2 and we will need to see whether the same happens with the main bill for stage 2 to Leeds, Manchester and Sheffield .

Both parliaments gave a backing of 10/1 giving even more legitimacy to HS2 and demonstrating their is a good chance that a High Speed Network can gradually be expanded as per the recent plans for links to Scitland.

As for complaints about the 3rd reading being rushed through well as they say " we have heard it all before !" and no doubt will hear same arguments in the Lords .
[And as we mentioned in our report, detailed debates in the Commons usually take place at second reading. The third reading is essentially to clear up any details after the intervening committee stage and to decide whether a Bill should go on to the Lords, rather than argue the whole idea again.--Ed.]



"it is relatively simple to demonstrate HSUK's overwhelming technical superiority as a national railway network."

I'll take that claims seriously when HSUK starts by demonstrating the technical superiority of using the existing Euston station as a high-speed terminal. Any progress with that platform occupancy chart I requested?

Sounds like the hysterical anti-HS2 groups are just spouting vapourware, as the vast majority of MPs from all parties are supporting the line. Don't be a Mark Whitby endlessly challenging the Ordsall Chord in Manchester, just accept and move on, instead of endless years of delay and lawyer fees.

Pathetic that it will take so long - 2033 (if no delays!) to northern cities and long after I'm dead to scotland. The chinese can produce 500 mile HS routes in under a couple of years, the french did it years ago so how come we are so useless?
[Larger countries with weaker planning laws, especially in China, where the state builds what it wants, when it wants.--Ed.]

HS2; great project, wrong route.

The southern part of HS2 should have been routed via the Chiltern route to Banbury, along the M40 corridor, and into Birmingham via Solihull and Small Heath; with a branch/loop to Heathrow.

This route would have been much, much cheaper and less litigeous; would have used a lot more existing railway/ dfT land; would have approached Birmingham from the south rather than via the north-west; and the Heathrow branch/loop could have freed-up air slots at Heathrow to avoid any need for a controversial 3rd runway.

Typical government thinking; it isn't 'joined up'.......

The government do like to waste funding – it could have gone towards improving the reliability of the existing network.

Please - call HS3 HS3. Calling it NPR leaves it open to all sorts of acronyms...
[There appears to be no consistency on this at the moment. We will continue to report what is said -- whichever it happens to be.--Ed.]

HSUK are really showing themselves as NIMBYs. Quite happy for the line to be built but just on some other route. Don't bother us but okay to further bother those who are already affected by motorway noise.
Let's hope this bill doesn't get held up in the House of Lords as the sooner HS2 is up and running the better.