Posted 15th April 2016 | 10 Comments
Upgrading West Coast line 'not an alternative to HS2'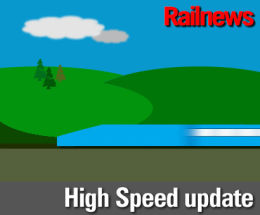 THE project to build HS2 had 'withstood fierce debate and cross-examination', former transport secretary Andrew Adonis has told the House of Lords.
Lord Adonis, who now chairs the National Infrastructure Commission, was speaking during the second reading debate of the Hybrid Bill which authorises Phase 1 of the project, which was approved by the House of Commons last month.
He was transport secretary in 2008 when the HS2 project began to be planned. He conceded that challenges exist, but warned the Lords that the often-touted alternative, that of upgrading the West Coast Main Line, would not meet future demands for transport. He explained: "Upgrading a busy main line railway is like conducting open heart surgery on a moving patient. It's hardly a compelling alternative to HS2 let alone a cheap one."
Some doubts were raised, such as a concern voiced by Lord Prescott, another former transport secretary, who feared that the line would not be built north of Birmingham to Crewe, Manchester and Leeds. He said: "I hope my contribution is not seen to be negative. It's a different view. It's not the Government's view or the Opposition's view. It's a northern view -- a different perspective of what we are doing with this investment in HS2."
Lord Adonis maintained that not building the line would be a 'reckless disregard of the national interest'. He said: "From the outset the central argument for HS2 has been about capacity with speed and connectivity significant additional benefits. Since 2010 the imperative of more capacity has become greater still, which is essentially why HS2 has withstood scrutiny and controversy. It could not be more vital to our economic future.
"It's not just a railway with fast trains. It's not just about capacity and connectivity. It's truly about potential. It's about creating opportunities. It is about what is needed to produce a better and brighter future for our country and economy, for connectivity across the UK. This is what is required if we are to deliver a better, more integrated Britain."
Labour spokesman Lord Rosser said his party supported the project, but he pressed for a commitment to continue with Phase 2 north of Birmingham. He added: "We want to see HS2 built. However, there is also a continued responsibility on the Government to listen to the concerns of communities affected about the impact on them of the construction and operation of HS2 and ensuring everything that can reasonably be done to address those concerns is done."
The transport secretary Patrick McLoughlin has already said that he is hoping that the Phase 1 Bill will receive Royal Assent by December, so that construction can start next year.
Reader Comments:
Views expressed in submitted comments are that of the author, and not necessarily shared by Railnews.
Yes, the approaches into London do generally need extra capacity. One encouragement here is that firstly, the suburban services into Paddington are likely to divert into Crossrail soon, whilst similarly at K's X re. the new expanded Thameslink project.

This will give extra terminal capacity at both termini that is utilisable by extra main line services. I think it would be neccessary then for the K's X current suburban platforms to be lengthened.

Continental gauge has been talked about a few times here, but it's a red herring in the debate. HS trains can easily run on existing lines (the classic compatibles are designed precisely to do that) and if it was a simple matter to drop the trains on to the existing lines on the edge of Greater London (like they do for Paris), they's have done that. What's stopping us is that all the lines out of London are now saturated, unlike Paris which had surplus lines.

Really, the only reason to build a line to continental gauge is if you have to build a line anyway, in which cause you may as well do it to that standard whilst you've got the workmen out. But that's the least important issue, There's far bigger problems trying to run HS trains into London on the existing lines than slightly narrower trains.

I can;t see why HS and conventional lines aren't able to be mixed , end-to-end on particular routes in Britain.
Indeed, our loading guages are tighter than those on the Continent ; the solution is to have our HS trains built to our loading guage.
The Virgin Pendolino's already give a precedent for this. The design was already in service in Italy and Switzerland and it was relatively simple to reduce the loading guage profile for use on our WCML
The same ought to be possible for existing HS designs such as the Siemens Velaro e320 and Alstom AGV.

Firstly you can't compare us with French railways as they are already built to continental gauge so it's possible to build short stretches of HS lines and simply join them to existing lines . You can't do that in this country as our railways were built to a smaller loading gauge . This means you have to build entire line to larger gauge but once you have done this then expansion of network becomes easier .

As for HS2 serving the north well I suggest Lord "2 jags " Prescott read the Bill and then he will see that stage 1 includes a spur onto WCML will will allow classic compatible trains to use HS2 from Euston and then join WCML just north of Birmingham . In fact a major project has just been completed in Staffordshire to separate out WCML and included building 6 miles of new railway lines which are little different to HS2 !

Lord Adonis has also recommended bringing forward section to Crewe as a seperate stage earlier than was planned l

As for Lord Prescottwhen he was Transport Secretary he promised a new tram system would begin construction every year something he totally failed to do compared to how Lord Adoins finally got Crossrail underway and rail electrification!

Still not convinced this is the best plan. I agree we need more Capacity, but 'Very High Speed' means a much more expensive construction, and with very little time saving. The line could have several more Major Stations and be very useful to the Communities it passes through. A top line speed of say 150 mph would save a lot of money in Construction and energy running costs as most of the cost comes from acceleration not even running.

For a sake of chopping off a minute length of time off the journey duration, it's not really good value for money.

The same old arguments are being trotted out again and again to try and brainwash the general public into believing that HS2 is needed.

I do not doubt that the capacity on the lines from London to the Midlands, and even the North, needs to be increased, but not with with this HS2 project. The electrification of the Midland Main Line and Chiltern lines are equally important, together with their updated signalling and fourtracking. These have to be done come what may, HS2 or not.

Unfortunately, there is no holistic approach, at least as presented to the public.
1--how to join and improve commuter services north and south of the Thames, just like Thameslink, thus freeing up capacity at the termini, thus reducing the need for massive rebuilding. London Bridge station rebuilding should be a one-off. Waterloo´s rebuilding will not be anything like as intrusive.
2--how to provide long distance services to communities that demand them, be them regional or inter-city. Not only the closed shop of so-called "cities" need fast and frequent services.
3--how to provide stopping points for inter-city services at such places which are of benefit to all passengers, and not in some wild areas out in the boondocks which non-car drivers cannot reach.Both in France and Spain they have found that out-of-town stations are a dismal failure.
4--make new line(s) compatible with classic lines so that existing lines can be used where high-speed does not exist. In France all TGVs run on classic lines with no problems.
5--city CENTRE stations to be served so can act as hubs with other lines and other public transport.

HS2 has become a juggernaut that has lost its breaks with too many reputations and interests on the line so as to control it and redirect it. Please before it is too late and we have to pay (literally) the consequences.

HS2 should promote that use of steel bridge structures and viaducts on the project. It is diapointing to see so much concrete.Much of this will be precast and outsourced from abroad where aggregate taxes are small and government sponsorship give overseas company the competitive edge. The majority of old railway bridges are steel or wrought iron. Many have lasted for in excess of 100years. Concrete structure will not have the same longevity. Steel industry should be supported. Hope the steel alternatives are given due consideration.

There are alternatives to HS2 other than upgrading WCML. HS2 seems to "fall between stools", trying to be all things to all. Justification for it is
(a) Capacity relief south of Rugby
(b) to a lesser extent, faster journeys.

The first of these could be achieved at considerably lower cost if the ex-Great Central were relaid / rebuilt up to a point north of Catesby tunnel and then on new alignment passing west of Rugby to join WCML south of Nuneaton. This would be a conventional 140mph line, but Birmingham and Manchester are both already well within day - return times of London with the lions' share of the markets.

London - High Wycombe - Birminngham Moor Street / Snow Hill services covuld switch to Paddington, giving over most of Marylybone's 6 platform capacity to new and diverted services from the Northwest.

Greater benefit could be gained from High Speed infrastructure to realise day-return potential to centres further north ( Teesside, Tyneside, Edinburgh , Glasgow ) using an East Coast alignment. If roughly half ( around 200 miles ) the London - Edinburgh distance were to have (probably 3) new-build HS ( 200 mph) cut-off sections with the remaining conventional sections resignalled to allow 140 mph, Edinburgh might be reached in 2hrs 45min, Glasgow in 3hrs 15 min, with under 2hrs to Newcastle and 90 mins. to Leeds, making new day-return opportunities with step changes in market share.