Posted 18th January 2016 | 8 Comments
Scottish High Speed plans are shelved 'in secret'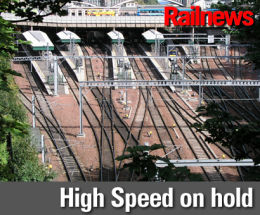 SCOTTISH ministers have revealed that uncertainties about a possible northern extension of HS2 mean that plans for a High Speed line linking Edinburgh and Glasgow will be shelved for the time being.
The link would be new, and its promotion and construction is unconnected with the project to electrify the present route between Glasgow Queen Street and Edinburgh via Falkirk, which is in progress.
The Scottish Government had previously said that a 225km/h route could be built at least a decade before HS2 could approach from the south, and in November 2012 Nicola Sturgeon, then deputy first minister, had said the Scottish Government would 'not wait' for Westminster to provide a High Speed line across the border from England, and that Scotland would be 'firing ahead' with the intention of opening a line between Glasgow and Edinburgh by the mid-2020s.
However, the 2015 Infrastructure Plan does not include such a scheme. When Liberal Democrat MSP Tavish Scott asked why not, transport minister Derek Mackay admitted that it was not possible to plan for the line at present, which 'depends on the high-speed route coming up from the south', and that a draft business case prepared in 2014 had made this clear.
Mr Scott accused ministers of showing a 'lack of respect' for people in the central belt cities. He said: "Three years ago the first minister said there would be full-steam ahead on this project. There was a grand ceremony in Glasgow addressed by two Cabinet ministers. What's happened since is that the SNP have shelved the project but hoped nobody would notice. They conned everyone into thinking that they would build this bullet railway from a blank page, and now they have tried to keep their cancellation secret."
Mr Mackay said a study of possible options would be published soon, when the next steps would also be announced.
Reader Comments:
Views expressed in submitted comments are that of the author, and not necessarily shared by Railnews.
Government do forget everything above Watford, so everyone is forgotten in the North of England and Scotland. However the UK Government have devolved transport decisions to the Scottish Government, therefore it is totally up to the Scottish government on any of these decisions. I think they should also focus on opening up stations at Edinburgh and Glasgow airports. I find it incredibly odd that there are train lines running right next to the runways of these 2 airports and yet no airport station. Very odd. In fact I think Inverness has something similar yet no station there either.
[Edinburgh does have trams. Projects to connect Glasgow and Edinburgh Airports to National Rail both foundered a few years ago, but various proposals still exist, I believe.--Editor.]

This was always a strange proposal and clearly you need to know if the HS2 link is coming via Newcastle or the West Coast. Also Queen St and Central are constrained. Best is for Scotland to contribute/ build south from Edinburgh to Newcastle with a target time of Edinburgh to London in 2.5 hours. To lobby for a fast trans-pennine link. Improve the Central - Carstairs - Edinburgh line for 35 minute times (which will be 10 minutes faster then the electrified E&G route) , and build a fast link to Perth from Edinburgh. Edinburgh to Aberdeen sub 2 hours Edinburgh to Inverness 2.5 hours. To get capacity in Central train trams allowing local trains access to the streets of Glasgow and linking Queen St and Central.

I thought the plans were only on the verge of being put on hold. Not only am I mystified with these proposals being postponed indefinitely, but also with the fact that the Scottish MPs made this decision. I would have thought they'd press ahead with the plans.

I'm not too surprised about this announcement. Whilst an Edinburgh-Glasgow line would be nice to have (it's ludicrous that the current fastest line goes via the M9), I always though 2024 sounded wildly optimistic.

I think it was reported in The Scotsman some time ago that the mood is moving towards building new lines out of Edinburgh and Glasgow that would connect with the existing railways. That seems like a good idea for me. It delivers capacity where it's most needed, benefits both intra-Scotland and Scotland-England journeys, and this could be made into a full Edinburgh-Glasgow line later.

Chris Green, read the article carefully and you will realise this project has been shelved by the Scottish Government.

I understand that once Edinburgh to Glasgow via Falkirk is electrified in the next couple of years we can expect the fastest trains to take 40 minutes for the journey. Therefore there is no need to waste millions in order to save another few minutes.

Westminster often forget about the Scottish, and it wouldn't be shocking if the plans were scrapped altogether. Edinburgh and Glasgow are important cities in the UK, but the government just don't see it that way.