Posted 16th March 2016 | 4 Comments
"We are laying the track" – Chancellor confirms HS3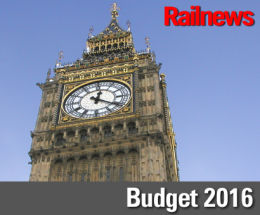 THE Chancellor George Osborne has confirmed funding to prepare for HS3 across the north and Crossrail 2 in London during his budget speech.
He told the House of Commons: "I said we would build the Northern Powerhouse. We've put in place the mayors.
"We're building the roads. We're laying the track. We're making the Northern Powerhouse a reality and rebalancing our country.
"I am also accepting the Infrastructure Commission's recommendations on energy and on London transport. The Government that is delivering Crossrail 1 will now commission Crossrail 2."
Early industry reaction included Alan Ryder, chief executive of RSK Group. He said: "This budget marks a welcome step towards improving Britain's transport infrastructure.
"RSK Group, as a company involved in everything from planning, environmental impact studies and driver training for the rail industry, are delighted that Crossrail 2 has been given the go ahead. The economic benefits of the scheme won't be confined to the capital. It will provide jobs for scores of companies throughout the country – particularly in the North West, where RSK are headquartered. Today's announcement will help retain Britain's first class skills base in railway infrastructure for another generation."
"The HS3 rail link between Manchester and Leeds will cut journey times for staff travelling between our operations east and west of the Pennines, and provide a long overdue economic boost for the region. For employers like us, it will turn the 'northern powerhouse' from rhetoric into reality."
Patricia Moore, who is UK head of infrastructure for contruction company Turner & Townsend, commented: "The austerity cuts will surprise very few but with current record low interest rates meaning cheap borrowing for government, investing in major rail and road is the counterbalance.
"Future spending on transport projects such as HS3, a new tunnel between Manchester and Sheffield, and upgrades to the M62 and main A66 and A69 roads, will all help stimulate and reinvigorate the economy in the North providing a much-needed boost to jobs and trade.
"This budget is a clear sign that George Osborne means business for the Northern Powerhouse. For far too long, people living and working in the North have played second fiddle to the South, suffering from unacceptable travel delays particularly on the M62, which costs time and money. This long-term investment in vital infrastructure is clear recognition that we need to catch up with continental Europe and be globally competitive.
"But like any major spend on infrastructure, you need effective cost control mechanisms set up or you'll burn through money. Major programmes need the skills, capacity and resources in place to deliver efficiently and each of these new transport programmes must guarantee the best value for money for taxpayer and client."
Reader Comments:
Views expressed in submitted comments are that of the author, and not necessarily shared by Railnews.
The Victorian legacy rail around Manchester is an overt mess. The rail around Manchester needs updating to allow fast inter-city trains to run at full line speed 'through' the city, as the city is between the North West and West Yorks. Manchester is a rail bottleneck. That is obvious. A west-east tunnel through the city is needed that runs under Victoria station. Not a 7.5 dead-end HS2 tunnel from the south-west to inefficient Piccadilly terminal station tat will take a few trains every hour. Terminal stations in inland cities are highly inefficient. Berlin over time got rid of them making them all through stations creating a number of efficient 'crossrails'. Yet Osborn has got the National Infrastructure Commission to lay down conceptual design for updating Manchester Piccadilly terminal station. They are detached from reality.

* It needs all Gtr Manchester rail centralized at one large 'through' flagship 'hub' station – Victoria, with Piccadilly terminal closed down as it is past its sell by date. Terminal stations are an expensive negative legacy of the Victorian era. It has to be put right.

* Centralizing on one through 'hub' station gives a number of crossrail lines through Gtr Manchester.

* Victoria needs to service HS2 & HS3 and local rail, so all at one point.

* A long, straight Pennine tunnel is needed to take high-speed train that emerges between Leeds and Sheffield.

* A new high-speed line is needed to Liverpool. This will give extra capacity on existing rail line for essential freight out of the Port of Liverpool. The rail is predicted to triple out of the port. A serious problem.

* The new high-speed line from Liverpool to Manchester can be the access point for the north-south HS2.

* Even trains from Sheffield can run west though the HS3 Pennine tunnel and up the West Coast Main Line to Scotland reducing travel times.

* Even trains from Birmingham can run east though the HS3 Pennine tunnel and up to Leeds reducing travel times.

It is not difficult and as billions are to be spent the above points should all be addressed to merge HS2 and HS3 across the north of England. This is the ideal opportunity to get it right and benefit HS2, HS3 and Gtr Manchester. If it is not seized it will be lost for a very long time.


I second what Chris Green says. At the drop of a hat GBP3 billion will be spent in London again, again, and again. On the other hand GBP300 million is seen as a major investment in the north. Even this quantity includes maintenence and renovation which would have to be spent anyway.It is not good enough and should not fool anybody.

What needs to be done is a plan for coast to coast upgrading and electrification together with new car sets (not hand-me-downs).
The lines to be looked at as priorities are:
1-Blackpool-Preston-Burnley- (close the gap) - Keighley-Leeds-York-Scarborough
2-Liverpòol - (via Chat moss) -Manchester-Leeds-Selby-Hull
3-Liverpool-Warrington Central-Manchester-Sheffield-Doncaster-Cleethorpes.
4-Carlisle-Newcastle
Such a plan would need a time-frame which could be fifteen to twenty years maximum. Then all that would be meaningful investment.

Otherwise it is all just a lot of rhetoric from Osbourne. We will just have to see what comes of it and when.

I strongly support the principles underpinning HS2 but the biggest single flaw in current planning for HS2 is its lack of ambition. HS2 should form merely the first element within a much bolder long term strategy aimed at connecting a large majority of the UK into a future UK-wide High Speed Rail network.

In that sense proposals for a new trans-pennine rail line; HS3 or NPR (or whatever title it currently goes by) are a positive step forward but as ever the devil is in the detail? NPR should be a largely new line, constructed or where upgraded from existing track to GC gauge compliance and linked seamlessly into both of the planned Eastern and Western arms of HS2 (phase 2) - and those junctions should provide for both north and south bound connections, thus enabling new services between Manchester and Glasgow, Leeds and Edinburgh - all roads (or rail lines) do NOT lead to London, even in highly centralised Britain - this is the only way we will break a deeply embedded culture of London-centric thinking and consequent policy outcomes!

The Merseyside Region's proposal to link them directly into any burgeoning UK High Speed network should also be encouraged by Westminster based strategists - it's a no-brainer to propose a link from HS2 phase 2, westward into Liverpool, thus utilising existing plans (for very expensive new infrastructure) not just once but twice - two for the price of one!

The recent Respublica paper shows how 60km, or about half of any future NPR Liverpool-Manchester-Leeds-Hull artery, could be in-situ by 2030. It just needs vision, combined with committed political will emanating from Westminster and a much needed dose of common sense?


He should be laying the track up north. Not everything should revolve around London and the south west as life does exist north of Watford.