Posted 21st March 2016
West Coast prosecution delayed again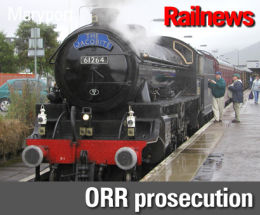 THE prosecution of heritage operator West Coast Railways and one of its drivers has been delayed again.
Swindon Crown Court had been due to hear pleas on Friday 18 March in response to health and safety charges brought by the Office and Rail Road.
The case had been brought after a WCR steam-hauled special overran signals at Wootton Bassett Junction near Swindon in March last year. The locomotive came to a stand on the Great Western Main Line, having narrowly missed a collision with a GWR High Speed Train.
It is alleged that the Train Protection and Warning System on the locomotive had been switched off, allowing the train to pass a red signal.
The ORR said the hearing had been adjourned to a date in May which has yet to be fixed, after a request from one of the defendants for more time.
Meanwhile, WCR remains banned from Network Rail infrastructure after its Safety Certificate was revoked by the ORR with effect from 18 February. Rail inspectors had uncovered a series of safety breaches, which included a minor collision with a buffer stop and a further alleged intervention with TPWS equipment on a locomotive at Doncaster.