Posted 9th December 2015
Steam operator prosecuted over Great Western SPAD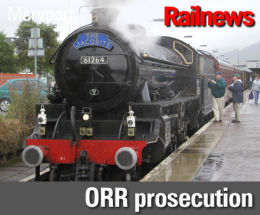 HERITAGE and charter train operator West Coast Railway Co is being prosecuted for alleged breaches of health and safety law, following an incident on the Great Western Main Line on 7 March. The company is also currently banned from operating steam locomotives on Network Rail infrastructure after another incident in October.
An investigation was launched by the Office of Rail and Road after a WCR steam-hauled charter train overran a stop signal at Wootton Bassett Junction near Swindon by 550m. The locomotive came to a stand fouling the main line, just after a Great Western high speed train had passed.
It is alleged that the driver, who is also charged in connection with the incident, had told a colleague to isolate the Train Protection and Warning System, which should have brought the train safely to a halt.
The West Coast company, which also operates the scheduled 'Jacobite' steam services between Fort William and Mallaig, was temporarily banned after the incident, but its access rights to the network were restored after a review of its working practices.
However, the ORR re-imposed the ban on West Coast steam locomotives on 25 November after reports that a similar incident involving TPWS had occurred at Doncaster on 2 October.
The ORR has also announced a review of West Coast's safety certificate.
The first hearing in connection with the charges is due to take place at Swindon magistrates' court on 11 January.