Posted 27th January 2016
West Coast prosecution moves to Crown Court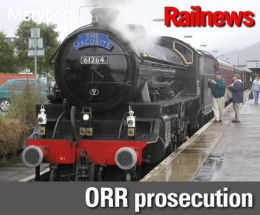 THE prosecution of charter operator West Coast Railways and one of its drivers in connection with a signal passed at danger near Swindon last March is now to be dealt with by a Crown Court judge.
Swindon magistrates have decided that the cases against the company and its employee should be dealt with by a judge, who has greater powers.
An investigation was launched by the Office of Rail and Road after a WCR steam-hauled charter train overran a stop signal at Wootton Bassett Junction near Swindon by 550m on 7 March. The locomotive came to a stand on the main line just after a Great Western high speed train had passed.
It is being alleged that the driver had told a colleague to isolate the Train Protection and Warning System, which should have brought the train safely to a halt.
Swindon Crown Court is now due to hear pleas on 19 February.
West Coast Railways provides steam and diesel locomotives for enthusiasts' charters, and also operates the scheduled 'Jacobite' steam service between Fort William and Mallaig in the western Scottish highlands, but West Coast's safety certificate is now under review by the ORR.
One charter operator, Vintage Trains, told its customers that the present uncertainty meant that it could not offer its planned 2016 programme for the time being. The operator said: "Until we know the outcome of this matter we think that it would not be right to accept any further bookings on our railtours until we are confident we are able to operate them."