Posted 3rd April 2015 | 18 Comments
West Coast ban after serious SPAD near Swindon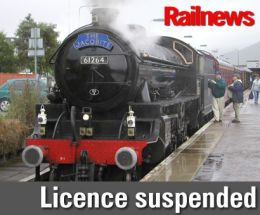 A MAJOR operator of heritage trains has been banned from Network Rail infrastructure, after a steam-hauled special passed a signal at danger near Swindon.
The incident affected a West Coast Railways charter from Bristol to Southend on the afternoon of 7 March at Wootton Bassett Junction, when the special is reported to have passed a signal at danger.
Although the train came to a stand fouling the main line, the train which the signal had been protecting had already passed by and there was no damage or injuries. The Rail Accident Investigation Board said it had evidence that the AWS and TPWS equipment on the locomotive had been reset so that the normal automatic brake applications triggered by this equipment could not take place.
Network Rail said the occurrence amounted to 'an event of default' by West Coast Railways, whose licence to operate has been suspended from 3 April.
The company must now demonstrate that it will comply with all rules and operating standards in future, and has been given a deadline of 15 May.
A Network Rail spokesman said: "Network Rail has issued a suspension notice to West Coast Railway Company Limited as a result of ongoing safety concerns.
"This decision has not been taken lightly, however safety will always be our number one priority.
"We have set out a number of actions to address the safety concerns raised and will continue to work with WCR to ensure their services can run safely in future."
Another charter operator which uses West Coast rolling stock has warned that its operations are also being disrupted. Vintage Trains said it is now seeking alternative dates for three charters that it had planned to run during April.
West Coast Railways is the operator of the Jacobite scheduled steam-hauled service between Mallaig and Fort William, which is due to start its season on 11 May. WCR is also set to begin operating more widely in Scotland in partnership with the new ScotRail franchisee Abellio, which plans to run special trains on scenic routes.
A spokesman for WCR said:"We are working hard to reverse the current suspension imposed by Network Rail by fully satisfying their concerns.
"Passengers booked to travel with WCR and on their associated trips should not be concerned. If necessary, WCR will charter the service of another licensed operator using the same traditional carriages, and trips will be unaffected.
"But WCR hope this won't be necessary and trust any issues will be resolved to the satisfaction of Network Rail."
Reader Comments:
Views expressed in submitted comments are that of the author, and not necessarily shared by Railnews.
This message breached our Guidelines for Contributors.

There are, on average, 80 SPADS a year on the national rail network and
there have been some fatalities due to reckless disregard of maintenance.
There are the usual ineffectual inquiries and life goes on.
It only took one potentially serious incident (fortunately without harm)
involving a private charter company and there is a tremendous furore.
This is because the footplate crew (highly trained and rostered by one of the national rail companies as required) is on the day, legally deemed to be employed by the charter co. who are then punished with all the severity imaginable. This smacks of thrashing the horse instead of the stray dog that startled it.


The issue, and the result of any investigation, is entirely safety related. As several contributors have already said, the footplate crew are NOT amateurs but qualified current driving personnel passed out through all the procedures. To comment or link the continuance or appropriateness of charters or steam traction is totally irrelevant to the event. This was an apparent serious breach of railway safety systems and procedures to be confirmed by proper investigation - it could have happened on any traction!

Maybe the problem could be solved by shutting all the old-fashioned, ineffective, uneconomic and amateur railways outside of London. It should be noted that these absorb a considerable amount of resources which would be better put to use in the modern, efficient, value for money and professional national network which connects the suburbs of the capital to its centre. Is there really any interest in the rest?

The Driver on this Train must have 'Route Knowledge' and is subject to all the tests that 'ordinary' drivers have, plus the Steam Loco test. So he should be ultra-experienced. Most Main-Line Steam Drivers actually work for all the other Operators and are 'hired' in because of their expertise. But this SPAD seems to be exceptionally serious

What a good idea from John Edwards - wish I'd have thought of this! While we are at it lets get rid of all our heritage and history and dispense with teaching our younger generation about our industrial past. Then we can concentrate on teaching them to strengthen their thumbs so that they can be better at playing games on their PCs and mobile devises!

The "amateur enthusiasts" mentioned here by some commentators are actually not amateur enthusiasts but professional drivers who drive electric and diesel on the main line day to day, and have undertaken additional training for steam. I would be inclined to await the result of the enquiry into this spad before I demanded that steam excursions were kept off the national rail network, as there is a place for tourist and enthusiast excursions run on the main line, it is compatible with the every day commuter trains as tourist excursions tend not to run alongside commuter trains into main centres of commerce during the rush hour.

This was a failing at both a company and individual level, and there it is appropriate action, which realistically should be applied to all the other amateur operators as well; there is no place for them on the modern network.

Mainline Trains have to be Driven by mainline qualified Drivers. Most of the Drivers on Tornado are driven by EWS/WCS etc Drivers on the mainlines and they have their own qualified Drivers to run on private tracks. There are also safety devices fitted to every loco on mainlines, whether it's Diesel, Steam or Electric. An in cab signal alerts the driver to any dangers regarding signals, the alert can be over ridden manually, but if the Train proceeds, there is a system that cannot be tampered with that slams the brakes on. I don't know why the emergency braking system didn't activate on this occasion, investigators will find out though. It was an experienced and qualified driver that missed the signal, probably an EWS/WCS freight driver who operates on the mainline on a regular basis, not just some enthusiast in a cotton cap and overalls or choo choo driver? How did they ever manage through the 2nd world war with 5x as many freight, heavy goods etc on the mainlines, no motorways, large trucks, there wasnt any articulated lorries that we have today to divert goods etc in mass. How did they control all that and they where good at it. Because they dont have the work force now because its been watered down over the years and privation of the lines that made it worst regardless if its steam trains are on or off the line. What about the 2 mayor accidents that happened up at tebay and just past kendal? That was National rail and not choo choo drivers? People died there! No one has died with steams in the last 20yrs? What about the other main line driver that have gone through reds or junctions that havent had as much press release as this? They have wanted steam banned for years now. They cant even control they trains they have on the lines now, because they are always late, breaking down and have accidents that dont involve stream trains All Steams Trains have all been added with systems to stop this and too comply with all the new updated regulations or they would be allowed on the rail! I wished we'd actually get the full story and not half a story and that same goes for people say or half asssume they arnt just choo choo drivers that just pull some carriages on a summer day and wear overalls that cause accidents!

The RAIB advice on this SPAD is explicitly clear that the train stopped fouling the junction & as such beyond the overlap of the protecting signal. Also although still subject to their investigation it is implicate that the action of the footplate crew prevented the AWS & TPWS from mitigating the consequences of the signal being overrun. Fortunately the FGW train had already cleared the junction & a serious collision avoided.

Since TPWS was mandated the risk of serious SPAD's has been reduced but this has relied on strict adherence to the rules by all parties. Recent RAIB reports on serious SPAD's at Stafford & Hitchen, the latter involving ORR enforcement through the Health &Safety at Work Act in court, have been a wake up call that all operators irrespective of size should heed to ensure their staff training & compliance arrangements are in order.

From the information in the public domain it is clear that NR have had worries with this train operator for some time. While they have had reported commercial differences in the last year the breakdown in communication regarding safety concerns is alarming. Overall charter operations on the network add value, steam operations bringing goodwill, however safety comes 1st. It requires the full attention of all operators to comply with the industry's standards. The network has room to accommodate the demands of many businesses but NR should be applauded in this instance in curtailing access to network until this operator can show it is managing risk to the industry's agreed standards.



@John. Safety on the rail is indeed paramount and service trains must always have right of way over all charter trains. However, these "grown men playing choo choo trains" actually help to bring in a lot of extra money for Network Rail and the railway industry in general. Nevertheless, I would accept that there are probably far too many such trains being run on the network at present and therefore, Network Rail may have to impose a strict limit on their number and the lines along which they run.

The safety measures are there for the reasons of past accidents ,maney hard learned.it is so easy to get round a safety to move on time and maney years to get over a major accident..

a very serious spad, that thank god stopped it appears to have stopped within the overlap, why the TP & AWS was reset ?..overall safety of the network and people comes first, so we all have to back network rails ruling...WCR are a superb company - so this is a massive blow to em..I hope its all sorted out soon...

They are not grown men playing choo choo trains they are profesional railway operatives and this thing happens more often than you know it just dont make the head lines.

I take it you're not worried about the other 293 SPADs since Sep 2006 that were caused by grown men (and women) not playing at choo-choo trains? Only one person round here that needs to grow up ...

Good news; allowing access to the national network for the amateur enthusiasts is not compatible with the modern rail service.

I agree about the necessity for action as I too have been concerned about some of the smaller operators.
However, the statement: "grown men playing at choo choo trains. This kind of activity should be kept off the national rail network." sounds frankly juvenile and ignores the contribution that the many charter trains are making to the attractiveness and viability of the rail network - particularly its scenic outliers such as the Settle & Carlisle and the West Highland.

Good to see action finally being taken. As a passenger, I don't want my life put at risk by grown men playing at choo choo trains. This kind of activity should be kept off the national rail network.