Posted 8th May 2015 | 2 Comments
West Coast Railways is back on track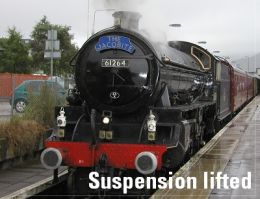 A BAN imposed on heritage operator West Coast Railways has been lifted by Network Rail, after West Coast restructured its business.
The suspension of West Coast's licence on 1 April had followed a SPAD near Swindon on 8 March, when a steam special operated by WCR overran signals and came close to colliding with a First Great Western HST.
The incident ended without injury or damage, but safety inspectors from the ORR then launched an investigation into whether there had been a breach of health and safety law.
The outcome of that investigation is not yet known, but Network Rail said it was now satisfied that WCR had improved its safety management.
Apart from charter specials, WCR is the operator of the scheduled steam services between Fort William and Mallaig, and is also poised to run steam trains on more Scottish lines in partnership with the operators of the new ScotRail franchise, which was won by Abellio and started on 1 April.
Network Rail freight director Paul McMahon told WCR chairman David Smith that as West Coast had "now satisfactorily addressed all of the actions we set out in our Suspension Notice of 1 April we will lift the suspension of your Track Access Contracts".
He continued: "We welcome the commitment West Coast Railways has made to improving safety management; the changes to your Safety Management System and the three new roles (director/general manager, head of safety and non-executive director) being introduced to strengthen safety leadership and corporate governance.
"We note your appointment before services recommence of your new non-executive director and Alex McGregor of Lloyds Register as interim head of safety pending the permanent
appointment and for the ongoing engagement of First Class Partnerships to ensure that changes to the SMS are implemented effectively.
"We recognise and welcome that you intend to put in place a phased return of services, to allow you and your most experienced staff to implement your new procedures before use with a wider range of services."
Reader Comments:
Views expressed in submitted comments are that of the author, and not necessarily shared by Railnews.
At long last they can get back in business. I lot of people have been affected with the charters being canceled and losing their hard earned cash.