Posted 20th July 2015 | 6 Comments
Transport secretary faces grilling over rail project delays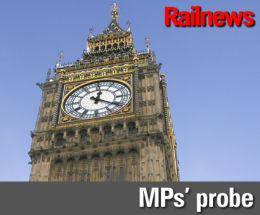 UPDATED: 11.35

THE House of Commons transport committee is expected to take a tough stance when it hears evidence about the railways from transport secretary Patrick McLoughlin today, while the RMT has condemned what it sees as the 'creeping privatisation' of Network Rail.
The transport secretary has been faced with major problems at Network Rail after recently published Board minutes revealed that some enhancement projects were known to be threatening to break the limits of their budgets as long ago as March.
Even so, the Conservative manifesto published before the general election in May promised that all the Control Period 5 schemes were going ahead, including electrification of the Midland Main Line which has now been 'paused', apparently indefinitely.
When the transport secretary announced the delays to several key projects on 25 June, he said: "Important aspects of Network Rail's investment programme are costing more and taking longer. Electrification is difficult. The UK supply chain for the complex signalling works needs to be stronger. Construction rates have been slow. It has taken longer to obtain planning consents from some local authorities than expected. But that is no excuse. All of these problems could and should have been foreseen by Network Rail."
Since then, Network Rail chairman Richard Parry Jones has been replaced by Sir Peter Hendy, Richard Brown has been appointed to the Board as a special director who will report directly to the transport secretary, and a review has been commissioned from economist Dame Colette Bowe which will be published in the autumn.
However, Patrick McLoughlin did seem to ringfence electrification of the Great Western Main Line, saying it was a 'top priority', and adding "I want Network Rail to concentrate its efforts on getting that right".
Further doubt has emerged in the past 24 hours, however, after Welsh Secretary Stephen Crabb warned that completion of GW electrification to Swansea could take longer than expected. He told the BBC's Sunday Politics Wales programme: ""Network Rail has got a lot of balls in the air at the moment. If they've got themselves into problems in terms of delivering some of these projects to a particular timetable, you know, it's for them to come forward and explain that.
"The importance is that we secure a strong political commitment to finishing the project and getting that electrification through to Swansea.
"Whether that happens in accordance with exactly the timetable that we want it to and we envisaged, I'm not here to say that that will be the case but, clearly, we're going to finish the project and it won't be too far out of the original timetable."
The Committee, who will also question the Department for Transport's permanent secretary Philip Rutnam, is likely to demand an update on the DfT's plans for financing Network Rail in future, as speculation continues that there could be some form of private sector funding.
The Office of Rail and Road has denied a report that the rail regulator wants Network Rail divided into eight standalone businesses, but has said that its latest proposals "focus on the way regulation of Network Rail can help underpin devolution to its eight routes, maximising the benefits of comparative regulation and ensuring a focus on the different challenges in different areas. This approach would require the creation of a more clearly defined national 'system operator' to deal with the network wide planning and capacity issues. While decisions on the structure of the railway are a matter for government, ORR is exploring options for a different way of regulating Network Rail, to drive up the quality of services and increase value for the railway's customers and taxpayers."
Meanwhile, RMT general secretary Mick Cash said: "This Government have wasted no time in re-organising Network Rail to fit their agenda and in pressing ahead with what RMT believes to be an ideologically-driven programme of "creeping privatisation" which will fire the starting gun on a graduated return to the days of Railtrack.
"RMT is under no illusions. There has been detailed work underway behind the scenes looking at ways and means of farming Network Rail back out to the private sector by stealth in a piecemeal fashion. However, the Government area also well aware that the public remembers only too well the lethal days of Railtrack and the privatisation disaster which led our railways to the scandals of Hatfield, Potters Bar and other incidents which forced the creation of Network Rail."
Reader Comments:
Views expressed in submitted comments are that of the author, and not necessarily shared by Railnews.
We have had more than enough in the North. Send the Pacers down South & spend some money here at last. Order enough new trains immediately to fill the gap before electrification. If London Overground can have them, so should Trans-Pennine & Northern. Having to standing all the way across the Pennines off peak as I had to do on the last time that I returned from Manchester is totally unacceptable and we can't wait for years whilst this mess is sorted out.


Would it not make sense to at least complete MML electrification to Kettering/Corby for now?

Over the past twelve months or more, the TP electrification completion date has been regularly deferred by Network Rail and the DfT. It was originally 2018 then it became 2020 and now it has slipped even further. It is therefore "old news", so why all the fuss over the recent announcement by McLoughlin?
[Well, it seems to have excited quite a few people. Perhaps it is the lack of any date now (which is new), plus the fact that Midland Main Line has also been 'paused'?--Editor.]

This is government mismanagement of the situation of colossal proportions. All of the signs were there, yet the recent election just made them hide the facts.

The government have known even before the announcement last month that NR were behind on some well publicised projects, whilst NR have had their wings clipped not all of the blame can be put on the infrastructure owner. Whilst the MML has been paused what impact will this have on other projects in CP6 which require just as much priority as putting wires up north of Bedford?