Posted 29th June 2015 | 6 Comments
Talks continue over future of Network Rail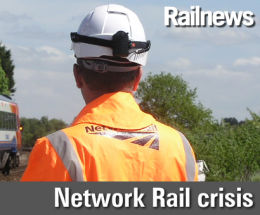 DISCUSSIONS over the future shape, organisation and role of Network Rail are being stepped up, after last week's announcement that the government-owned company cannot complete the schemes set out for the present five year budget period -- Control Period 5 -- because costs are running above estimates.
Two electrification schemes -- Midland Main Line and North Transpennine -- are on hold indefinitely, with Network Rail now concentrating its efforts on Great Western, where new electric trains will be arriving in little more than two years from now.
NR's new chairman Sir Peter Hendy will not be formally confirmed in the post until later this month at the company's AGM, but Railnews understands that he has already started to consider the way ahead for Network Rail.
The company's 'members', who were intended to represent the non-existent shareholders, are also stepping down, while Richard Brown will be representing the Department for Transport on the Network Rail board as a special director.
Fresh developments since the transport secretary's announcement on 25 June suggest that Network Rail has now become of the target of conflicting advice, as various parties in the industry jostle for position.
Richard Branson has taken the opportunity of imminent reform to urge that Network Rail should be broken up into regional companies, and that train operators like Virgin should be given the responsibility of maintaining the track on their routes.
The Sunday Times reports that directors are examining proposals for the creation of 'risk capital' at the company, quoting one 'senior government source' as saying "what they need is the discipline that comes with equity".
Labour, meanwhile, has demanded to know when the Government knew that Network Rail was getting out of hand, alleging that it was aware well before the General Election. However, the Prime Minister said: "The first substantive conversation I've had about this was with Patrick McLoughlin when he came to talk to me about the need to change the leadership of Network Rail and his plans for Peter Hendy, who I think is an excellent choice."
Network Rail is not commenting on these reports, but industry observers believe more announcements could follow soon, possibly before Parliament rises for the summer recess.
Reader Comments:
Views expressed in submitted comments are that of the author, and not necessarily shared by Railnews.
For sustained day to day performance NR's route operational and engineering teams require focus and stability. Punctual trains equate to satisfied customers. The intensified political fallout over NR's finances & structure is hardly conducive to creating this environment for those at the sharp end of delivery.

The escalation in cost and delays to the GW electrification project bear many similarities with the trouble experienced with the WCML upgrades. Both projects have involved taking live multi user main lines overlaying them with heavy engineering upgrades. In both cases the base budgets set for the projects have escalated as the project has progressed. Within the financial merry go round of today's railway the underlying question is whether the budget overshoot is due to a fundamental underestimation of the engineering costs or the financial compensation to the TOC's for the disruption involved.

The late mobilisation of the purpose built factory engineering trains has certainly affected cost and installation timescales on GW. Also NR's changing signalling strategy cannot have helped supplier confidence and is certainly reflected in the lack of progress reported.

While disappointing that MML & Trans Pennine schemes are 'paused' neither was fully scoped and costed. Until NR can pin down it's client the DfT through it's agents the TOC's to the service specification the infrastructure changes cannot be fully designed and costed.

Re John Edward's "10% of passenger and freight" stat, I don't think it if for the editor to contradict readers and say it is "highly misleading".* Selecting figures from trips and corridors that suit rail does not alter the fact that rail takes a very substantial proportion of the total transport budget.

(*Oh yes, it is. The statistic is misleading for the reasons I explained. I did not mention the issue of costs -- substantial or otherwise.--Editor.)

Network Rail now has all the characteristics of a dysfunctional nationalised industry, i.e. poor cost control and inept planning.

Including Crossrail, subsidies are now running at around £6 billion a year. This accounts for nearly a third of the entire transport budget, for a mode of transport that carries less than 10 per cent of passenger and freight traffic*. Network Rail's debt, guaranteed by taxpayers, has now reached an astounding £38 billion.

A web of industry interests has benefited financially from this largesse and they continue to lobby hard for even more spending on railway projects. Privatisation of Network Rail needs to be looked at again

[*A highly misleading statistic, since it is the percentage of all traffic -- including children walking or being driven by car or bus to school, short urban van and lorry trips and even local authority refuse vehicles -- all types of movement for which rail is not (and never was) appropriate. On corridors where rail can compete, the percentages are often very much higher, with the extreme being demonstrated by London commuter traffic. Of 1,169,000 people entering London each weekday morning in 2012, 526,000 used National Rail, 395,000 came in by Underground and 129,000 by bus or coach. Just 64,000 used their own cars, which is probably just as well.(Source: DfT.) Meanwhile, rail passenger figures are continuing to rise by 4-5% a year.--Editor.]

Well either the Tory led government knew about this situation at Network Rail before the election and hid it up or they did not know showing how incompetent they were !



I have obviously watched the huge Reading Re-Build project over the last 6 years. As far as I am aware it is on time and slightly under-Budget. Everything has altered, - Station, Tracks, Maintenance Depot, Flyovers. A Huge Project. This shows it can be done in the UK Rail Industry The UK has been doing overhead Electrification Projects for 50 years at least*. The cost of the Materials - base units, masts and copper wire, and generation stations must be known with 1%. The Labour Costs really shouldn't be hard to work out within a few % either. So why have these schemes gone hopelessly wrong ?

[*Actually, for more than a century. The London Brighton & South Coast Railway introduced overhead electrification in 1909, although this particular system was replaced by conductor rails in 1929 after the LB&SCR had become part of the Southern Railway.--Editor.]