Posted 31st March 2014 | 13 Comments
Network Rail launches £38 billion plan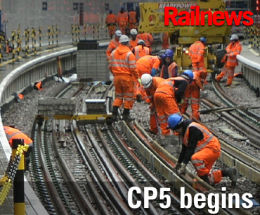 NETWORK RAIL is poised to begin Control Period 5, which involves a budget of £38.4 billion and will run until the end of March 2019.
Plans for the coming five years involve £12 billion invested in capital projects, which include new lines and modernised stations, as well as more than 1,200km of electrification. By the end of the period, electric trains will be running on the Midland Main Line between London and Sheffield, and on the Great Western Main Line to Bristol and Swansea.
There will also be electric trains on a number of routes in the north of England.
Mark Carne, the new chief executive of Network Rail, said: "Millions of passengers and freight users will benefit enormously from the plans we set out today to wisely spend and invest £38 billion in transforming some of the busiest parts of our railway network."
Improving passenger, public and workforce safety will also feature prominently, with plans to close a further 500 level crossings on top of the almost 800 closed since 2010, which Network Rail said would reduce risk by a further 25 per cent.
Mr Carne commented: "Passenger, public and workforce safety will be at the core of our plans. Good safety performance and good train and business performance go hand-in-hand and in both, we must strive for, and deliver, continuous improvement day by day."
Transport secretary Patrick McLoughlin said: "A key part of this government's long term economic plan is investing in world class infrastructure. That is why we are putting record amounts of government funding into our railways over the next five years. That investment will generate growth, create jobs and boost business while delivering faster journeys, greater comfort and better punctuality."
The people of Devon and Cornwall also heard some good news today as Network Rail confirmed that the Great Western Main Line will be reopened through Dawlish on 4 April. A new landslip involving the collapse of 20,000 tonnes of cliff face near Teignmouth on 4 March had threatened the planned reopening, but the slip was controlled and the danger of a new blockage on the line was averted.
Another landslip 11km north of Hastings at Whatlington in East Sussex has also been stabilised, which means that trains will be running again today between Hastings and Tonbridge.
In a further landmark event two new platforms will open today at London Bridge. Platforms 14 and 15 are the first to open in the new station which is being rebuilt for the Thameslink Programme. When completed, London Bridge will have six terminating platforms and nine through ones. Previously those figures were reversed, but converting three of the terminating platforms to through lines will mean that Thameslink trains will be able to call at London Bridge throughout the rush hours within a few years, instead of being diverted as they are now because of a lack of paths.
Mr Carne said: "Dawlish has shown us at our best when we work in a planned, disciplined and innovative way. Our aim is to emulate that approach and embed it in our organisation so that we are continuously improving the service for our customers."
By 2019 the railway is expected to be carrying more people than at any time in its history if present growth continues. The industry's five-year plan will provide 170,000 extra seats for commuters in peak hours, shorten journeys and provide for hundreds more daily services between the cities of the north, see new fleets of electric trains and modernise or rebuild hundreds of stations including London Bridge, Manchester Victoria, Birmingham New Street and Glasgow Queen Street.
Mr Carne concluded: "Britain's railways are a vital part of our national infrastructure. They connect homes and workplaces, businesses with markets, they create jobs, stimulate trade and support the growth of a balanced economy.
"We are good at delivering projects both great and small and at providing a safe and reliable railway but want to do even more for the people that rely on our railway network. This investment responds to the growth and demands being placed upon us by delivering bigger, better stations, more trains and seats, reopened railway lines and fewer level crossings. We all want an improving, safer, successful and better value railway for everyone, and that is what we will do."
Reader Comments:
Views expressed in submitted comments are that of the author, and not necessarily shared by Railnews.
Good that so much investment is happening. John Gilbert says Sheffield to Doncaster is being electrified, which is great, but what about Liverpool to Sheffield via Manchester and Leeds to Sheffield? I think this would mean that going from Manchester, Liverpool or Leeds to London could now be done via the MML and Sheffield, reducing the monopoly that the franchises on the ECML and WCML have and also reducing crowding on these routes. The connections between Northern cities to Sheffield would need to be quick, and the overall journey to London would have to be cheaper than routes via the WCML and ECML. The competition would drive prices down, and this would also surely make Sheffield a major rail hub and the gateway to the North prior to HS2 arriving there. Network Rail should definitely consider this, and do whatever it takes to provide a faster, cheaper, more reliable and greener service.

A second comment from me. Please would someone tell me when we shall begin to see masts and wires actually being erected on the GW main line, rather than just being talked about by the politicians?

(Happy to help. OLE under construction is visible at Reading at least, and has been since early last year. There is a recent picture showing new GWML masts in the latest print edition of Railnews -- published on Wednesday.--Editor.)

"Will the new electric locomotives on the GWR Mainline have Diesel engines also for diversions via Gloucester?"

In effect, yes. The new fleet will be a mixture of electric-only and diesel/electric hybrids. But like the current practice on the ECML of having a mixture of diesels and electrics to accommodate for diversions and regular services to non-electrified destinations, but with the added bonus that the train only has to run on diesel on the non-electrified sections (unlike current East Coast trains which are all or nothing).

Some questions over whether the extra expense of hybrid engines is worth it, but it certainly has its advantages.

Will the new electric locomotives on the GWR Mainline
have Diesel engines also for diversions via Gloucester?

Time now to re open and electrify the woodhead route.

What does seem regrettable, is the lack of joined up thinking with regards to electrification.
Using my own East Midlands area as an example, we have the very welcome, and long overdue, electrification of the Midland Main Line from Bedford to Sheffield. This scheme includes Nottingham and Corby, however there is no mention, nor it would seem thought gone into the fact that by the time the scheme is completed in 2019/20, the rolling stockoperating local services around Nottingham and Derby will, in most cases, be over 30 years old, with the youngest local EMT stock 29 years old and pretty much life expired.
With a little forward thinking it should be realised that for less than an extra 100 miles of easy electrification in the East midlands, Matlock, Derby-Stoke, Nottingham - Lincoln, a lot of life expired stock could be replaced with EMU's. The Nottingham - Worksop line could also be a contender.
A lot of DMU's all over the Country are going to need replacing within the next 10 or so years. Life extension programmes only defer the inevitable for a few years.
Maybe instead of focussing solely on wiring from A to B before moving to another part of the Country, we should focus equally on branching the wires out as well, thus truly linking up the Country and bringing the benefits of electrification to more travellers as opposed to just those who travel to London.

Great news for the railways. Only thing is, I hope the Sheffield to Leeds line and Sheffield to Manchester line will also be electrified so some decent trains can run on it. It's only Northern Rail with their rickety Pacers and Sprinters that run between Leeds and Sheffield, although Transpennine Express runs between Manchester and Sheffield. If they do this, passengers will get another good option to travel from Leeds / Manchester to London once the MML has been electrified. At the moment its East Coast and Virgin that are monopolising these journeys. We need to make the MML more competitive with the WCML and ECML and try to get more passengers on to it!

Regrettable electrification of the cross country freight route into Felixstowe not included.

Let's hope that unlike in the past we don't suddenly find cuts in rail investment are the result of Network Rail reclassification as a government body with the old NHS V RAILWAYS argument when it comes to government spending .

I visited London Bridge Station today and used platform 14 and can say that despite the platform having hoarding along its length the usable space was still far better than many stations and no doubt once the hoardings are removed the double sided platforms will be like those on the jubilee line extension with lifts and escalators to the concourse below.

In fact when the Anti HS2 brigade talk of chaos at Euston they should be referred to London Bridge Station which is undergoing an almost total rebuild and yet millions of passengers still use it on a daily basis and apart from a side street on the South side traffic continues as normal around the station.

The only difference at Euston is the lifts and escalators are likely to go up to serve a new concourse above the platforms filling the giant hole that is Euston Station today.

One issue that has recently arisen is controversy over DMUs being transferred from the North to Chiltern Railways for the Oxford extension!
The main causes of this seem to be the DFT policies to not order new DMUs together with their policy against extension of 3rd rail electrification a policy which means the new London Bridge Station is still served by DMUs which run along mostly electrified route Uckfield so why not fill this hole and release these trains to where 100% may not be electrified and maybe even allow some pacers to be scrapped?

Its worth remembering that HS2 is on top of this investment !

Time to electrify, shorten journey times and grade separate, the cross country routes.

It is ironic that, at the same moment that this extensive programme of electrification is announced - once again - we see that, while Sheffield to Doncaster and Kirkby is now very logically added to the list, thus linking the Midland main line to the Yorkshire network - it wasn't before - there appear doubts about whether the the full East-West line will be electrified. Thus a former gap north of Sheffield has now been transferred to the Bedford - Bletchley line. One wiring gap is replaced by another one. Quite utterly ridiculous of course!! But normal for the UK I fear.

Good.

Now can we got a move on with plans for Control period 6?