Posted 7th July 2014 | 2 Comments
ORR identifies Network Rail successes and failures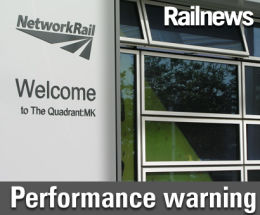 THE Office of Rail Regulation has sounded a warning about Network Rail's performance between 2009 and 2014, saying that train punctuality was below target.
However, the ORR has also praised many aspects of Network Rail's work in CP4, particularly a major enhancement programme which was carried out 'largely' on time and budget, with only one out of 118 projects being delayed significantly and 98 completed early or on time.
The ORR has pointed to other achievements as well, including investment in the freight network, improved safety at level crossings and good collaborative working with operators and other industry partners. This was particularly important when bad weather damaged the network, followed by industry-wide efforts to overcome the effects as quickly as possible.
CP4 was also marked by major increases in passenger and freight traffic. Passenger numbers rose during the period, with 300 million more passengers being carried annually by 2014, compared with 2009. The amount of freight carried increased from 102.7 million tonnes in 2008-09 to 116.6 million tonnes in 2013-14.
The problems with performance meant that Network Rail had to repay £53.1 million. It is being announced today that some of this repayment will be used to improve wifi on trains.
ORR chief executive Richard Price said: "Network Rail has been successful in modernising and improving Britain's railways over the past five years, during a period which has seen record rise in passengers numbers.
"Punctuality is important to passengers. Network Rail committed to improve train punctuality between 2009 and 2014, and was funded to do so. But it did not deliver its commitments for passengers who travel on long distance and London and South East services. Network Rail fell significantly short of punctuality for long distance services, so it is right that money is returned to funders. The company will be undertaking extensive maintenance and renewal work to improve punctuality on long distance services between 2014 and 2019. It has committed extra funds to improve the resilience of the rail network in London and the South East for better reliability of services in the future.
"Network Rail's performance will continue to be under the spotlight. It must now deliver the basics in planning and managing the reliability of key components of the rail network such as bridges and earthworks, and deliver its performance plans to ensure it meets all obligations for customers between 2014 and 2019. The company has shown it can plan performance effectively and predict and prevent problems before they cause disruption – as demonstrated for the London 2012 Olympics – and it must repeat these standards across the entire network."
Rail Delivery group director general Michael Roberts has responded to the ORR's conclusions. He said: "Britain's railway achieves higher passenger satisfaction and has a better safety record than any of its major European counterparts. Major improvements made by Network Rail in the last five years have been key to that success, but the industry's recent record on punctuality has not come up to scratch. Passengers rightly expect something to be done.
"Network Rail has been penalised for its failure to reduce infrastructure faults quickly enough in the face of growing demand and will remain under the regulatory spotlight. The news that Government wants to use the funds returned to the Treasury to pay for improvements, alongside plans to make the network more resilient, are positive signs of how the system can work for passengers."
Mark Carne, who became Network Rail chief executive in February, said: "This is a time of unprecedented growth and record levels of investment in Britain's railways. As a result, today we have the safest, most improved passenger railway in Europe.
"We accept that we have fallen short of the regulatory targets for train punctuality and that this is, in part, down to our failure to reduce infrastructure faults quickly enough. At the same time, the sharp increase in passenger demand has led us to run more trains at peak times, even when we know this will lead to a more congested railway and that punctuality may suffer.
"Passengers do want trains to run on time, but for many of them the more pressing priority is increased services with less crowding. The trade-off between congestion and punctuality is something we face every day.
"The industry is now benefitting from significant funding but there remain challenges following many decades of underinvestment. Getting train reliability back on track is a key priority for us over the next three years in particular and we have good plans to improve the underlying reliability of our assets alongside significant investment to increase capacity and relieve congestion.
"I am confident that by the end of this control period we will meet and indeed exceed the regulatory performance targets."
Reader Comments:
Views expressed in submitted comments are that of the author, and not necessarily shared by Railnews.
It is unfortunate that the imposition of a 'fine' on NR will be taken by the general media as a sign of failure when so much has been achieved over the course of CP4 to improve the rail network a fact underlined by the continued increase in passengers and freight being carried on a steadily improving network.

While performance has not been raised during CP4 to the level NR was challenged to achieve by ORR is it clear that NR is being punished for it's own failings and not external factors such as suicides and events such as last winters storms that were clearly abnormal factors that took an enormous toll on the network. NR has already paid an enormous unbudgeted cost repairing the storm damage without having to pay a fine for failing to achieve performance targets during that period.

Richard Price ORR chief executives comments that the 'fine' is a repayment to funders for underperformance raises some interesting questions. Does this represent a known underspend on measures by NR that would have seen the target achieved? Is this now reflected in NR CP5 budget to address the performance shortfall?

Spending some of the returned funds on enhanced wifi is to be welcomed as passenger travelling on business or leisure now expect good quality reception and freely available wifi enhances the overall perception of rail within the market place. It is good to see the funds being committed to a specific project rather than being lost back into the Treasury's general account. However does this account for all the repayment? Also as desirable as enhanced wifi is in itself it does not address punctuality underperformance other than giving delayed passengers better access to the internet to enquire how their service is performing.