Posted 11th June 2015 | 1 Comment
Network Rail spending more than £120m a week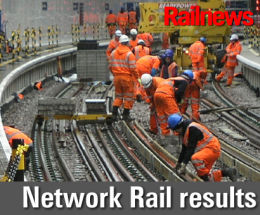 NETWORK RAIL has revealed that it's spending on maintaining and improving the railway network is now running at more than £120 million a week.
However, its full-year results have been published just 24 hours before the rail regulator is expected to criticise its progress, both in improving performance and managing major projects such as electrification, whose deadlines have been slipping. It emerged this week that one electrification scheme, between Manchester and York, has been delayed indefinitely.
The Office of Rail and Road will publish its assessment of Network Rail's performance tomorrow after examining the company's record in 2014-15 -- the first year of Control Period 5.
Network Rail said today that it invested a record £3.4 billion in the network in the first year of CP5 -- twice as much as five years ago. Most of last year's investment, almost £3 billion, was used to replace worn out infrastructure and equipment.
The company's revenue of £6,087 million (down from £6,333 million in 2013-2014) included direct DfT grants of £4,164 million and £1,565 million from the track access charges paid by franchised operators. Other revenue came from the variable track access charges paid by open access passenger and freight operators as well as property rents. These rose from £238 million to £256 million.
The demands being placed on the network are continuing to grow, and the number of passengers also continued to rise last year. The official total was 1.65 billion journeys, but as each 'leg' of a journey is counted separately, the total of complete end-to-end journeys was more like 1.3 billion, which is still higher than at any time since the end of the war. The trend now seems to be well established, and Network Rail has had to take expected future growth into demand when planning network renewals and upgrades.
The company has reported an operating 'profit' of £1,735 million, down from £2,001 million last year. NR said the fall in revenue had been caused essentially by the start of CP5, which has a different financial regime. The company explained: "The lower surplus reflects a decision by our regulator that we require a smaller margin to manage our business in our new five year funding period. In 2014-15 our income was £246 million lower than last year as a result, and this is reflected in our operating surplus."
Net profit before tax dropped by half, from £1,035 million to £506 million. Network Rail has attributed this to a combination of lower income under the CP5 regime and 'accounting movements', which include changes in taxation provision. For the same reasons, the company has reported a loss after tax of £376 million, compared with a surplus of £1,256 million last year. A spokesman emphasised that these changes do not affect railway investment schemes.
Borrowing is continuing to rise, and the company's debt is now £37,759 million, compared with £32,987 million in the previous year. Direct borrowing from the government has now appeared on the company's balance sheet for the first time, following Network Rail's reclassification as a public sector body last September. In the year under review, NR was lent £6,450 million by the Department for Transport, but the company also repaid £2,738 million to commercial lenders.
The increase in debt is seen as a positive development: Network Rail pointed out that all the funds it borrows are invested in the rail network.
The company's finance director Patrick Butcher said: "The railways continue to grow in popularity and we continue to invest heavily to respond to that demand. While progress is being made in improving performance, safety, asset reliability and delivering more renewals and projects, our rate of acceleration in these areas isn't yet where we want it to be.
"With more than a million more trains on the network than ten years ago, there are inevitable challenges. We are determined to do more to improve and action is being taken to quicken the pace of change."
Reader Comments:
Views expressed in submitted comments are that of the author, and not necessarily shared by Railnews.
Any fool can spend money.
It would be good if Network Rail defined clearly exactly what they buy with it, but I won't hold my breath waiting for the news.