Posted 12th June 2015 | 1 Comment
New joint leadership for South West alliance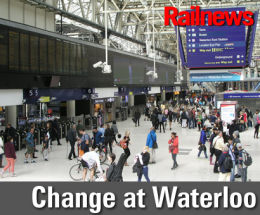 NETWORK RAIL has reinstated the post of route director for the 'deep alliance' between the Wessex lines from London Waterloo and operator South West Trains.
The change means that the alliance will no longer be led solely by Tim Shoveller, who has been in charge for the past three years.
The new route director has been named as John Halsall, who is currently infrastructure director.
His appointment has sparked industry speculation that the alliance is starting to break apart, but Network Rail has denied this.
A spokesman told Railnews: "All the other joint arrangements continue, including the rest of the Executive. Experience has shown that the task of leading all aspects of the alliance, which includes the busiest station and some of the busiest routes in Britain, was exceptionally demanding. This is, and will remain, the 'deepest' alliance we currently have."
Tim Shoveller, who returns to his role as managing director of South West Trains, said: "We have learned a huge amount over the past three years. It makes sense to have a look at our alliance with a view to continuing the areas that have worked really well, and stop doing the things that haven't.
"I'm incredibly proud of what the Network Rail and South West Trains teams have achieved for passengers. The strong ethic of teamwork, close working and collaboration will continue as we reshape the alliance to concentrate time and resource on the most effective areas."
His newly-promoted colleagure John Halsall added: "I am looking forward to South West Trains and Network Rail continuing to work closely together to continue to improve the rail network, delivering improvements in both capacity and performance for our passengers."
Over 2,000 passenger and freight trains run on the Wessex network every day. The route covers 1,035km of track, which includes 1,375 sets of points and 4,394 signals.
Reader Comments:
Views expressed in submitted comments are that of the author, and not necessarily shared by Railnews.