Posted 6th June 2015 | 2 Comments
Train travel totals reach new heights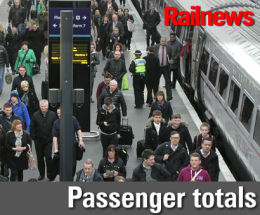 NEW figures from the Office of Rail and Road show that the rising trend in rail passenger figures is continuing.
The latest statistics, for 2014-2105, record a rise of 4.2 per cent on the total for 2013-2014. Passenger kilometres of train travel in Great Britain reached 62.9 billion, which is almost certainly an all-time record.
The journey total claimed is 1.654 billion, but this is achieved by counting each 'leg' of a journey. The actual figure for complete journeys is likely to be at least 20 per cent lower to judge by alternative measures, particularly the totals for journeys in and between Government Office Regions which count each complete journey only once.
Even so, a 'complete journey' total of some 1.3 billion is the highest recorded since the end of World War 2, and not too far short of the record figures achieved in the early 1920s, when the passenger railway network was twice the size.
Related figures for the last statistical quarter show an increase of 3.7 per cent on the same quarter a year earlier, and that 48.6 per cent of all journeys were made on season tickets, which is highest figure for season tickets since the current series of records began in 2002.
Journeys on long distance trains operated by franchise holders rose by 5.8 per cent and regional franchise journeys by 6.1 per cent, again compared with the same quarter a year earlier, while the number of journeys made on open access services rose by 9 per cent.
Transport for London has also reported rising demand on its trains, trams and buses, with the Underground total now at a true all-time record of more than 1.3 billion annually, which places it on a par with National Rail.
TfL is also claiming that the total number of bus journeys -- almost 2.4 billion -- is a record, but this is not true. For example, the number of people travelling by bus and trolleybus in 1955 was 3.42 billion, although the Underground total was much lower, at 676 million. Even so, the number of people travelling by all TfL modes has been showing consistent increases for more than ten years and this trend is expected to continue, justifying major infrastructure investment which includes Crossrail, the Northern Line extension to Battersea and proposed extensions to the Overground and tram networks.
Speaking about the National Rail results, Rail Delivery Group director general Michael Roberts said: "The railway plays an increasingly important role in Britain, underpinning jobs and driving economic growth. After two decades of growth in people and goods travelling by train, our nation leads the way on rail in Europe.
"There is much to do to, particularly to ensure that more trains arrive punctually and we keep passengers better informed when disruption occurs, but good value fares and a focus on improving services are attracting more people to travel by train."
Reader Comments:
Views expressed in submitted comments are that of the author, and not necessarily shared by Railnews.
It is encouraging to see the continued positive trend in rail use. Hopefully this is reflected when scoping future franchise tenders to encourage innovative bids from potential operators. For far too long growth to many inter urban and provincial services has been hampered by service specifications inherited from BR that have not been updated to reflect both today's and future travel expectations.

Completion of electrification projects will free up many quality dmu fleets, 170, 185 and Voyager, ideally suited to enhancing and revitalising rails inter urban offer. As it will be the early 2020's before this can be achieved it is up to today's strategic planners to re draw the network to embrace this latent demand.