Posted 24th March 2015 | No Comments
Lid is lifted on Network Rail as FOI begins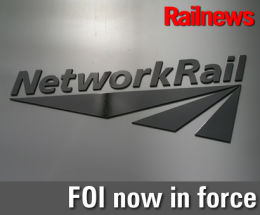 NETWORK RAIL has become subject to the provisions of the Freedom of Information Act from today.
The change follows the reclassification of the company as a government body in the public sector on 1 September last year.
As with other public bodies, NR must now respond to FOI requests within 20 working days, and publish its responses. The range of information is wide, and covers any data held by Network Rail, including historical information, unless it is protected by one of the exclusions in the Act.
Areas covered by the Act include Network Rail's operations, including its rail maintenance, renewal and development programmes; information about train movements and passenger information, and the operation of managed stations.
The company launched a voluntary Transparency Programme in June 2012, when it began to publish more of its information and data on its website, including an on-line form allowing members of the public to make suggestions.
Speaking in December of that year, then transport minister Norman Baker said: "The government welcomes these steps, which will improve the organisation's accountability to passengers and taxpayers." He also admitted: "It is true that releasing information to the public can be uncomfortable – just look at the hundreds of FOI requests we have to deal with in the DfT each month. But actually the free availability of information is a key tool to driving up performance."
Since then Network Rail has published a large amount of information voluntarily.
Mark Farrow, head of transparency for Network Rail, said: "We've already released a huge amount of data as part of our commitment to transparency and FOI is the next stage in delivering on our commitment to being more open and accountable. We are driven to becoming an organisation that is trusted by the travelling public, taxpayers and politicians. Publishing information under FOI will help people understand what we do, how we do it and why."