Posted 1st June 2015 | 3 Comments
Rail strikes suspended after 2% offer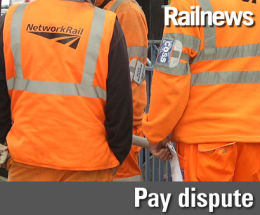 ACAS has announced that three rail unions have agreed to take a revised offer from Network Rail back to their members for consideration, and that the forthcoming strikes have been suspended.
Network Rail has now increased this year's pay rise from 1 to 2 per cent, backdated to January. Next year's rise would still be in line with the Retail Price Index.
A spokesman for Acas said: "After four days of intensive talks, Acas has helped Network Rail, RMT, TSSA and Unite formulate a set of revised proposals that the trades unions will now take away to consider.
"Recognising this, the RMT has agreed to suspend the industrial action planned for this week and next."
Network Rail chief executive Mark Carne said: "I am very pleased that the industrial action has been suspended. With Acas's help, we have had very constructive talks with the unions over the weekend and I hope they will be able to agree this deal."
The first of two walkouts would have started at 17.00 on Thursday and lasted for 24 hours. A second 48-hour strike had been planned to begin on 9 June. Both were expected to cause serious disruption.
Transport secretary Patrick McLoughlin said: "I am pleased that the union has engaged with Network Rail in order to avoid a dispute. I hope that this deal will be now ratified by the union swiftly."
Reader Comments:
Views expressed in submitted comments are that of the author, and not necessarily shared by Railnews.
I think the whole nation should be balloted every time a union wants a pay rise for its members, where those members work for a public body.

We the general populous get affected by this greed, therefore we the general populous should have a say.

Oh dear. but the unions wouldn't like that democratic idea as it means their members wont get a day off work for nothing, because the general public would vote for no unnecessary or greedy pay rise.

This game of ping pong ( or wiff waff in BOJOS case) has usually delivered a successful outcome for rail unions and often with no strikes having taken place.

Now fast forward to new union laws and if rail unions get the percentages right then strikes may have to be taken needlessly just to comply with new laws because of danger of repeat ballots falling short of legal requirements making action unlawful .

Is that really a way to run a successful economy ?