Posted 1st June 2015 | 2 Comments
Talks continue in bid to avert national strike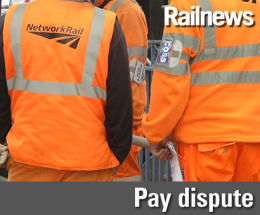 TALKS are continuing for a fourth day at Acas in a bid to reach agreement between the RMT and Network Rail before the first of two strikes is due to start on Thursday.
The 24-hour walkout will be followed by a 48-hour stoppage from 9 June unless the two sides can agree the terms of pay for Network Rail staff over the next three years.
Network Rail's latest offer is for 1 per cent consolidated increase on base salaries backdated to 1 January 2015, with a guaranteed minimum increase of £250 consolidated a year pro-rata for part-time staff). The company is also offering a 1.4 per cent consolidated increase, on 1 January 2016.
Talks are also examining ways of improving productivity, which could result in a further increase of up to 0.7 per cent on basic salary from 1 January next year.
In addition, Network Rail has guaranteed that there would be no compulsory redundancies among the staff included in the deal before 31 December next year, and discussions about a 'comprehensive job security package for the future' have also been promised.
RMT general secretary Mick Cash said: "We have a massive mandate for action which shows the anger of safety-critical staff across the rail network at attacks on their standards of living and the blunt truth is that this dispute could be settled for a fraction of the money being handed out in senior manager bonuses and to the train operators for not running services. That is a ludicrous situation which should never have been allowed to have arisen."
Network Rail chief executive Mark Carne responded: "Our people know that there are ways to improve the way work is done. I have always said that if we work together to realise these benefits there is the possibility to increase pay. We are therefore ready to get around the table with whoever the RMT consider can speak on behalf of their members. It is clearly unacceptable for the RMT to massively disrupt the travelling public with strike action when we are ready to continue talks."
If a strike goes ahead train services will be seriously disrupted, because the RMT members at Network Rail include many of the company's 4,000 signallers. When an earlier strike was called for the late May Bank Holiday, at least two operators said they would have run no services at all.
Reader Comments:
Views expressed in submitted comments are that of the author, and not necessarily shared by Railnews.
"This is a ludicrous situation which should never have been allowed to have arisen."

Exactly, Mr. Cash. It should never have been allowed to happen, because people like you should never have been allowed to instigate a strike in such cases (for the record, let's be clear that strikes don't happen by accident - you called it).

You bleat on about "safety critical" this and that all the time. One of these days there will be a real safety risk, and no-one will believe you because you will have cried wolf one too many times in order to line your own pockets, further your own political ideals and massage your own ego.