Posted 21st May 2015 | 1 Comment
It's off! TSSA, RMT suspend Bank Holiday rail strike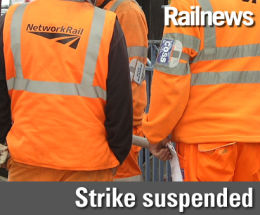 A BREAKTHROUGH in the pay talks between the RMT, TSSA and Network Rail has led to this weekend's rail strikes being suspended.
In a statement, RMT general secretary Mick Cash said: "Following the ACAS talks RMT has received a revised offer that enables us to suspend the planned industrial action while we consult in full with our Network Rail representatives,* while Manuel Cortes, general secretary of the TSSA, said: "Our negotiating team at Acas has received a revised offer from Network Rail.
"As a result of this, they have suspended the planned industrial action, pending the outcome of a meeting of our workplace representatives next week."
The terms of the revised offer have not been published.
Transport secretary Patrick McLoughlin welcomed the news. He said: "I am very pleased that the unions have made a decision to suspend their planned action. Passengers right across the country will welcome this news and the knowledge that the extensive disruption threatening the Bank Holiday and the return to work on Tuesday has been averted.
"The government has been working closely with transport operators, Highways England and local government on preparations to help manage the impact a national rail strike would have had on the network. We all welcome this news."
Scottish deputy First Minister John Swinney agreed that it was a welcome development, and added: "It is important that lessons are learned from this to reduce the likelihood of future action and ensure that passengers and businesses can plan ahead with confidence.
"I would like to thank everyone who put such considerable effort into making major contingency plans, especially ScotRail who had the painstaking task of developing and uploading emergency timetables at short notice and prioritising routes based on demand and the staff expertise and experience available, and the bus industry who had offered to put on extra services.
"What was encouraging about the experience was the willingness of everyone to work together to develop credible plans and raise awareness of what promised to be a damaging period of travel disruption."
Meanwhile, relieved train operators have been reversing their plans for emergency timetables and widespread service suspensions.
First Great Western said: "This will come as a huge relief to millions of our customers choosing to travel over the Bank Holiday weekend and to the communities that we serve. We expect to run services as normal."
However ASLEF is to ballot its members on London Underground in a dispute over pay and what it described as 'the company's decision to try to force through new rosters which would mean drivers will have to work an unlimited number of weekend and night shifts for no extra pay'.
Finn Brennan, ASLEF's district organiser, said: "LUL has closed down the negotiations and written to us to say that they intend to go ahead and implement new rosters, with unlimited weekend and night shifts, without agreement.The only discussion they have offered are ʻworkshops 'on the fine details of their plan.
"Our members are entitled to a family life and to some sort of work/life balance. We aren't opposed to all night services but we want them introduced in a fair and sensible way which rewards staff for their hard work and the contribution they make to the success of the London Underground."
London Underground said talks were due to resume on 3 June. Chief operating office Nick Brown added: "We have been in discussions with our trade unions since February and we have recently invited them for further talks facilitated by ACAS. To suggest that we've closed down negotiations is completely untrue and it is extremely disappointing the co-ordinated response by the unions has been to announce their intention to ballot members. Talks have not broken down and we are committed to reaching an agreement that rewards our hardworking staff that is affordable, sustainable and fair.
"We know our employees want to play their part in delivering a world class and modern Tube service for Londoners, and reaching an agreement on this will allow us to work together to deliver a Night Tube service that works for the benefit of the people of London and the economy."
Reader Comments:
Views expressed in submitted comments are that of the author, and not necessarily shared by Railnews.