Posted 9th June 2014 | 6 Comments
Salmond orders Edinburgh tram inquiry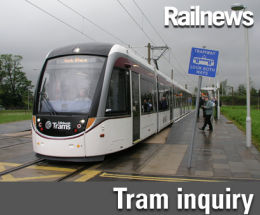 THE Scottish First Minister Alex Salmond has ordered a public inquiry into the chequered history of the Edinburgh trams project.
Trams started running in public service on 31 May, several years behind the original schedule. Although costs have spiralled, only part of one line has been completed. The plans had envisaged three routes, but most of these have remained unbuilt, so that the service only links the city centre with Haymarket and the airport. Other destinations such as Leith and Newhaven have been deleted from the map, although some construction had been carried out in Leith.
Mr Salmond said a judge would be in charge of the inquiry, which will have no power to compel witnesses to co-operate, although it is hoped that evidence will be given by councillors and officials from the former council-owned developer TIE, as well as the contractors.
It was disputes between TIE and the contractors, Bilfinger Berger and Siemens, which accounted for many of the delays and cost overruns. It is reported that the arguments were only ended by a special payment of at least £66 million, which helped to boost the final cost of the 13.5km airport line to £776 million.
The fleet is also about twice the size needed, because enough trams were ordered to serve the original, larger network. Efforts to lease the surplus vehicles to other operators have failed.
The leader of Edinburgh City Council Andrew Burns promised full co-operation at the hearing, but no date has yet been announced.
A spokesman for the Scottish Government said: "The advantages of a non-statutory inquiry are that it can be carried out quickly, efficiently and cost-effectively to ensure that lessons can be learned for the future."
Reader Comments:
Views expressed in submitted comments are that of the author, and not necessarily shared by Railnews.
It might sound like tempting fate but now the Edinburgh system is up and running and with a surplus of trams then why not look at gradual expansion off the network along the lines that Manchester has successfully done .

In fact are there any rail lines in Edinburgh open or closed which could be used by trams ?

Another alternative would be to see the return of trams to Glasgow a City which should never have lost them given the amount of segregated track the old system had compared to most other cities.

Alternatively could any lines be converted to same electrical system and old pacer trains replaced with trams that provide modern vehicles and capacity ?

No doubt Salmond will try to blame the English

Any indications yet on whether passenger numbers compare to expectations, or is it too early to tell?

(Probably a little early. We might get some indicative figures after the first month -- maybe.--Editor)

More money going to waste. What's the point of the inquiry? Will it claw back any monies? The trams are here, just let it go.

The Scottish parliament building was another example of massive overspend. Lessons are not learned in that city. It will work out at around £100m per mile once all the interest is added. It's a disgrace.

That money could have been spent on heavy rail connections to both Glasgow and Edinburgh airports.

The route is hopeless too. It bypasses all the local guest houses and business's. The majority of people will still be better off on the great bus link from Edinburgh to the airport.

All that public money squandered. Tut tut!

The problems with this scheme have put many local Councils and Councillors off having a similar scheme. MPs and Parliament, once very keen on Trams and U-Bahns, now very cold feet because of this botch-up. It is important for a variety of reasons that the real cost over-runs are discovered and put right, othewise Bristol (and others) may never see the Tram System that it wants - and desperately needs. If planners can't get their sums right on this little line - how on earth do you expect the costs of the hugely bigger HS2 project to bear any resemblance to the final cost ?