Posted 14th June 2012 | 7 Comments
Edinburgh tram costs soar again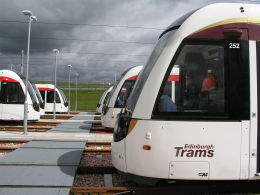 THE LONG-DELAYED Edinburgh tram scheme is back on track, according to Edinburgh City Council, but it has also revealed that the cost has soared again – from £545 million to £776 million.
A key negotiator during last year's make-or-break mediation talks between the contractors and the council has spoken of the atmosphere of 'mistrust' which accompanied the opening of a week of crucial negotiations in March 2011.
The scheme had foundered when it was being managed by the former council-owned 'arms-length' company TIE. Relationships between TIE and the contractors became bitter as costs ran out of control, in spite of repeated cutbacks to the planned network.
Now the surviving line is set to open in the summer of 2014, when it will connect the airport with Edinburgh Park, Haymarket and the city centre. Other parts of the proposed network, which should have included Leith and and a loop back to the city centre, are now on the back burner.
Apart from the financial tangle, the line along the centre of Princes Street, completed some time ago, has already needed repairs because conventional motor traffic has damaged it.
Fifteen trams have now arrived at the new Gogar depot, but another 12 are still on order, although the fleet will be much too large for the shortened network. So far, efforts to lease the surplus trams to other operators have failed. Transport for London, which had considered taking some of the trams, rejected them because only a five-year lease was on offer.
The discredited developer TIE has ceased to function, with control of the project now being undertaken directly by the city council, which is monitoring expenditure in detail at weekly meetings. Contractors, who include Siemens and Bilfinger Berger, have also opened their own books for regular inspection by the council.
Programme manager Bob McCafferty has hailed the 'real and visible' progress which has been made over the past few months, after a period in which the incoming chief executive of the city council had to decide whether the scheme should be abandoned altogether.
This, however, would have left Edinburgh City Council with a potential debt of £500 million to the Scottish Government, which provided a grant on the strict condition that there would not be 'a penny more' from central government funds. Had the scheme been scrapped, the government would probably have wanted its money back.
Even so, the council is now faced with the task of borrowing at least £230 million to meet the additional costs of completing the truncated route.
Consultant Colin Smith has been on full-time secondment to the project, and played a major role during the mediation period.
He told Railnews: "That week in March 2011 was the biggest logistical challenge I have ever faced. We had a room of 60 people. Every party to the scheme was there, each with their legal and technical advisers sitting behind them. We started out in an atmosphere of mistrust which had to be overcome. We have done that, and the project is moving forward again."
However, no details were given of how the extra £231 million is being spent, apart from the fact that it does include a contingency budget of £34 million. Mr Smith would only say that the additional money is needed 'in a number of areas'.
Some of the money has been spent on turning back the clock. With no prospect of a line through Leith, at least for the time being, preparatory work which had been carried out there has now been reversed, and the former highway restored.
Reader Comments:
Views expressed in submitted comments are that of the author, and not necessarily shared by Railnews.
I am just so amazed at how pointless this entire scheme is in the first place. Has anyone taken a train from Waverley station or Haymarket to Dundee/ Aberdeen/ Stirling/ Inverness line? This line goes directly passed the airport!! I am not even joking, you pass right next to the runway and next to the main building. All you would need to do would be to put a station and a pathway for about 100-200m to the front of the terminal building and add into all journeys for any Scotrail/ East Coast or Cross Country train to Inverness, Aberdeen, Perth, Stirling, Dundee and local stopping Fife/ West Lothian trains that they stop at the new station called 'Edinburgh Airport' saving Scotland millions in pointless tram fees from running trams from the airport to the stations when there is a perfectly good rail line right next to the airport.

Am I missing something here at all? It seems far more logical to do this.

Hi hope you're right, Dominic, but those are both quite long standing schemes with many past successes. I am more worried that the Edinburgh farce will put off more cities (Bristol or Leeds for example) from even attempting a system in the first place.

Jamie, other projects such as Nottingham and Manchester seem to be delivered effectively and pretty much on time / budget; so maybe other cities won't be put off as you suggest.

Badly designed propects always end up in almighty cock-ups. Speaking as a retired Senior Analyst of an International Company, I noticed there were generally 2 types of project. The first would be thought out and costed and all problems eliminated before we went ahead, and the second group belonged to 'prestige' projects which would get lots of attention in the media and political kudos but would never see a return on any money invested. The Edinburgh Trams were always a 'prestige' project from the start. Try and think over the last 30 years of other prestige projects. My favourites would be the Advanced Passenger Train and Concorde.

How on earth did the construction of the tramway ever reach such a diabolical conclusion. It is disgusting. Other towns and cities have managed to build tramways and even have them extended with a lot less difficulty.

Once the people of Edinburgh see how succesful trams can be I am sure they will wnat extensions to the system once it opens.

Well, I sure hope that this shambles of a scheme won't put off future tram networks being built or expanded in this country.

I also hope that such incompetence isn't indicative of how an indepedent Scotland will be run; pouring endless money into a bottomless pit of a scheme that is a pale imitation of its original aspirations. What an embarrassment for their capital city.