Posted 30th August 2011 | 2 Comments
Now Edinburgh tram decision looks uncertain again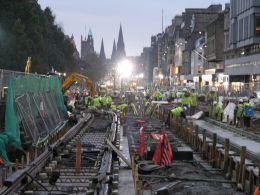 Princes Street was closed for tramway construction during most of 2009
THE DECISION to terminate Edinburgh's tramline at Haymarket, which was taken by councillors a few days ago, is looking doubtful following a warning by the Scottish Government that it is preparing to withhold almost £60 million from the scheme. Now the future of the floundering project is to be discussed once again at a special meeting on Friday morning.
Conservative and Labour councillors had overruled the pro-tram Liberal Democrats by voting to restrict the new service to the section between the airport and Haymarket.
The latest estimate of the total cost had reached £1 billion, and councillors were told that abandoning the section between Haymarket and St Andrew Square would reduce the cost of the scheme by removing £231 million in borrowing costs.
This decision sparked new outrage in the city, particularly because Princes Street was closed to traffic for almost a year to allow tramlines to be laid. If trams terminate at Haymarket this section won't be needed, and Edinburgh's showcase shopping street might have to close again to allow the lines to be lifted.
But the whole debate has been thrown into fresh uncertainty after the first minister Alex Salmond said the government was preparing to withhold £60 million if trams terminate at Haymarket. The money is what remains of a £500 million grant from Holyrood, the rest of which has been paid.
Further financial problems have emerged after it was revealed that £25 million which would have been payable by businesses along the route between Haymarket and St Andrew Square would be lost to the scheme if it is cut short at Haymarket. £5 million already received would have to be repaid, and the remaining £20 million written off.
If the last tranche of government money was to be withheld, the economics of restricting trams to the airport-Haymarket section would be thrown into turmoil, and the case for continuing to St Andrew Square, via Princes Street, might become preferable again.
The Lord Provost is to convene a special meeting on Friday, to consider the implications of the Scottish Government's stance. The meeting may also discuss the possibility of allowing a new consortium to take over the scheme. It's reported that Bombardier and Paris Metro operator RATP made an approach in July which was rejected, but they are said to be 'still interested'.
Reader Comments:
Views expressed in submitted comments are that of the author, and not necessarily shared by Railnews.
i hope they see sense and retain the princes street section after spending so much time effort and money on all the work that was necessary to install the tracks here it would seem crazy not to run the trams into the main centre of edinburgh,starting the trams at haymarket is surely going to mean a fair bit less total passanger usage when the system does eventually open,or is this just to keep the main bus company happy.?

Trams have worked in the UK where they replace closed or lightly used 'heavy rail' routes. eg Croydon

Where they have involved laying new tracks in City centres they have killed the trade of local shops and decimated the very community they were supposed to serve.

They have also cost a fortune.

This scheme has now got 'failure' written all over it