Posted 25th August 2011 | 5 Comments
Edinburgh tram costs now threaten to top £1bn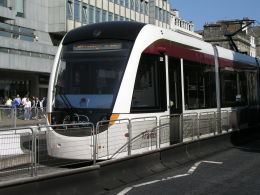 THE DISTRESSED Edinburgh tram project faces its greatest hurdle yet today, as the city council considers whether to axe the scheme.
Meanwhile, the possibility of terminating the line from the airport at Haymarket is back on the agenda, while it has also emerged that the costs of abandonment may have been exaggerated.
A new report which will be considered by councillors says that the price of scrapping the project could be at least £80 million lower than the previous figure, of some £750 million.
When that figure was calculated, it implied that only £20 million would have been saved by abandonment, because the costs of completion from the airport to St Andrew Square, off Princes Street, were put at £770 million.
Now, however, the crucial savings gap has widened from £20 million to as much as £300 million or more. Not only is the cost of ending the scheme at least £80 million lower than it was, it has also been revealed that the costs of borrowing will be £230 million, taking the total expenditure to £1 billion.
Edinburgh South MP Alastair Darling has dubbed completing the section between Haymarket and St Andrew Square as 'absolute madness', it is reported. Labour city councillors have responded to the former Chancellor's warning that the costs of this section could not be justified by tabling an amendment which would terminate the line at Haymarket, because 'material changes' have been revealed.
The project is now running three years late, having been mired in a spiral of rising costs and lengthy disputes between the council's development company TIE and the main tramway contractors, Bilfinger Berger. Mediation talks began in March.
To add to the gloom, the council-owned tram development company TIE has been trying to sell at least some of the 27 CAF trams it has bought for some £2 million each – so far, without success.
Various potential buyers have been mentioned, including Sheffield and Watford-St Albans in Britain, but TIE has already been rejected by Transport for London, which needs extra trams for the Croydon area but has chosen to buy six new vehicles from the Swiss builder Stadler.
Reader Comments:
Views expressed in submitted comments are that of the author, and not necessarily shared by Railnews.
Maybe we are at the stage of throwing good money after bad in this project.

Big projects often cost many times the original estimate eg Channel Tunnel, Millenium Dome and the Olympic Stadium.

Analysis must always be done very carefully before starting.

However our Politicians often like 'prestige' projects that they can 'open' and have their name on a plaque when they do.

But it takes real guts when the Public eyes are on you to cancel something.

I do not understand the fascination of certain European and American cities in trying to resuscitate, at great expense, a mode of transport that was considered obsolescent even in 1930. The popular new mayor of Toronto, a city with the largest legacy streetcar network in North America, intends to scrap its antiquated system. Elsewhere in Europe, tram systems (e.g. in Kaliningrad and Voronezh) are steadily being scrapped. Edinburgh City Council even scrapped a usable Bus Rapid Transit route to attempt to construct this white elephant. The sooner the council cuts its losses and scraps the scheme, the better for the financial state of Scotland's capital city. This is a good example of a vanity scheme, and heaven help the UK economy if the much bigger boondoggle of HST2 is ever built.

I'm a resident in Edinburgh. I have to say, it is genuinely difficult to find anyone in Edinburgh who actually wanted this project to go ahead in the first place.
It is important to understand the tramline does not bring anything new to the city, other than the tramline itself. Edinburgh is a small city of under half a million residents, and the airport lies about six miles from the city centre, and is well connected by buses. The tramline (if it goes ahead) actually serves very few of the populated areas of the city.

This is what ghappens when you have people in charge with NO project management experience and virtually no commercial sense. This project is still a great idea for Edinburgh but has been ruined by greedy contractors and well paid idiots in government making dumb decisions. Large capital projects like this are undertaken successfully in the oil industry every day....and rarely turn out to be such a mess as this. A change in strategy is required, shutting it down now really would be a waste.