Posted 30th June 2011 | No Comments
Future of troubled Edinburgh trams hangs in balance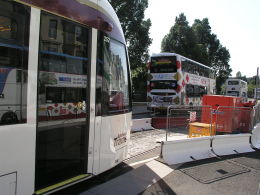 EDINBURGH CITY COUNCIL is due to make a make-or-break decision today about the future of the city's overunning, conflict-mired and increasingly expensive tram project.
Similar schemes in England opened over the last two decades have been successful and opened approximately on schedule.
Manchester is currently poised to open another extension after a delay of a week or two in which to correct some computer problems, but by contrast the Edinburgh line is not weeks but years late. The originally-envisaged network has shrunk from three lines to part of one, and even that faces further contraction following a report from council officers.
Councillors face some stark choices today. The £545 million budget approved four years ago after the SNP had gained minority control of the Scottish Parliament has been abandoned as unachievable, partly because there has been a bitter and lengthy clash over costs between the council's development company TIE and the contractors Bilfinger Berger.
Now the council must decide whether to continue with the remaining line, which would run from Edinburgh Airport to St Andrew Square just off Princes Street for about £770 million, complete the line only from the airport to Haymarket for some £700 million, or abandon the scheme altogether, for about £750 million.
The Haymarket terminus would leave Princes Street unserved. Tramlines have been laid there, but only as a result of long-term closures of one of Europe's principal shopping streets. The pain of the protracted roadworks angered retailers along this famous street, and to make matters worse some of the new tracks already need repair, because they have been apparently unable to stand the impact of conventional rubber-tyred road vehicles.
The argument has been complicated even further by a claim from a former chief executive of Lothian Buses, who has told the Edinburgh Evening News that the city's comprehensive bus network is at risk as councillors seek to find more tram funds.
The SNP government, which has recently regained power at Holyrood with an absolute majority, has maintained consistently that the project will only get £500 million of national funding -- indeed, that was only granted with some reluctance to gain the support of the Green Party after the 2007 election had given the SNP minority control.
Edinburgh councillors must now decide today what the future of their unhappy tram plans should be -- and where to find at least another £200 million.