Posted 24th July 2013 | 13 Comments
Appeal court rejects all HS2 protests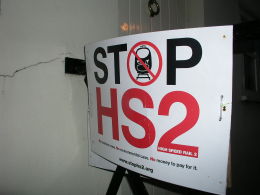 APPEAL court judges have rejected claims that HS2 is being illegally promoted by the Government, and the Department for Transport said work on the new High Speed line from London to Birmingham, Manchester and Leeds will continue. Permission to refer the case to the European Court was refused, but permission was given to refer the claims to the Supreme Court.
Of the seven broad areas of challenge to the decisions on the principle of HS2 and route for Phase One from London to Birmingham made by three sets of claimants, the Court of Appeal ruled in the government's favour in each case.
The DfT described the rulings as 'categorical' and said it will be 'moving forward as planned' with introducing legislation in Parliament later this year and getting the scheme ready for construction in 2017.
High Speed Rail minister Simon Burns said: "By dismissing all seven grounds of appeal and declining to refer the case to Europe, this is the second time in four months a court has rejected attempts to derail HS2.
"Parliament is the right place to debate the merits of HS2, not the law courts, and we will introduce the hybrid bill for Phase One before the year is out. I urge opponents not to waste any more taxpayers' money on expensive litigation and instead work with us on making HS2 the very best it can be.
"We continue to move forward apace with the crucial business of getting the scheme ready for construction in 2017 and delivering enormous benefits for the country."
The Court of Appeal agreed it was lawful for the government to choose to rule out upgrading the existing network as a credible alternative to HS2. It also agreed with the earlier High Court decision that the government's approach to consultation on the principle of HS2 and the Phase One route, and on environmental and equalities assessments, had all been carried out fairly and lawfully.
Earlier in the year the High Court ordered the claimants to pay the government's legal costs for defending the unsuccessful grounds of challenge. The government will be seeking to reclaim its costs for having to fight these appeals.
Penny Gaines, who chairs Stop HS2, said: "The judges were split on whether a Strategic Environmental Assessment and an Environmental Impact Assessment should have already been done on a project that has been underway for over three years. But they agreed that the draft environment assessments which had been done didn't match the directives, and gave immediate leave to appeal.
"In the original ruling and the appeal, the judges have not looked at whether HS2 is a sensible way of spending £50 billion of taxpayers money. They've said it's up to Parliament to make the decision. But it is vital that Parliament has the right information they need on the environmental devastation HS2 will cause, and as yet, HS2 Ltd simply have not done the work."
Meanwhile, the Prime Minister said today that HS2 is 'essential' if the UK is to be a 'winner in the global race'.
David Cameron was speaking in a question-and-answer session with members of staff at luxury car firm Bentley in Crewe, where more than 1,000 jobs are to be created by the development of a new £150,000 model.
The Prime Minister was asked what he thought HS2 would bring to the country, particularly the north.
He answered: "I think it will bring a big benefit to a region like the North West and I think it will bring a big benefit to our country for this reason: I think if we want to be in the front rank of countries, if we want to be a winner in what I call the global race, then we've got to have a really fast and efficient transport infrastructure.
"I think when you look at what really makes a difference to the economic geography of a country it's those big decisions to build the big motorway, to build the high-speed line as we did through the Channel Tunnel. It's those decisions that can make a real difference to your country."
Reader Comments:
Views expressed in submitted comments are that of the author, and not necessarily shared by Railnews.
But Chris Neville-Smith, Toton can only be served by existing services if they are diverted, incurring considerable time penalties to existing users in the process; sure, the EMT Norwich - Liverpool and Northern Nottingham - Leeds can be diverted between Nottingham and Trowell by taking the long way round via Attenborough so as to serve Toton, but the existing users would be significantly disadvantaged in the process. Presently, the only service from Leicester and Loughborough which could be diverted is the Leicester - Lincoln "stopper", and there are three services between Derby and Nottingham which could be diverted and reversed at Toton; however, if the Nottingham - Cardiff was to be diverted, the centre-to-centre direct journey time between Nottingham and Birmingham would be considerably extended, and it is already seen as "slow".

I do hope you are correct and services such as the NE/SW/South Coast XC services remain broadly as now; I use them regularly, and by visual observation there is a significant cross Birmingham traffic. As for those who alight or join at New Street, many of these seem to be changing trains, and this ease of connection will go if existing services are terminated or transferred to the new Fazeley Street station.

The leaflet I referred to regarding Nottingham is very specific regarding journey times and frequencies; no caveats such as "journey times from" or "an approximate journey time of"" or "up to x services an hour", etc. I just can't see how it will be possible to keep the existing pattern of services AND the shuttles implied in the leaflet.

Regarding the transfer of the location of the East Midlands station to Derby, this is being pressed for by the city council; somewhere in the reams of paper published by the DfT is a thank you to Derby City Council for the contribution made to the HS2 debate, but this seems to have been totally disregarded by HS2 Ltd. This submission concluded that the best location for a station was at Derby, one at Nottingham was close behind, and the worse location by far to locate a station was Toton! The local Derby newspaper has also suggested that having the station at Toton was a late change of plan; it reported that in a confidential presentation to the city council shortly before publication of the proposals, the East Midlands station was shown as being at Derby. A map was also published in a national newspaper some months ago which also showed Derby as the location for the East Midlands station.

David Faircloth, I wouldn't read too much into the service assumptions on the classic lines at this stage. This was really just a back-of-the-envelope suggestion for how classic services might run in order to get some idea of benefits for the business case. For phase 1, where more work has been done the proposed post-HS2 service pattern has changed a lot, escpecially Coventry where the original proposal for one fast tph to London was changed to three fast tph.

However, Toton station is conditional on having decent connections to both Derby and Nottingham. I guess this would probably be done through extending/rerouting existing services rather than a load of new ones. Should Network Rail say it can't be done, the Toton idea will probably be dropped in favour of a station at Derby.

By the way, I don't think anyone in the Treasury has got cold feet as such - just that there are some people in the treasury who tried very hard to stop Crossrail by exaggerating the costs who I suspect are now trying to do the same for HS2, as a lot of the so-called escalation is merely the Treasury changing the rules on how contingency budgets are calculated. They might have an alterntaive in mind, but it's more likely someone will cook up a alternative that doesn't work, call it a solution, and inflict long-term economic damage for short-term gain. Call me cynical, but 51m has been doing that for two years now.

Regarding Ken Oldfield's comments about train services post HS2, some proposals are tucked away in the many hundreds of pages of documents published by the DfT.

Living in Derby, I haven't looked at the suggestions for the Potteries, but it does seem that my city's train services will be altered considerably; the hourly Scotland - Plymouth service will be diverted to run via the Erewash Valley, Toton, and Leicester, and the hourly Newcastle - Reading/Southampton service will also be cut back to York. On the Midland Main Line, two trains will continue to run each hour to St Pancras, but the present fast Sheffield - St Pancras will run between Derby and Leicester via Toton; as the "stopper" will continue to stop at Long Eaton, just how many trains to London does the Erewash/Broxtowe area need?

A document has been produced (I think by HS2 Ltd) which explains how Nottingham will benefit from HS2; total journey times have been calculated by adding together the time from Toton, the rail journey time between Nottingham and Toton (I think eleven minutes from memory), and then seven minutes to change trains. These don't seem to be qualified in any way - there aren't any caveats to qualify the time by adding words such as "about" or "approximately"; the journey times are, therefore, very specific.

But then it goes on to say that there will be x trains each hour with this journey time to London, y to Birmingham, z to Leeds, etc. As I've already said, there aren't any caveats, so people will read these leaflets and reasonably conclude that all they have to do is to turn up at Nottingham station and eighteen minutes before their train is due to leave a shuttle will glide away on the short journey to the East Midlands HS2 station in the middle of nowhere (well, not strictly true - if you want some plants Bardills Garden Centre is just a short way up the A52!).

Now, of course, by the time the shuttle's doors have opened and the high speed train's doors have closed a half minute (or whatever) before the train is due to leave to ensure a prompt departure, that seven minutes to change has been reduced; so you've possibly only got six minutes to get from your seat at the north end of platform 6 to your reserved seat on the high speed train, which just happens to be in the front coach of a long formation train in platform 1. Probably OK if your fit; but is it really doable if you're getting old and have to wait for lifts, or if you are a young parent with a buggy and all of the other "stuff" parents seem to take with them these days? What if there is a delay in opening the shuttle's doors and you are fifteenth in a queue to get off?

Nottingham station is presently closed for major engineering works; but this will only add one platform. If you add together the departures each hour needed to provide the service described in the leaflet, I think about eleven shuttles are needed to get people to Toton, never mind get them back from there to give the same total journey time.

So does this mean that Nottingham station is going to be rebuilt again in twenty years time? The HS2 documents seem to be silent on this!

I find it interesting that the government and HS2 seem to be changing the emphasis away from speed to capacity; it will be interesting to see how this develops. Could it be that there has been a change of heart and that the Treasury is getting cold feet about the ever increasing costs for HS2, and that the way is being prepared for a cheaper alternative?

Didn't the same anti's kick up the same stink about the M40 when construction work started on that? Yet i bet those same antis' make use of the same road on a regular basis.

we should have been building these railways 30 years ago. We cannot afford any more delay to projects such as this as the existing network cannot cope, however we do need to see investment in our current network at the same time. Significant train lengthening is required NOW to TPE, XC, Northern Rail, East Mids and no doubt other franchises will be mentioned. Many of these franchises have been crying out for trains for years only to repeatedly told no. Why waste money which could be spent expanding these trains fighting a project which will bring European wide benefits to this country in terms of regeneration, employment, travel opportunities etc. Its a pity we didn't have a network ready in time for the channel tunnel opening yet it is a classic case of spending so much time talking about it we don't actually do anything. Most of Europe are benefiting from HS rail along with Japan, China, The US all investing in their networks and reaping the benefits. Its about time the NIMBY's looked beyond their back gardens and remind themselves of how much they rely on the M40

Skipping over the EU observation and looking at the judgement, I have to say, I am astounded how poor some of the arguments are. Okay, 51m et al had their options limited by what the court would consider (you can only really pick holes with the procedure leading up to a decision rather than to decision itself), but some of what they were claiming in court wouldn't last five minutes in public debate.

The central argument seemed centred on when 51m submitted its optimised alternative for consultation, and the government, quite rightly, rejected their proposal on the grounds that this delivered no growth for the suburban services that need it the most. 51m cried foul over this, claiming that the government was changing the rules and they never said regional services were a consideration and 51m would of course have come up with a proposal that solved this problem if only the government had said so. The High Court and Court of Appeal both disagreed, as the consultation did make it reasonably clear that growth of regional services was one of the reasons for HS2.

But even if you agree with 51m on this and think they were unfairly denied the chance to come up with an alternative that deals with growth on regional services, that is still a feeble excuse. For pity's sake, if can produce this alternative, let's see it. They've had a year and half to come up with a new proposal and they've done nothing. (Similarly, they claimed in court that Stone and Atherstone weren't included on their service diagram because they're wasn't enough room on an A4 sheet of paper - well get a bigger piece of paper then!) Claiming it doesn't matter now doesn't wash - they can still submit it as evidence during the Hybrid Bill.

On the contrary, ever since January 2012 they have been trying their hardest to gloss over the fact that the worst overcrowding is on the regional services. I can forgive antis who don't realise how different the corwding situation is on the London Midland services, but the people who went to court know this perfectly well and just pretend not to. Frankly, if this is the best they can to, they'll get torn to shreds the moment anyone in the media actually bothers to scruntise their ideas.

Wonder if Anti HS brigade will travel to EU court via plane, 4x4 or Eurostar ?!



Don't worry, I know perfectly well the different between the EU courts and the European Court of Human Rights. Although, as far as I can tell, this was an EU court they were pursuing rather than the ECHR.

I suppose there's a chance they might take the position that the EU is a Big Bad Evil Entity who wants to impose nasty things on the UK (like funny foreign trains that go faster), but the European Court of Human Right is a noble selfless organisation who tirelessly strives to protect ordinary people from UK government decisions (like funny foreign trains that go faster). That would make sense - but the anti crowd have never been terribly diligent with these technicalities.

I also find it completely galling that many anti-HS2 lobbyists who are now moaning about the cost, are quite happy to use public funds to argue their cases.

Surely questions need to be asked as to why at a time off council spending cuts when we hear of senior citizens dinner clubs being closed through lack of millions can be spent on one sided legal action against a project that is government policy !

In fact a council in Eaśt London has received many complaints from Eric Pickles MP and yet not a leaf of lettuce has been said about many councils that just happen to be Conservative !

What this demonstrates is how we need clear Infrustructure Legislation for major projects like HS rail or lets say the London Supersewer which sets out procedures of when legal action is valid and can be taken !

In the meantime a simple law that any funds against a project has to be matched with the same amount for a pro group and if both sides are not represented then NO FUNDS can be spent !



@Chris Neville-Smith

Yes, it's deliciously ironic!

You could see it coming though - scan the pages of STOPHS2's website and you find comments berating HS2 as a Brussels inspired behemoth fiendishly devised to lay waste to Middle England by stealth, before seamlessly moving on to invoke infringed Human Rights as a last desperate bastion against any hard hats appearing over the horizon.

To be fair though Chris you should know that the ECHR and the EU are unrelated beasts - Britain was a founder signatory (just after WWII?) to the Convention on Human Rights, from which the judicial body in question evolved.

However, the vast majority of the British public routinely conflate the two institutions so it's fairly safe to assume that this distinction is lost on virtually everyone populating the anti-HS2 community?

I do not think the opponents of this project do themselves any favours by trotting out the same disproved arguments about environmental devastation that they hope might reach a new audience if repeated constantly. I see periodic letters in the local press from people who have been influenced by the "NO" campaign that look embarrassingly like they have been dredged from the archives of newspapers from the first railway age! One of their favourite arguments in the Potteries is that Stoke will lose its two trains per hour on the existing branch of the WCML via the potteries, as & when HS2 opened & theyd have "2 or 3 trains a day" with absolutely no evidence to back up that claim, which I consider to have been dreamt up by someone from "Stop HS2" to fan the flames of unquestioning Potteries people.

Does anyone else find it amusing that an organisation that argues that the Big Bad EU is forcing us to do this wants to appeal to the very same EU against the decision?