Posted 27th June 2013 | 8 Comments
New budget for HS2, but bid to overturn Bill fails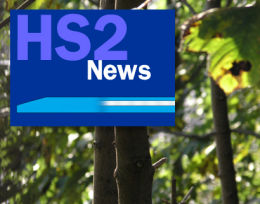 A NEW budget for building HS2 has been announced by the Transport Secretary.
It now includes a greater contingency margin of some £14 billion, which has boosted the total to some £42 billion. The rolling stock is expected to cost a further £8 billion.
Opponents to the scheme have highlighted the increase as fresh justification for abandoning it, but Patrick McLoughlin told Parliament that investment in transport would provide the infrastructure the country needs to 'compete in the global race', with better rail links as a key component.
He was speaking as he launched the Second Reading of the HS2 Paving Bill, which will unlock key funds for the next stage of development.
Mr McLoughlin warned MPs that HS2 was essential, because without it, "the key rail and road routes connecting London, the Midlands and the North will soon be overwhelmed".
He continued: "Even on moderate forecasts, the West Coast Main Line – the nation's key rail corridor – will be full by the mid 2020s. Upgrades do not provide the extra capacity that we need. The choice is between a new High Speed line and a new conventional railway. The significant additional benefits make high speed the right answer.
"The easiest thing in the world would be for the government not to build HS2, but the cost of doing nothing would be huge. A cost in jobs. Our modest estimates are that HS2 will create and support 100,000 jobs, while the group of Core Cities predict that HS2 will underpin 400,000 jobs, 70 per cent of them outside London. Some estimates suggest HS2 will add over £4 billion to the economy even before it is open."
Several MPs have criticised the Paving Bill, but a motion to kill it was defeated by 325 votes to 37. The rebellion, supported by 21 Conservative backbenchers as well as Labour's Frank Dobson among others, was led by former cabinet minister Cheryl Gillan. She has consistently opposed the project, because her Amersham constituency is on the route of Phase 1. Mr Dobson is mainly concerned about the effect of redeveloping Euston station on some of his constituents who live nearby.
Ms Gillan accused the Government of sponsoring a project which was '30 years too late', and went on to claim that "technology and the whole of the UK is moving in a different direction."
HS2 has cross-party support, although Labour's shadow transport secretary Maria Eagle said she was concerned about potential delays to the project.
Reader Comments:
Views expressed in submitted comments are that of the author, and not necessarily shared by Railnews.
What would be the point in building a completely isolated network that isn't compatible with anything else? At least with the HS2 plans the scope for integration into HS1 and abroad is obviously there wheres a system using an alternative technology such as Maglev would be incompatible with anything.

It should be noted that the ICE was chosen over the Transrapid Maglev in Germany, and that the opening of the Huhang HS Railway in China has effectively made the need for an extension to the Shanghai Maglev train unlikely to be built.

I would point out that the Japanese have tested a Magnetic levitation train at over 300 mph are now building their network. HS2 looks definitely old hat. Can you see anything in todays Government announcements on rail spending that hasn't been announced before, apart from the extra £10 billion for HS2 ?

Tell you what, I'm going to the the antis a favour and list some credible alternatives they might want to suggest.

The bottom line is that overcrowding on the suburban services on the WCML are bad and getting worse. We are running out of cheap options. If you don't want HS2, the alternative ways of providing the extra passenger capacity are:

1) Upgrade the Chiltern Line sufficiently to allow London-Birmingham trains to go that way, and used the released capacity on the WCML for more regional services. (This would need a lot of four-tracking, and Atkins estimated the cost at around £8bn.)

2) Build a new line as far as Milton Keynes. In practice, this would probably mean a new high-speed-ish line which you divert the long-distance services on to, and use the released capacity for local services (but bear in mind you'd still have to expand Euston and build a tunnel under Greater London).

3) Carry out extensive work to rebuild stations, points, signalling and tunnels to allow longer and/or duplex trains to run on the WCML.

Bear in mind that all of the above would cost billions, not millions. If you really don't want to spend billions, you have two other options.

4) Forget about the high-frequency timetable enabled by the WCML upgrade, cut London-Birmingham and London-Manchester back to 2tph, hope passenger numbers don't expand too much, and used the released capacity to serve intermediate stations to Rugby better. (Bear in mind that commuter services are less lucrative than long-distance services, and over time the reduction in rail revenue will cost the government.)

5) Decide it's just too expensive to solve the problems and admit we're going to have to carry on putting up with 160% load factors, plus however much extra crowding is put on by future growth.

Any of those positions would be a reasonable starting point for a debate. Unfortunately, the current solution proposed is to:

a) Deny overcrowding exists,
b) Attempt to mislead the public that load factors on long-distance services also reflect load factors on commuter services.
c) Propose a solution that delivers a bit a growth where it is needed the least (one extra tph London-Manchester) and no growth on the suburban services that need it the most.
d) Claim that this solution that delivers neither longer trains nor extra services to regional lines solves the problem for regional services.
e) Go to court claiming that they have solutions to all these problems but you were never asked for them - whilst never showing these solutions they claim to have to anyone who challenges them.
f) Accuse anyone raising any of the above of either being a train-spotter or having vested interests.

And to think StopHS2 wants rail passengers to believe it's on their side.

Hi Instead of opening a new route upgrade the Marylebone - Aylesbury section and run high speed from there up the old great central. then do a cut off to birmingham and continue it to sheffield and then reopen the woodhead route and hey presto....!!!! no nimbys.....

"She [Cheryl Gillan] has consistently opposed the project, because her Amersham constituency is on the route of Phase 1."

Since one a of big reasons for cost escalation is all of these tunnels designed to appease antis who carry on complaining anyway, I'm sorely tempted to suggest we cut a few billion off the bill by forgetting about all these expensive mitigation measures.

I certainly don't remember the good people of Buckinghamshire standing up for fair compensation or mitigation when we flattened a large part of east London to make way for the M11 link road.

If Ms Gillan thinks HS2 is 30 years to late then its surely time we got on with building it ASAP!

Of course 30 years ago rail usage was at its nadir and investment in a new high speed railway would then have been described as 19th Century Technology !

As for these increased amounts well remember how the London Olympic budget was suddenly inflated by contingentcies and claims of under spending were made after the games !

Anyway we talk about total cost but of course those who will work on HS2 will of course pay tax and NI and supplies be subject to VAT all of which will in fact return money to The Treasury as will spending by workers of their pay !

So the net cost of HS2 will actually be less and then we have billions generated in upgrades to stations and areas around them and also upgrades to historic road and rail networks where they meet HS2 all of which will generate hundreds of billions of benefit to the country.

As to those who say spend money on this or that well either these schemes either just spend money without generating money or the reality of Governent spending is its HS2 or nothing !

I wonder how much of the increase is down to the modifications they have had to make to appease the locals? They of course will be over the moon that the budget has been increased forgetting they are part of the cause of the increase