Posted 3rd July 2013 | 19 Comments
Business leaders dismiss Mandelson's backtrack on HS2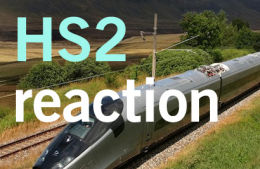 FORMER business secretary Peter Mandelson has said HS2 could be a 'monumental mistake', following last week's announcement that the projected cost is now £50 billion for the two phases, although this includes £7.5 billlion for the trains and a much larger contingency margin of £14 billion.
Writing in the Financial Times, Lord Mandelson said he had withdrawn his support for the scheme and that upgrades for the existing East and West Coast Main Lines should be 'actively considered' instead.
He explained: "In 2010, when the then Labour government decided to back HS2, we did so based on the best estimates of what it would involve. But these were almost entirely speculative. The decision was also partly politically driven.
"We did not imagine that the taxpayer would meet all the costs; HS2 looked a sure candidate to attract private funds. This is now far from clear. But, in truth, this was about the limit of our collective cabinet consideration. We were focusing on the coming electoral battle, not on the detailed facts and figures of an investment that did not present us with any immediate spending choices."
However, Jerry Blackett, chief executive of Birmingham Chamber of Commerce Group, responded by underlining the economic importance north of London and said that doing nothing was 'not an option'.
"The West Coast Main Line has been upgraded. Original estimates were that it would cost £2 billion; take six years and deliver 140mph [225km/h] trains," said Mr Blackett. He continued: "In fact it cost £9 billion, took nine years to complete and delivered 125mph trains [200km/h]. This only delivered one more train per hour between Birmingham and London and even this was at the expense of some local services. HS2 will deliver three new services per hour between the West Midlands and London each capable of carrying more than 1,000 passengers."
"In addition, HS2 also releases capacity on existing lines for more local, regional and long-distance services. Analysis in the West Midlands does make a compelling case for jobs and growth. But capacity is the key issue here and high speed costs only 10 per cent more than a conventional route.
"We do believe the economic benefits from connecting eight great cities will kick-start wealth creation outside London. We need to ensure our cities can compete with cities like Munich, Milan, Lyon and Barcelona, who are already ahead on their rail links.
"The long-term vision includes aviation. Birmingham Airport plus HS2 could deliver 70 million badly-needed air passenger movements per annum. This will bring investment to the Midlands as well as providing part of a national solution. We seem to have a habit in this country of procrastinating too much about major projects. Our motorway network and the Channel Tunnel were built only after long debate and opposition."
Reader Comments:
Views expressed in submitted comments are that of the author, and not necessarily shared by Railnews.
"giving Manchester customers not only a speedy alternate route to the Capital"

Hold it, stop right there. You think the rail line to Buxton is "speedy"?

I went to Buxton earlier this month, as part of my annual Buxton Fringe jaunt. It's a beautiful rail route, with a lovely destination. But "speedy"? Please access reality before making those suggestions.

Oh, and I hope you've got a proposed service plan ready for this. I'm not going to be mighty thrilled if Buxton station goes the way that Stone and Atherstone go if we do what 51m suggests.

England is a tiny crowded country. Speeds above 125 mph really would not get you to any destination in England appreciably sooner. It is increasing capacity that should be the thrust of efforts. My suggestions are:
1. Reinstatement of the old Great Central route.south of Leicester into Marylebone.
2.Restoration and electrification of the few miles between Buxton and Matlock. This would connect into the planned electrification of the Midland main line into St Pancras thus giving Manchester customers not only a speedy alternate route to the Capital but also more convenient connections to HS1 services. What's the point of European bound customers getting to Euston 30mins faster on HS2 if it take that long to transfer to St Pancras?
3.Provide alternate freight routes to the north. Some of the work is already in progress between Peterborough and Doncaster via Sleaford. Rebuilding the short section of track between March and Spalding would avoid congestion at Peterborough. If extra freight capacity is required between Carlisle and Scotland then I would have thought the solution was obvious. The northern section of this route is already being restored by the Scots.

The M74 is a good analogy. The route south from the suburbs of Glasgow has been around for decades. It was extended to the English border not so long ago. But the planned link into the city centre has been put on hold for a long time, because the cost of building such a long viaduct was too much of a financial commitment. Better instead to make do with the existing routes on the A74 and M73/M8.

But the A74 and M8 could only take a finite amount of traffic, and in the end the decision had to be made to bite the bullet and build it, in spite of the expense. The fact it cost so much per mile is neither here nor there - it was the the cost of not building outweighed the cost of building. A similar situation applied with the last bit of single carriageway on the A3.

Significantly, I don't remember anyone arguing that you could solve the problem for less than 10% of the cost by "upgrading" the M8 or A3. There's no getting round the problem - if a road or railway cannot take the amount of traffic that wants to use it, and the only solution is an expensive new road or railway, you have two choices: either fork out, or do nothing and put up with the economic damage. Building a cheaper road or railway that goes somewhere different does not solve the problem.

And as for your question "How many reinstatements would that have paid for?", if the people pulling the strings in the anti groups get their way, the answer will be none. It will go on tax cuts for higher earners or more roads.

What happened on the WCML should be repeated every time Anti HS2 brigade go on about upgrading existing lines instead of building a new line.

However, if HS2 is to progress it needs management that can counter arguments and put clear case and that could surely be best done by some of those who built HS1 CTRL through Kent and encountered similar opposition but countered this by design of line and planting thousands of trees along the route.

HS2 also has to counter arguments against it by explaining how new lines are now built and the fact it's better VFM to build a new stretch of railway than spend years messing around with operational ones like the WCML. Upgrade did.



Nobody has corrected my costs per mile of HS2 construction. I should have said £100m per mile. Too many noughts. Whilst this is expensive for railway construction, the last seven miles of M74 construction into central Glasgow was £770m, even more expensive. The new roof at Kings Cross was £550m. How many reinstatements would that have paid for? Almost twice the length of the proposed Leeds-Wetherby-Harrogate-Northallerton reinstatement.

Adrian Morgan, I'm afriad you have fully reinforced my argument that you have misunderstood the case for HS2. For someone who has put such an intelligent case for reinstating the Ripon line, you are undermining your credibility by repeating the unsubstantiated guff spewed out by StopHS2. I have debunked all of the arguments you repeated before and I could do so again, but that's not the point. The point is that HS2 is primarily about capacity, not speed.

At the moment, the people who are losing out the most under the status quo are COMMUTERS. Not business travellers, but commuters. The worst overcrowding is on the London Midland services out of the London in the afternoon peak, and there simply isn't room to add any more services to a four-track railway. An extra pair of tracks are needed somewhere, and moving long-distance services on to a high-speed line is one way of doing it. (There is also some benefits for relased capacity on the Coventry-Birmingham, Stoke-Manchester and Wakefield-Leeds routes, but London-Rugby is the biggie.)

I am happy to consider alternatives options for an extra two tracks, but the HS2 opponents who you are quoting do not. They want the public to believe you can magic the problems away with an upgrade, and the one 51m suggests, and you come close to endorsing, freezes growth on the most overcrowded commuter route in the country. 51m are perfrectly aware of this and choose to ignore it, and try very hard to stop other people noticing it. And the poor sods who have to commute on that line can just whistle.

It is not a case of either/or for HS2 vs commuter immprovements. I am pushing for both. A lot people StopHS2 cozy up to, like Richard Wellings, want neither. StopHS2 is no friend of rail commuters, and the sooner that rail users wise up to this, the better,

John Edwards:

Ah, that's a bit more like it. Actually attempting to suggest something that might actually work, as opposed to 51m's current snake-oil upgrade.

However, there is a catch: four-tracking the southern end of the Chiltern Line would be horrendously expensive. This was considered in part of rail package 3/3A and Scenario C. In particular, it looks like there is no alternative to a tunnel for High Wycombe. That would be at least £3bn, and even on an optimistic forecast you'd be lucky to achieve the four-tracking you want for less that £4,5bn. And that's just the southern section, and assume you won't need any expensive expansion of Paddington or Marylebone.

If 51m et al want to get behind this idea, by all means go away, come up with a detailed proposal with costs, and present it. But they'll have to begin by abandoning their non-proposal for an "optimised" "up"-grade. The GCR idea has some merits, but it's not the cheapo miracle solution you might think it is.

Dr Adrian Morgan, Ripon

London to Birmingham also includes Midland trains as well as Virgin and so numbers using this link and stations in between is far more than Virgin carries !

In fact Birmingham is the country's biggest interchange with Cross Country, Midland and Virgin Trains and local Centro network bringing passengers to and from Birmingham many of whom simply change trains at Nrw Street which is currently being rebuilt to deal with the ever increasing numbers !

So HS2 will speed up the journeys for millions of passengers travelling to Birmingham en route to other destinations on Cross Country network .

Fact is the Anti HS2 groups make the same flawed mistakes as Dr Beeching made in just comparing trips made on a line and not taking account of journeys involving changing lines and remember how he used figures for April which ignored holiday traffic in August !

One question re HS2 and Birmingham is what will happen to anyone who wants to board HS2 in Birmingham and travel north to say Leeds ?

@Chris Neville-Smith

Don't need to add extra services on the Aylesbury route as services can be pathed through an upgraded and quadtracked Chiltern / New North Main Line (with an OOC interchange). Really quite simple.

Where the East-West Line meets the reinstated GCR at Claydon Junction, a station could be opened to allow passengers to interchange between Oxford-MK-Bedford services.

Anything coming from Mandelson's lips is highly suspicious. Did anybody mention the Iraq war? Having him as a vocal opponent could be the best thing yet for HS2 given his total lack of credibility.

Thank you Adam for putting me right. I mistakenly assumed that 18 vehicles plus two locos on the Highland sleeper at Euston on a Friday night approximated to an 18 coach Pendolino. However 14 is still more capacity than 9/11 and I can't see the need with this capacity to run trains every 20 minutes to London outside peak hours.

As HS2 is non-stop Birmingham-London my comparison didn't include intermediate stations so platform lengthening elsewhere is not an issue.

When you say high speed costs only 10% more than conventional route, do you mean construction costs? Operating costs are nearly double in energy alone as air resistance (drag) does not double with double the speed but increase four fold even with the most aerodynamic fronts.

Bel Eben, your logic about costs is flawed. I agree with you, your assumption is nonsense. Restoring the Great Central would be much less than 90% as much of the trackbed is intact. Experience of reopening lines in Scotland and work done on the Leeds Northern project to Northallerton shows less than £10m per mile.

In reply to Mr Neville-Smith, I know exactly the reason for HS2 but the cost far outweighs the benefit. Recent calculations put the benefit cost ratio of the Ripon reinstatement at 4.3 costing approximately £390m for 44 miles of railway. HS2 BCR has now dropped to 0.3 costing at least £42billion for 400 miles of railway. £1.0 billion per mile is obscene and most of the electorate feel that way.

As more and more of HS2 is put underground the less attractive it becomes to travel.

A recent survey in Leeds showed 96% of Leeds commuters don't want HS2. They want better trains, more stations and electrification now and not HS2 in 2035.

To turn this around, one option would be to drop the expensive Leeds leg, and concentrate resources on building a transport hub in the Greater Manchester region.

The length of an 11 car 390 is 265.3m (approx) based on a cab car length of 25.1m and an intermediate car length of 23.9m.

The maximum length of platform that could be managed at Birmingham New Street would be 350m (ish) which equates to a theorecical maximum 390 length of 14 carriages (337m) and definitely not 18 as mentioned by a previous poster. Plus this would only be possible on platforms 3 & 4 without a massive amount of disruption & engineering work at a significant cost to the taxpayer (one would ask why this isn't being done as part of the New Street refurb if it was that easy and cheap to to). Plus the poster is forgetting about the length of the signalling blocks which would also need to be extended to accomodate the longer trains in and out of New Street which would decrease capacity further.

As for Euston, the same length of 390 (14 carriages) would only fit in 5 of the 18 platforms at Euston. Platform 1 is the longest at 400m (which is why the sleeper terminates there) and only 3 of Euston's current platforms are over 350m in length.

If 390 lengths are to be extended further, then other stations along the WCML would need to be extended also, or SDO implemented on the 390s. None of this can be considered as at little cost to the taxpayer.

Beleben "If that's the case, that means restoring the Great Central route south of Leicester would entail spending 90% of the cost of HS2. Which is obviously nonsense."

If you want to restore the Great Central route, you will have to add at least three fast trains per hour on the London-Amersham route.

My firm prediction is that you can't do it. Produce a service plan if I'm wrong.

Dr Adrian Morgan, I'm afriad you have completely misunderstood the reasons behind HS2. If you make those sorts of statements about upgrading the West Coast Main Line, you are going to be massacred by the people whose support you'll need for the Ripon line.

Well if Jerry Blackett thinks HS2 is so important economically for Birmingham let Birmingham and London pay for it. How important is it now Mr Blackett.
Does he really believe 6000 people an hour (3 trains per hour each way)all day every day want to travel between London and Birmingham? Dream on. I have never wanted to travel to Birmingham in my whole life. If there is that demand for business now then surely longer non stop trains would be run already on the current route. New Street and Euston can take 18 coach trains. Pendolinos are only 9/11 coaches long so lengthening will almost double capacity overnight at very little cost to the national taxpayer.
68 minutes with one stop is already in the timetable. That could be 63 minutes non stop and with improvements planned next year by Network Rail this could be reduced to 58 minutes non stop as HS2 will be. £17 billion to save less than 10 minutes in time is an obscene waste of money.
There is no comparison with the Channel Tunnel as that was built as much for freight as passenger. Freight through the tunnel is a fraction of that forecast and passenger use has fallen short of forecast.

This just shows how hopeless Mandelson was.I smell a rat here it seems the government are doing their best behind the scenes to scupper this project probably in favour of spending only some of this money on other upgrades like electrification.
We need the extra paths that HS2 will give so they might as well be built to high speed standard.

The only Transport Usage that will definitely increase is long-haul aviation to India, Brazil and China. (Short Haul is having a bad time). I'm sure that the real plan is to increase capacity at Birmingham Airport and then whisk Passengers into London in as quick as time as the Heathrow Express takes at the moment - and to a more convenient location. If they can get the Baggage handling right at Birmingham then the time via HS2 would be quicker than transferring at Heathrow.

I am inclined to side with Mandelson on this; the case for the scheme in it's current form are increasingly weak. I am also thinking that there has been inadequate attention paid to utilisation, integration, and capacity enhancements to meet future growth.I am not confident that proposals are fit for purpose, and are in addition introducing costly constraints.

"In addition, HS2 also releases capacity on existing lines for more local, regional and long-distance services."

So if you replace an existing fast train on West Coast with a high speed service on HS2, that would release capacity for a "long distance service"?

Which begs the question: what's the difference between the current long distance service, and its 'released-capacity replacement'?

"But capacity is the key issue here and high speed costs only 10 per cent more than a conventional route."

If that's the case, that means restoring the Great Central route south of Leicester would entail spending 90% of the cost of HS2. Which is obviously nonsense.