Posted 16th May 2013 | 18 Comments
Transport secretary hits out at HS2 report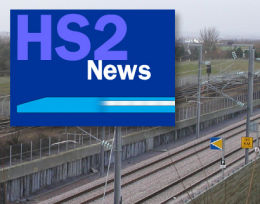 A NEW REPORT from the National Audit Office published today has criticised the Department for Transport for failing to prepare an adequate business case for building HS2, but the transport secretary Patrick McLoughlin said he did not accept the report's core conclusion and insisted that the case in favour of the project was clear.
The report is the first from the National Audit Office about HS2, and it says there are a number of flaws.
Among the problems mentioned are 'the Department's strategic reasons for developing High Speed 2 are not presented well in the business case, it is not clear how High Speed 2 will deliver the Department's strategic objective of delivering and rebalancing economic growth, the benefit-cost ratio calculated for phase one has been wrong twice, and the Department's management and oversight of the programme needs further improvement'.
There is also mention of a £3.3 billion 'funding gap', which the NAO says will occur between 2017 and 2020. Further concerns are voiced about the development timetable, with the report branding the DfT's intention to promote the main Hybrid Bill before the end of this year as 'overambitious'.
The DfT has gone through considerable changes since the collapse of the West Coast franchise competition last October, and has since rewritten the franchising timetable, delaying most franchise renewals until after the next general election. The NAO comments that it is 'concerned about the Department's capacity to undertake this programme to a challenging timetable alongside its other business and having experienced considerable organisational change'.
There also seems to be confusion about some of the Department's principal intentions. The NAO says it is 'unclear' whether the business case as calculated so far covers just Phase One, due to open in 2026, or the full Y-shaped network from Birmingham to Manchester and East Midlands/Sheffield/Leeds, which is due to open in 2032/33.
Amyas Morse, the head of the National Audit Office, said: "It's too early in the HS2 programme to conclude on the likelihood of its achieving value for money. Our concern at this point is the lack of clarity around the Department's objectives. The strategic case for the network should be better developed at this stage of the programme – it is intended to demonstrate the need for the line but so far presents limited evidence on forecast passenger demand and expected capacity shortages on existing lines.
"It is also unclear how HS2 will transform regional economies by delivering jobs and growth. The department is trying against a challenging timetable to strengthen its evidence and analysis, which at present provide a weak foundation for securing and demonstrating success in the programme in future."
Transport secretary Patrick McLoughlin responded that he "welcomed any examination of the HS2 programme", but did "not accept the NAO's core conclusion. This is because it depends too much on out of date analysis and does not give due weight to the good progress that has been made since last year."
He continued: "This includes the appointment of an expert management team and the announcement of detailed plans for the line north of Birmingham. The case for HS2 is clear. Without it the key rail routes connecting London, the Midlands and the North will be overwhelmed. HS2 will provide the capacity needed in a way that will generate hundreds of thousands of jobs and billions of pounds worth of economic benefits.
"Economic modelling is just the start of the story – if we only relied on modelling we would not have built the M1, parts of the M25 or the Jubilee line extension to Canary Wharf.
"We are not building HS2 simply because the computer says 'Yes'. We are building it because it is the right thing to do to make Britain a stronger and more prosperous place."
The NAO's conclusions have been greeted with caution in the regions. The chief executive of Birmingham Chamber of Commerce Group Jerry Blackett said: "We agree with the Department that the economic modelling is just the start of the story and urge the government to act speedily.
"In 2011 during the morning peak there were on average 4,000 people standing on arrival into London Euston and 5,000 people standing on arrival into Birmingham.
"This means there are already around 115 passengers for every 100 seats. We need to act now to increase capacity. Britain cannot afford to leave the economic future of great cities like Birmingham to an overcrowded railway that will also be 200 years old by the time HS2 opens. If we are to compete globally, Britain needs transport that matches the best, but we are way behind."
However, House of Commons Public Accounts Committee chairman Margaret Hodge commented: "The DfT has produced a business case that is clearly not up to scratch and shows no signs of having learnt the lessons from HS1, which the committee reported on last year. Some of their assumptions are just ludicrous. To take just one example, on the benefits to business travellers, the department continues to assume that business travellers do not work when on the train and to use data that is over 10 years old.
"HS1 ended up costing the taxpayer billions when it was supposed to pay for itself. An estimated £3 billion funding gap has been identified for HS2, already bringing into question the affordability of this project."
Labour shadow transport secretary Maria Eagle said: "Ministers must respond to this worrying wake-up call if HS2 is to remain on track. A new high speed line between north and south is vital to tackle the rapidly advancing capacity crunch on Britain's railways, yet the NAO is damning about the Department for Transport's ability to deliver it.
"It is deeply concerning that, just one week after the Queen's Speech, the NAO believes the Government's timetable for delivering the legislation necessary for HS2 is hopelessly unrealistic."
The report has been applauded by campaigners opposed to HS2. Joe Rukin of Stop HS2 said: "Just a couple of days after Patrick McLoughlin asked MPs to give him a blank cheque for HS2, the National Audit Office have produced a damning report into the project. The project is out of control because the politicians involved have been seduced by the words 'high speed rail' and have been complicit in fabricating a case for their vanity project."
Meanwhile Chris Richards, who is transport policy adviser at the Institution of Engineering and Technology said: "In our response to the Department for Transport consultation we made it clear that there were potential flaws in the analysis, several assumptions were made in crucial areas and serious questions have been left unanswered.
"High Speed 2 is a project of major national significance. If we get this wrong, we will regret it for decades to come."
Reader Comments:
Views expressed in submitted comments are that of the author, and not necessarily shared by Railnews.
It is interesting that only the House of Lords has understood what the NAO was saying.

Unfortunately, if the business case was presented properly, the scheme would probably not go ahead based on the existing proposals. In order to build a system that would adequately meet the anticipated growth in demand, the initial cost will be substantially higher, and would not meet basic criteria. However the scheme will probably go ahead for political reasons.


A complete waste of money we dont have,a vanity project,a line going from somewhere to nowhere,what do you expect from a Government who cant even keep our streets safe from murderers?.instead the money shold be spent getting the present railway right,fat chance i hear you say!

HS2, the best plan so far is that by Dick Keegan in May Railnews, opinion article, page19. It makes sense because it is obvious for the simple reasons, i.e more direct and eliminates the (CHILTERN) political hang-up.

I'd hesitate to describe Bristol station as being 'Central'! It was always a fair distance from anywhere useful until the development around the station area in recent years (development which sadly severed the former dock line route that might have provided a link to the heart of the city). Leeds is a better example of a centrally-sited station, though it's a shame the wires stop a few miles north to prevent some useful through train options.

@Stephen Lawrence, Cambridge, England: "My opinion, for what it's worth: build Phase 2 first, which definitely will boost the economy of the North. Then see how people react toward the building of the southern section."

Unfortunately hard evidence about travel demand patterns in the year 2033 are a little hard to come by - in fact they amount to mere forecasts and as such don't really constitute hard evidence?

The evidence we do have becomes more firm the closer the timeline we look at and one of the few bits of hard data we do have is the fact that any future looming capacity crunch will make its presence known first on the WCML section between London and Birmingham, which is why phase 1 of HS1 offers relief here first!

So your idea is to construct phase 2 first and have a **** load (14 trains per hour?) of brand new 320km/h + services all arriving at a single entry point on to what will be the busiest section of the busiest mixed traffic rail artery in Western Europe - now that sounds like a really good idea (or perhaps not!)

You ask what the reaction of travellers will be - my guess is something along the lines of "please direct me to the ******* idiot who decided this plan was a good idea - so I can strangle him/her!!!"


With current austerity and with Britain having the largest national debt of all European EU Nations I cannot see where the credit card for HS2 will come from - Bottom line is UK plc cannot afford the minimum payment and therefore HS2 is a non starter.

As the capacity problem is south of Rugby on the West Coast Main Line then the logical solution is to reopen the Great Central from the Midland Main line at Leicester, build a connecting link at Rugby and reinstate the Great Central to Princes Risborough ( Ashendon Junction ) and 4 track the GW-GCR joint line from there to London Marylebone and Paddington plus the North London line to join HS1. The earthwork formation is in excellent condition - areas of encroachment will have to be bought back and Brackley viaduct reinstated - not a major problem.

The Great Central was built to the European Loading gauge by Sir Edward Watkin and was intended to go to the Channel Tunnel so maybe the line will finally be used for what it was built for.

In reply to Chris Neville - Smith

1/ I would guess that neither or us has enough information to hand to accurately judge whether a capacity upgrade of the existing Euston - Tring section would be a cheaper option than a new, largely in tunnel line from north of Aylesbury into central London but that would be my expectation.
The main reason for suggesting a new relief line north of Tring but not south thereof is cost - north of Tring there is the ex - Great Central formation and generally open country whereas south of Aylesbury there are Chiltern hills and London suburbs.

2/ I think the reality would be that a lot more than 2 tph paths would be saved off a West Coast HS2 if there were an East Coast HS line. If real high speed were available up to NE England and Scotland, passenger volumes over these distances would be likely to substantially increase - perhaps some 4 paths per hour in each direction. Also, Leeds and other Yorkshire destinations would give perhaps another 4 tph on an EC HS line. Altogether, about 8 paths per hour that would not need to be provided via the proposed West Coast HS2. The current 18 tph projection might come down to 10.
Also, no need for a new HS line from Birmingham to Yorkshiry.

A Railway Stations should not be Terminus. Terminus Stations were only built in London because it was too expensive to carry on smashing down expensive property. So most journeys to and from London Terminii do not end or start there but involve a change to another rail link. The best stations are those such as Reading, Stratford, Bristol or Birmingham where the station is in the 'city' centre and most journeys finish only a walk from the Station. So what is the destination of most Euston arrivees both now and in the future. Is it Europe or Heathrow, or maybe the city of London ? If you can answer that question then that maybe the destination of any line built to relieve the WCML. I am guessing that Stratford maybe the best place to build a line from to both WCML and ECML.

HS2: "We are building it because it is the right thing to do" But what actually is it? Are we allowed to debate this? Why does the Transport Secretary instictively believe the initial consultants' report on the the route, rather than any other committees' reports? What we need is not opinions, but evidence. Without a debate based on evidence we will not come up with the best scheme. My opinion, for what it's worth: build Phase 2 first, which definitely will boost the economy of the North. Then see how people react toward the building of the southern section.

"Using the year 2033 morning-high-peak numbers used in the NAO report, there is no capacity case for HS2, for long distance high speed or outer suburban services."

And you know as well as I do that the problem is in the AFTERNOON peak. (And yes, don't pretend you don't know. I've seen you stick tables up on your blog and disregard the figures that don't suit you.) We don't need 2033 projections, the overcrowding exists now.

This is what really irks me about most antis' attitude to the blatant overcrowding problems that exist on services today. They respond by denying it's a problem, and to hell with the commuters who travel on standing trains every day.

I would welcome the construction of HS 2 but is it the best use of the funds available ?, This report just confirms the doubts quite a few people have ,like the promised growth in jobs and the local echonomy, when in reality parts of northern France served by their high speed network are amongst the poorest in the country

Using the year 2033 morning-high-peak numbers used in the NAO report, there is no capacity case for HS2, for long distance high speed or outer suburban services.

"This could be solved with a separate, more modest scheme with a new "bypass" line based on the ex - Great Central between Tring and Nuneaton, allowig speeds up to around 150 mph. South of Tring it would be cheaper to upgrade the existing line rather than tunnelling under the Chilterns and NW London."

I'm afraid not. At a push, you could do it the other way round, building a new pair of tracks as far as Milton Keynes-ish, and put more trains on the WCML north of Milton Keynes. But the busiest part of the line is south of Tring, and it's extremely unlikely you could provide another pair of tracks without a long tunnel and an expansion of Euston station, which are the two most expensive bits of HS2.

By all means explain how you think you can run more trains on an upgraded WCML with a service plan, but I suspect you'll find this harder than you think.

(I quite like the idea of sufficiently speeding up the East Coast Main Line to keep Newcastle trains going that way though. Even if that takes only 2tph off HS2, that would widen up options elsewhere.)

All reports must be taken seriously. On the one hand, we have queries being raised by the National Audit Office of what might happen if HS2 is built. On the other hand, there is a very compelling case from Network Rail of what's going to happen if we don't (and especially what's likely to happen if we go with 51m's non-solution).

So, instead of dismissing the NAO's report out of hand, I hope the Government will look through it carefully and see what could be done better. Note that the NAO is merely expressing concern about unanswered questions. All the government needs to do is answer the questions.

However, I'm confident that the Government's response will be more credible than the respons of StopHS2, which is, quite predictably, to treat this report as gospel truth because it's a government body whilst continuing to dismiss out of hand the reports of Network Rail et al as government propaganda (and thereby relieving themselves of the responsibility of actually addressing any of the concerns).

It seems to me that the planned HS2 is the right concept in the wrong place. Birmingham, Manchester and Leeds are all well within 2 1/2 hours or less from London already - competitive with aviation and allowing day - return journeys, with rail already the dominant carrier. A further speed - up is unlikely to have a great impact on these routes.

On the other hand Teesside, Tyneside, Edinburgh and Glasgow could benefit far more from 200+ mph London service, with much more potential for modal shift over these sort of distances, especially if all these centres could be brought within 3 hours of London at most. Building a 200+ mph line on an East Coast alignment through flatish, open country would be cheaper and more direct than the " long way round " via Birmingham. I am told also by a retired railway civil engineer that a 200+ mph line Manchester -Scotland would be prohibitively expensive due to the topography.

There is, of course the WCML capacity issue. This could be solved with a separate, more modest scheme with a new "bypass" line based on the ex - Great Central between Tring and Nuneaton, allowig speeds up to around 150 mph. South of Tring it would be cheaper to upgrade the existing line rather than tunnelling under the Chilterns and NW London. This line would not be subject to the (impractical ?) 18 trains per hour requirement of the present HS2 proposal, as the East Coast version of HS2 would take a good deal of the trains to the North .



Stop wasting money on road building and divert it into rail construction.
Polluting cars and lorries need to have traffic transferred where possible to rail infastructure and that is why we need HS2 HS3 ETC.



Questions re HS2 well what business case would Brunel have today for has GWR,when journeys can be made by stagecoach at far less cost!

Of course nobody at that time could imagine millions of people travelling hundreds of miles each day sometimes to just get to work !

And remember all those EMPTY. Motorways Earnest Marples built !

HS2 is about overcoming capacity constraints which are already here and can regularly seen on Friday nights on trains leaving Euston Station!

No doubt the anti HS2 brigade will try to milk this report but then with all their moaning and whining we know they are just country bumpkins brought up on sour cream !