Posted 9th July 2013 | 3 Comments
HS2 'moves off drawing board' as MPs consider funding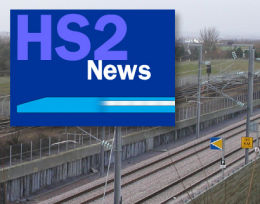 THE COMMITTEE of MPs considering the financing Bill for HS2 is taking evidence today which includes the views of protestors who want the project to be scrapped, while the DfT has announced that the proposed route of Phase 1 between London and Birmingham is to be safeguarded.
The move protects the route from future development which might conflict with the planned High Speed line.
It will also allow residents near the route from London to the West Midlands to approach the Government to buy their property under statutory Blight procedures. The DfT said successful applicants would receive the 'unblighted' open market value of their property, plus 10 per cent (this is capped at £47,000) and also their moving costs.
Transport secretary Patrick McLoughlin said: "HS2 is moving from the drawing board towards construction. Safeguarding is an important milestone for homeowners and for planning purposes. It shows we are determined to deliver this once-in-a generation opportunity to drive growth, generate jobs, and secure our country's future prosperity.
"I understand the distress of those who live along the line of route and can assure people that we will process claims to purchase their property swiftly so that those who qualify can move as quickly as possible.
"In the meantime we will also continue purchasing properties of those in exceptional hardship ahead of consulting on a comprehensive package of long term discretionary compensation measures."
Until now the only mechanism through which the Government bought properties on or near the HS2 route had been through the Exceptional Hardship Scheme for owner occupiers who could demonstrate an urgent need to sell.
From today, owner occupiers within the safeguarded area – typically a corridor 120 metres wide – can now serve a Blight Notice on the Government asking that their home be purchased from them.
The DfT also said that 'the Government wants to introduce a full compensation scheme that is more generous than the law requires, and that it will be reconsulting on a package shortly'. This follows the only High Court defeat for the Government when the project was challenged by opponents last December. The court ordered that compensation should be looked at again, but ruled against the challengers on another nine issues.
However, the project's opponents are telling the Bill committee today that the scheme is still unnecessary and should be scrapped. They will argue against the 'Paving' Bill now being discussed which, if passed, will open the door to immediate funding for the next stage of the project's development.
Joe Rukin of StopHS2 said: "Notwithstanding political reasons for having an early vote on HS2, this Bill appears to be solely aimed at allowing the costs of HS2 to continue to spiral, without transparent financial accountability. Initial cost estimates from the DfT showed that HS2 would require £750 million worth of spend prior to the next General Election, but the most recent estimates have been put in the region of £1.1 billion. The Bill asks for an unspecified amount of taxpayers money to be spent on developing HS2, with no accounts to be presented until after the next election."
Reader Comments:
Views expressed in submitted comments are that of the author, and not necessarily shared by Railnews.
Given that anti HS2 court cases were rejected as most of them were deemed as to soon well news that HS2 is progressing should be welcome as they will finally have something to fight. However, they will need far more than meaningless statements to justify their opposition !

This news will also surely remove far more millions from blight as a route takes shape something which Antis may find depletes their numbers as I'm all right Jack mentality takes precedence!

I still think Lord Adonis is right in building full Y as a single project as this could allow line to Manchester to be built alongside Euston Station upgrade and tunnels under London thus bringing forward the prospect of existing Pendolinos running faster to Manchester as the biggest concern for HS/2 is the time it will take to see any benefits !

I support HS2 but if I was an MP I'm not sure I'd want to go about things this way. Normally, budgets are set by the Finance Acts, but I've ready the paving bill and this seems to authorise unlimited expenditure, provided the Chancellor authorises it.

I'm not the slightest bit bothered whether we spend £750m or £1,110m before the next election (that's peanuts compared to the £3.5tn-ish the government's going to spend over the Parliament, but what if the Chancellor wants to spend something insane like £200bn? I can't imagine any chancellor being that stupid, but there doesn't seem to be anything to stop this happening if he did.

If I was an MP, I'd support the Bill, but I'd try to get it amended to have some sort of upper limit before Parliament has to be asked for any increase.