Posted 1st June 2013 | 16 Comments
Rethink urged over 'absurd' HS2-HS1 link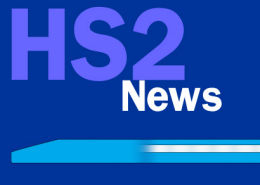 A REPORT from the pro-High Speed rail group Greengauge21 warns that the proposed link in London between HS1 and HS2 will not be enough to cope with the demand for domestic services, while the mayor of one east London borough has branded the single-track limitations of the suggested connection as 'absurd' and called for an urgent reappraisal.
Greengauge21 director Jim Steer said: "We have identified a substantial demand for domestic high-speed rail services over the proposed link connecting HS1 and HS2. The market from the North and Midlands addressed by HS2 to places in the HS1 catchment – East London, Essex and Kent – is important and nearly half the size of the market to/from central London."
"Meeting this demand provides the core missing rationale for including the HS1–HS2 link in the Phase 1 scheme. Providing a link between HS1 and HS2 would provide a real alternative to much of the longer distance car travel around London on the M25. The report estimates that rail could increase its market share by up to 23 per cent for journeys between the catchments served by HS1 and HS2."
Direct international services using the link with a London stop at Stratford International will also be attractive, Greengauge21 suggests, but the service frequencies will inevitably be lower than those from St Pancras.
Jim Steer added: "The important point is that such services will not have to bear the burden of the business case for the investment required."
The report, entitled 'Travel market demand and the HS1 – HS2 link', says there are a number of benefits to be gained from a higher capacity link, including a useful diversion of some cross-city journeys from congested central London, the provision of a 'viable alternative' to the M25 for many regional journeys and better access to international destinations from HS2 stations using Ebbsfleet International as the interchange.
Jim Steer explained: "A good frequency domestic service operating over the link could provide a good – if not perfect – option for travellers between the North, Midlands and the continent. Instead of an awkward gap in the journey between Euston and St Pancras, travellers would be able to make a transfer at the same station – the report proposes Ebbsfleet – where there is already a wide range of European services. On this basis, rail can be expected to capture 34 per cent of the available international travel market from the Midlands and North by 2033."
The Greengauge view is supported by the mayor of Newham, Sir Robin Wales. He said: "Proposing a new high speed network that only connects to the Channel Tunnel rail link by a single track which is actually already in use seems absurd, particularly as Stratford International station remains woefully underused, despite millions of pounds spent on developing it.
"The case has already been made that the growth of areas in east London and Docklands, with their ever burgeoning population, should be better connected with other exciting urban centres across the national High Speed network. As Greengauge21's timely report clearly demonstrates, a higher capacity link between HS2 and HS1 provides us with the unique opportunity to drive growth through connecting our regional economies. The evidence is clear and Government must act."
Reader Comments:
Views expressed in submitted comments are that of the author, and not necessarily shared by Railnews.
Peter, Cardiff: 'When you read "estimates", "could" and "up to" in the same sentence, you realise this is Greengauge 21 clutching at straws to try to save the ever-failing case for HS2. Totally meaningless phrases.'

When estimating future demand (how, pray, can you measure it exactly?) you cannot use definitive terms precisely because it IS an estimate.

I do hope you don't apply such arguments to farmers, because when they plant their crops they can't specify precisely their yield a year later. They can offer a range, based on historical precedent, but floods, droughts etc can make them haywire.

Would you prefer that farmers don't grow crops in case they make a loss for a year??

This is trying to get the nation to fund Crossrail3 disguised as HS2. The case for HS2 is broken and pro HS2 supporters are trying to mend it with splints and crutches. It will just limp on and on bleeding cash. Best to put it out of its misery now.

A dual track HS2-HS1 link via a THROUGH STATION - cut and cover (under Phoenix Rd/Brill Place) to straddle the gap between Euston and St Pancras would:
a) need half the platforms of a terminus (eg Stuttgart 21 is putting extra traffic through its 8 platform replacement of a 17 platform terminus)
b) halve the strain on London Underground as on end of the station would link to Kings Cross/St Pancras/Thameslink and the other end to Euston.

The Amiens link and slightly faster trains will enable Eurostar to reach Birmingham International in almost the same time as it takes to do London-Paris now - ie needing no new trains, staff or train care depots if they extended most of their trains up HS2.

It would cost far less to make Domestic/International trains possible than it would cost another operator to buy new trains and staff them - meaning that Eurostar is in a strong position to win part of the DOMESTIC franchise for HS2 - by extending services up HS2 and separating through international passengers (subject to bag scanning etc) from domestic passengers.

So BOTH International and domestic HS1 services would benefit from not just a proper HS1/HS2 link but also THROUGH PLATFORMS on that link.

And having freed up St Pancras (by extending most of its trains up HS2), the current single track link could be used for the handful of terminating trains (eg from Scotland) that WOULD terminate in London.

The rest of HS2 services would run through to Kent, Essex or Europe.

There could be thus NO NEED of an 11 platform Euston.

A 4 platform through station plus reuse of existing platforms at St Pancras could replace the entire expense and disruption of a new Euston terminus.



The HS1-HS2 link needs to be double track to provide for a significant number of services. In particular, Stratford International should be developed as the interchange between the whole of East Anglia as well as East London and the national and international high speed rail networks. It is absurd that a major rail interchange station (Stratford) should not have direct access to the high speed network - especially as it is much better connected than Ebbsfleet and serves a much wider area of the country.


Having just completed a very awkward journey going round 1/3 of the M25, I welcome any proposals that help us travel from one side of London to the other.

Paul Withrington When you build a motorway you don't include the cost of vehicles in the capital cost to build the road ! And the same applies to rail..

In theory trains should be funded by ROSCOs but this part of privitissation has never worked in the same way as private bus companies buy buses !


The £32 billion is the cost of the railway and recent reports have said that the upgrade and development of Old Oak Common will exceed £40 billion so add on other sites and HS2 will return a massive profit on the investment before anyone pays their fares is then added !

HS2 needs a champion like Chris Green or Lord Adonis to sell the project and have answers ready to combat anti lobby.

Perhaps anyone who is still available who delivered HS1 should also be recruited as they will have experience of problems and solutions like the way millions of trees were planted along HS1 which counters nonsense that HS2 will destroy countryside !

The presentation and analysis for HS2 "Y" is, IMOP, fraudulent. The headline cost of £33bn excludes the trains at £8bn, and tax, included in the economic assessment itself, of 20.9%. Adding those yields £50bn. It is that which should be the headline, equivalent to £2000 for every household in the land. The actuarial loss faced by those standing in2033 at 2011 prices will be £53bn – supposing the ludicrous passenger forecasts ever arise
The 44.1bn benefits were sourced as follows: (a) £5.2bn for improved reliability, as though the trains could be made to run on time without spending tens of billions (b) £6.7bn for relief of crowding, most of which could be solved by reconfiguring and extending peak-hour trains and by advances in signalling (c) £5.5bn for "other rail user impacts", yet more nonsense (it means e.g. better access to stations for existing passengers (d) £2.1bn for "other impacts", e.g. reduced road congestion and (e) £24.6bn for time savings, which depend on the discredited assumption that time on a train is entirely wasted.
Worse still the benefits assume no risk associated with the wildly optimistic passenger forecasts - requiring up to 18 1000-seat trains per hour.
As to the wider economic benefits, the 100,000 jobs that the network is said to create will have cost £500,000 each. How many jobs will that destroy in that part of the economy that makes a profit?


Peter, Cardiff, any project looking more than ten years into the future is going to be an estimate. As has been pointed out repeatedly, it's all a matter of weighing up the risk of building the line against the risk of not building the line. And in case you're still ignoring the crowding on inner and outer suburban services, you don't need to be a rocket scientist to see where the risk of not building HS2 lies.

In fact, as far as I can see, there's only one scheme where proponents claim it will definitely solve all the problems for now and evermore with absolutely no risk or doubt whatsoever, and that's the 51m scheme. I'd much rather objectively assess a scheme's weaknesses and consider changes that stubbornly refuse to ankowledge any problems, as StopHS2 and HS2AA do with 51m's idea. But hey, it's not them who have to travel on overcrowded LM commuter services, so it's someone else's problem, isn't it?

(Going back to an enhanced HS1-HS2 link, my vote is "not now, maybe later". WIth the state of finances as they are at the moment, we need to concentrate on relieving overcorwding where we know there's a problem. Suburban services into Euston is a problem now, lack of cross-London services using HS1 isn't, at least not yet. Later, maybe, but we can revisit that any time. For now, the bargain basement single-track link is enough.)

The existing plan to link HS1 and HS2 is to use a short tunnel and a portion of the existing London overground tracks. This link will be slow and be limited capacity and also constrain services on the overground. The overground is growing as a very popular orbital line, and to limit its expansion would be a very bad thing. A proper link is a no brainer for all the reasons in the above article, for both international and domestic services. However the additional cost is probably unpalatable for the government at this point in time so it's easier to press on with the current plans and then there will be an obvious case for improving the link later (who knows when) as a project in its own right. It's not very forward thinking.

The case for HS2 is better without either the originally planned HS2 link or the Heathrow spur. A tunnel from old oak to connect with HS1 at Stratford is much more logical - it reduces the load on Euston, makes better use of Stratford International and HS1, and does not restrict growth on the successful London Overground lines.

bel eben - maybe you could enlighten us - which part is the wishful thinking and which is the utter nonsense. would help if you were more specific.

This report makes much sense to me as i have always believed that the hs2 - hs1 link should be used for domestic trains as well as high speed rail ones,

Indeed I emailled Greenguage with the idea of Stratford or particularly Ebbsfleet being used as a transfer point from domestic to international services. Funnily enough my email got redirected to the anti hs2 action alliance.

Also people dont usually fund reports which they then disagree with.

peter cardiff - following on from what i said above, why is trying to increase the numbers of passengers who would be able to make cross london journeys without changing and thus making more use of expensive infrastructure be considered to be clutching at straws. I could accuse anti hs2 critics of this. there is also a lot of maybe, possibly could and should on the anti side. Indeed the NAO report was full of scenarios.

I suspect that most people making journeys that necessitate travelling through London drive around London instead using the M25. With the availability of through journeys such as Birmingham - Ashford or Cardiff -Norwich the up to 23 percent increase in share mentioned in the report doesnt seem unrealistic to me.

The idea in a nutshell is that it would be better to have a more expensive twin tunnelled hs2-hs1 link then a less expensive but much less useful single track connection with a single track lead. In road terms this reminds me of the rounabout that connects the A14 with the M6, instead of a more expensive but far more useful flyover which would have avoided huge traffic jams and congestion where all through traffic has to give way at a roundabout

Surely it's time to consider the option suggested in a recent House of Lords debate that the number of terminal platforms at Euston for HS2 be reduced and replaced by an West to East route serving a joint HS2 Station linked to Euston, St Pancras and Kings Cross with a through route to Stratford International and HS1. One benefit of this scheme would be HS2 could share international customs and passport checks at St Pancras International bringing forward the prospect of North of London services with similar controls made available at Birmingham International ?

Another option would be to extend HS1 north to a junction with ECML allowing Javelin high speed trains to run to Leeds (with Eurostar to follow!) with a new route overcoming the Welwyn Viaduct bottleneck which would be left for Thameslink services.

One further option would be to upgrade Eaśt West Rail link !

In fact ANTIHS2 commentators do not understand the qualifying words like could, would, may... in their text

Peter, they aren't trying to save the case for HS2, they are trying to lumber it with unjustifiable costs. To improve the HS1-2 link any further would increase the cost from hundreds of millions to many billions when there simply isn't the demand, or most importantly the capacity, for these extra services.

"The Greengauge view is supported by the mayor of Newham, Sir Robin Wales."

Hardly surprising, given that Newham, along with several other councils, funded the Greengauge 21 report. Which as might be expected, is a mixture of wishful thinking, and utter nonsense.



"The report estimates that rail could increase its market share by up to 23 per cent for journeys between the catchments served by HS1 and HS2."
When you read "estimates", "could" and "up to" in the same sentence, you realise this is Greengauge 21 clutching at straws to try to save the ever-failing case for HS2. Totally meaningless phrases.