Posted 12th April 2012 | 9 Comments
DfT discounts claims of weaker HS2 benefits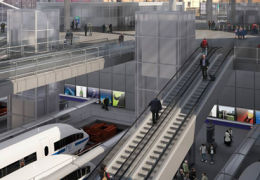 THE DEPARTMENT FOR TRANSPORT is dismissing claims that the cost/benefit ratio of building High Speed Two has fallen to the point where the scheme could now be labelled 'poor value for money'.
The Financial Times has reported that an error in financial modelling resulted in a miscalculation of the direct cost/benefit ratio, or BCR, which has now been corrected to give a new figure of £1.20 for every £1 invested.
It is not the first time that the BCR of HS2 has been recast. When the first stage of HS2 between London and Birmingham was given government approval last year, the ratio was said to be £1.60/£1.00. Earlier this year, that figure was adjusted to £1.40/£1.00.
It is now said that the Government has 'admitted a modelling error', although no details of the source have been published.
But even if the new figure is correct, the Department for Transport is dismissing it as beside the point. A spokesman said: "We have always been clear that the [BCR] can only form one part of the decision-making process for a project of this scale, as its benefits reach well beyond narrow transport economics."
The chief executive of Centro, the West Midlands PTE, has already calculated that his region alone is set to gain tens of thousands of jobs from HS2.
Geoff Inskip is due to give evidence to the All Party Parliamentary Group for High Speed Rail next Wednesday (18 April), when he will say that HS2 would bring 22,000 jobs and generate £1.5 billion for the West Midlands economy, 'while freeing up desperately needed capacity on the existing network'.
Reader Comments:
Views expressed in submitted comments are that of the author, and not necessarily shared by Railnews.
No, it matters not what excellent reasons there are for HS2, they will always be opposed by those whose agenda is utterly selfish negativity. And that means mainly, though not exclusively, the Chiltern Tories; extremely wealthy people who can afford to spend vast sums to mount a "stop HS2" campaign and who will have to be watched very, very carefully if they are not to succeed in their machinations. The many benefits this line will bring the country matter not one tiny whit to them. [And I would add for myself that it is also not at all pleasant if most of the line is to be in tunnel or cutting.]

If the Government spend £18 billion (or whatever the true figure will turn out to be) on any project it will create 10,000s of jobs, - Airports, house building, roads, railways. I happen to believe that the money should be spread around the country on railway projects from Lewes to Clevedon, from Nottingham to Bristol creating jobs in those localities not all stuffed in a thin corridor near London.

Before the government spends tens of billions of pounds, perhaps it should ask
1/ Is super high speed (250mph) between centres of a hanfull of conurbations the most pressing need? How many potential journeys are from central Birmingham to central London, for example?What about Intercity travellers to/ from medium sized cities and the wider West Midlands / the London suburbs, etc?
2/ Of course, extra capacity is needed/.Rather than a very expensive 250mph new system or just" patching up" the existing one, why not look at intermediate solutions such as new cut - off lines bypassing the congested sections but integrated into the existing system?
3/What speed potentials are needed? It seems the rail share of an intercity market sharply increases onnce journey time reduces to under about 3 hrs. Manchester and Leeds are already just over 2 hrs . from London whilst Scotland is too far to achieve 3 hrs. without huge expenditure. The only cities within a "critical" 3 hour range of London are probably Newcastle and Plymouth.1

the wider ie non transport economic benefits of hs1 have been estimated at £20 billion so how high or low the bcr is depends on what benefits you include. the narrower the definition the lower the bcr

When will the penny drop with those viscerally opposed to HS2 - the government is conscious of the impending legal challenges to its long term strategy so one of the defence mechanisms is to err on the side of ultr-cautious, in order to deflect any legal argument mounted on the basis that the forecasts were over optimistic.

It is the anti-brigade now clutching at straws as the day of reckoning draws ever nearer. To claim that a modest speed increase on the WCML would have nullified the case for HS2 simply beggars belief!

High Speed Rail and the massive increase in capacity, quality and reliability that it delivers, is a long term solution to the UK's chronic transport problems.

The die is cast - any attempt to reconfigure, restructure or whatever re[insert word of your choice] the approved Route3 option would result in significant delay, effectively killing the project stone dead. Detractors know that very well which is why they persist in pursuing this Trojan Horse strategy!

HS2 Is first and foremost about increased capacity our railways are nearly full and so a new railway is needed and if a new line is built then its best built to the best world standard possible. Just like Brunnel did when he built the GWR. If all Victorian engineers if only ALL Victorian engineers had built to his standards!!

This is just grasping at straws by the Worzel Gummage brigage!!

Does BCR take into account the billions generated by developments made possible by a scheme like the major upgrade in West London and in Central Birmingham that HS2 will bring?



It just shows how a business case can be manipulated to give the answer politicians want to hear. If the government did not want this scheme it would use the same figures to show that the return on the investment was not sufficient to spend such a huge amount of money. At the same time the wider benefits to the UK would be ignored, just like the decision to order trains from Siemens and not Bombardier. The Government is now clutching at straws to allow HS2 to proceed but are not able to eat humble pie and drop what is becoming a white elephant. I want to see high speed rail in the UK BUT not at any cost. The ironical thing is that had the West Coast Route modernisation been delivered to the original specification (140mph and increased capacity with in cab signalling) HS2 would not even be on the agenda.

The previous SOS suggested reappraisal when B/C was below 1.6/1.
Housing value losses and numbers of people impacted by route 3 are probably 20 times more imposing than routes to the west of route 3 and to the east of route 2. HS2 can be restructured/configured to have reduced central Buckinghamshire impacts on dairy farming, housing (current and future) devaluations and construction period dust, noise and traffic congestion detriments to vulnerable people, businesses and amenities.
HS2 design planning and analyses has not been gold standard and possibly does not achieve a bronze with route 3. Need to reappraise and determine what is being attempted. If this was a strategy to date it has not succeeded.