Posted 3rd April 2012 | No Comments
Anti-HS2 councils to seek judicial review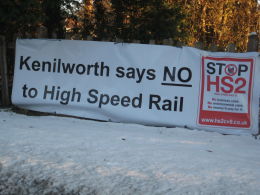 Anti-HS2 publicity in the West Midlands
COUNCILS opposing the building of a High Speed line between London, Birmingham and the north have carried out their threat to seek a judicial review of the government's decision to go ahead with the scheme.
The local authorities involved include two London boroughs – Camden and Hillingdon – as well as several shire county councils on the route between London and Birmingham.
The new move towards a full-scale legal test of the government's plans is being co-ordinated by the 51m group, a consortium of local authorities which has been campaigning against the scheme on the grounds that it would damage the countryside and that other, less disruptive alternatives exist to expand rail capacity.
Martin Tett, the leader of Buckinghamshire County Council, said they had decided to challenge the plans in the High Court with ''great reluctance', but felt there was no alternative, because the Government had not listened to those opponents who had responded to its consultation last year.
He said: "We are taking this stance with regret. We would far rather that the Government had listened to the people of this country who have decisively rejected this massively expensive project and instead opted for the far better, cheaper and more quickly delivered alternative put forward by 51m.
"Communities in the Midlands and the north of England risk being bypassed and left to decline by HS2. We should be investing in our existing rail and road infrastructure across the entire country to bring jobs and growth now when it is needed."
Hillingdon council leader Ray Puddifoot, who is also Vice-Chairman of 51m, added: "The consultation process was unfair and inadequate in many respects. Ordinary people whose lives and livelihoods will be severely affected between Birmingham and Manchester and Leeds were not even given an adequate chance to have their say.
"The whole project represents extremely poor value for money for the hard pressed UK taxpayer and it is right that we challenge the Government's decision to progress with this misguided scheme."
But supporters of HS2 have claimed that the existing rail network cannot be upgraded without causing tremendous disruption to the existing network for many years, and that the result would be a second-class solution at best, which would not be able to cope in the longer term.
Network Rail chief executive David Higgins warned recently that the West Coast Main Line is running out of capacity more quickly than had been expected.
He told the House of Commons Transport Committee: "High Speed 2 is desperately needed, particularly for the southern section of West Coast, because West Coast is really being pounded as a rail route now with what is on that route. We have a real capacity challenge on our network."
It will now be up to the High Court to decide if the councils' case justifies full legal scrutiny.