Posted 12th January 2012 | 6 Comments
Why Network Rail rejected the alternatives to HS2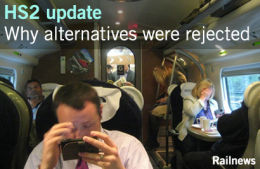 Suburban commuters on a long-distance Pendolino
IF the alternatives to HS2 suggested by 18 local authorities opposing HS2 were accepted, stations at Atherstone, in North Warwickshire, and Rugeley Trent Valley and Stone, in Staffordshire, would be left without any trains at all, and commuter stations between Leighton Buzzard, Bedfordshire, and London Euston would suffer reduced services.
There would also be many more standing passengers on trains between London, Milton Keynes and Northampton.
These were among the main findings of a review for the government by Network Rail, which helped confirm Transport Secretary Justine Greening's decision to go ahead with HS2 this week.
Network Rail was asked to examine the alternatives put forward by the 51M group of local authorities, led by Buckinghamshire County Council, proposing that Pendolinos should be extended to 12 vehicles, including one First Class coach being declassified, plus a range of enhancements to the present infrastructure, including a grade-separated junction near Leighton Buzzard and a new bypass line around Stafford.
Network Rail said its assessment had shown that the level of capacity proposed by 51M was insufficient to accommodate peak demand growth on the West Coast Main Line's outer and inner suburban services, equating to "six out of ten peak hour suburban services from London Euston with more passengers than seats resulting in 1,300 suburban passengers standing in the busiest hour every evening in 2026. By 2035 this will have increased to 2,200 passengers.
"Two of these overcrowded trains would be the outer suburban services to Northampton on the fast lines, resulting in passengers standing for half an hour or more based on the suggested calling pattern," said NR.
The assessment added: "The number of services on the slow lines that start at London Euston would be reduced by one train per hour, providing several stations south of Leighton Buzzard with a lower service frequency than today."
Network Rail said there would be little real increase in overall capacity because some of the additional trains would run on the slow line and be overtaken by later trains, using the fast line, which passengers would opt to use.
"In the 51M proposition there are nine services per peak hour to Milton Keynes Central, including three long distance trains per hour," explained Network Rail. "However, examination of service patterns shows that two of these services would be overtaken by the fast line trains. Network Rail's assessment of train loads shows that almost no passengers would use the slow line trains to travel to Milton Keynes Central."
This is a problem that regularly occurs already with the 18.43 Virgin departure from Euston. Passengers for Milton Keynes crowd onto this train, even though a London Midland service is available offering twice as many seats — but it uses the slow line and is overtaken by the Virgin service.
The 51M plans also proposed a new grade-separated junction at Ledburn, near Leighton Buzzard, to switch trains from the fast to slow lines. Network Rail pointed out that "suburban services that utilise the fast lines would need to be operated using 125mph tilting suburban rolling stock. Such rolling stock does not currently exist and would need to be specified and purchased as new-build stock."
Lengthening Pendolinos to 12 vehicles — compared to the current plan to extend most of the present 9-car trains to 11 — would also require £345 million to be spent on longer platforms. The most costly, £70 million, would be at Coventry where major reconstruction of the road overbridges at either end of the station would be necessary, as well as track realignment.
Significant costs would also be incurred at Lancaster (£40 million), Lichfield Trent Valley (£35 million) and at Lockerbie, Warrington Bank Quay, Wigan North Western and Wolverhampton (£15 million each).
51M proposed that Euston-Liverpool services should continue with only 9-car trains, but Network Rail said it is proposing to lengthen two platforms at Lime Street during the next control period.
In addition to longer platforms, maintenance depots would also be affected.
NR said there would have to be "extensive alterations and re-modelling … at depot entry/exit connections and sidings and a general re-modelling of the depot layouts would be necessary to accommodate the longer trains. The availability of additional land to allow depots to expand, where necessary, as a result of the re-modelling required to accommodate the proposed increase in train length is likely to be a key issue."
Network Rail also rejected the 51M proposals because of the impact of disruption during the construction phase of the necessary infrastructure work.
Its assessment said the proposed enhancements were "significant infrastructure interventions that would almost certainly require total blockades of the line, similar to that undertaken over a ten year period for the West Coast Route Moidernisation".
NR pointed out that use of the WCML had grown considerably since the route modernisation and the impact of similarly disruptive works "would therefore be considerably greater than it was then, and the logistics of moving passengers on alternative routes would be much more difficult."
It concluded: "Network Rail considers it unacceptable to undertake a programme of works that would cause this level of disruption on the route to deliver a service that would not solve overcrowding at the southern end of the [West Coast Main Line] route. It would also likely involve a re-modelling of London Euston station."
Reader Comments:
Views expressed in submitted comments are that of the author, and not necessarily shared by Railnews.
Network Rail never took this alternative proposal seriously ,for starters ,stations such as Lockerbie are lightly used so its not essential to spend £15 million lengthening platforms as selective door operation for 12 car trains would be perfectly adequate for this and probably some other less major stations on the west coast route.

For the cost of HS2 to birmingham £30BN they could build a Maglev system like china have been operating, that would go from London & Heathrow – M25 – Birmingham Airport – Birmingham – Wolverhampton – Manchester
Airport – Leeds 458 km/286 miles for £13.5bn (£29.5m per km).

The nepotism of rail track is blatantly obvious, If they use the Maglev system the maintenance cost alone are 70% less than a traditional Railway line system, doing themselves out of work because the HS2 would require line replacement a lot more than the existing lines.

Also a Maglev (300mph) system would reduce the the London to Birmingham times to 30 minutes, and London to Manchester would only take 54 mins with 2 stops or 74 minutes with 7 stops.

Maglev operating costs range from 35% to 55% of high speed rail so to me its a bit of a no brainer, its only the government that are just too scared to invest in a technology of the future.


AS rhe Transport Select Committee said - HS2 has a good case HS2 is affordable all else is detail
See Greening in action BBCTv question time


Have (1) the re-opening of Bedford-Northampton and (2) a new chord near Lidlington from the MML to the Bedford-Bletchley line and an east to north curve at Bletchley ever been considered as ways of relieving the southern section of the WCML?

Both Milton Keynes and Northampton could then be served by Thameslink; also, could extra platforms be built on former railway land on the west side of St Pancras, thereby permitting some fast services via the MML to be introduced? If done, would there be sufficient capacity at St Pancras for it to become the main London terminus for Northampton passengers?

A potential add-on could be the re-opening of Northampton-Market Harborough; this would permit the introduction of a through London-East Midlands service via Northampton, thereby providing a rail alternative to the Luton-Bedford-Northampton-Leicester part of the M1 corridor

No doubt the Anti HS2 brigade will simply ignore these facts and continue making the same suggestions!!

However, now HS2 has been given the go-ahead and threfore higher speeds have been accepted then surely the question of running Pendolinos above 125mph should be addressed and where possible speeds should be increased to 130-140mph.

In fact the main problem with HS2 as planned is the long delivery time involved and the dangers of both changes of government cancelling the scheme or even a Prime Minister Boris Johnson cancelling HS2 and using the already built part (but un-used) sections of HS2 as new motorways!!!

Surely it would be better to allow Network Rail to factor in HS2 into its on going upgrade and even build small sections of HS2 and divert existing Pendolino services along these sections in order to reduce longer distance journey times as 140mph becomes the norm and Scotland becomes less than 4 hours from London.

Surely a rollinh high speed program would be better VFM than having to wait 10 years during which billions would be spent but passengers would see no benefit thus playing into the Anti HS brigade and thus preventing HS spreading beyond the planned stage 1.