Posted 20th January 2012 | 2 Comments
Report confirms benefits of HS2 for West Coast line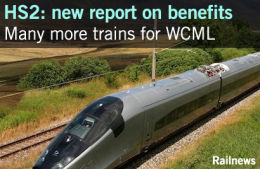 PASSENGERS on the West Coast Main Line, one of the busiest rail routes in Europe, could benefit from faster, more frequent trains, less crowding and better connections if the first phase of the proposed High Speed line between London and Birmingham goes ahead as planned, according to a new report from Network Rail and watchdog Passenger Focus.
The report says one of the biggest groups to benefit would be commuters travelling between Northampton, Milton Keynes, Watford and London, where the worst overcrowding is forecast in the coming years as demand for rail continues to grow. Initial analysis suggests up twelve trains an hour could operate on this important outer suburban route.
Other key beneficiaries would be passengers travelling between the major towns and cities of the West Midlands, and also between London and destinations in the Trent Valley. There are also likely to be opportunities to improve connectivity between the south end of the route and towns and cities further the north as well as more room for goods to be moved by rail.
Passenger Focus surveyed more than 5,000 current passengers and almost 1,000 potential new rail users, highlighting the key priorities for the capacity which would be released if HS2 is built.
PF chief executive Anthony Smith said, "Passengers know that with more people using the West Coast Main Line it is only a matter of time before capacity runs out. If a new line was to free up this much-needed route passengers, especially commuters, have signalled they want to be able to get seat as well as more direct services."
Passenger Focus added that passengers clearly stated first and foremost they want to be able get a seat. Direct services were also high up the list of priorities for both current passenger and potential users.
Network Rail group strategy director Paul Plummer said: "The West Coast Main Line is Britain's busiest and most economically vital rail artery – but by 2024 it will be full, with no more space to accommodate the continued predicted growth in demand."
The conclusions of the report have been welcomed by the Association of Train Operating Companies.
ATOC's chief executive Michael Roberts commented: "HS2 would not only help solve a looming capacity crunch for people travelling between our major cities. By freeing up space on the existing West Coast Main Line, passengers in towns such as Rugby, Milton Keynes and Northampton could benefit from improved local services and better, more frequent connections."
Reader Comments:
Views expressed in submitted comments are that of the author, and not necessarily shared by Railnews.
Perhaps the local authorities for Rugby should be doing more to attract businesses to the area that would benefit from the improved links. I can think of plenty that would be interested in say a high-quality business park next to the station.


Why are we turning southern and middle England into a commuter belt for London? Take for example Rugby, it used to be a hive of industrial activity and until only a few years ago, commuters to London were minimal. Now, a huge multistory car park has been built, a factory knocked down to build another huge car park and commuters number in the thousands and Rugby is dying slowly. Why do we need to extend this nonsense even further up the country? Surely the commonsense solution is to transfer the need to work in London, moving the some of government ministries out would be a good start. As it stands, ALL tax payers are subsidizing rail travelers to earn higher salaries by commuting further and greater distance - that is not right.