Posted 14th February 2012 | 9 Comments
Anti-HS2 groups stiffen opposition with legal threats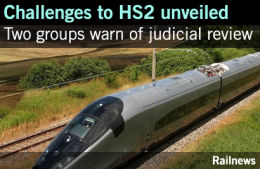 OPPONENTS to the building of a new High Speed line have warned the transport secretary that they are gearing up for legal action. The HS2 Action Alliance said it was now considering going ahead with a judicial review of the government's decision to build the line, which will eventually link London with Birmingham, Leeds and Manchester.
The threat of going to court has come not only from the HS2 Action Alliance but also from a separate grouping of 18 local authorities, known as 51m.
The HS2 Action Alliance served its letter on transport secretary Justine Greening yesterday, urging her to cancel the scheme.
The Alliance said: 'The letter also gives her notice that HS2AA may challenge her decision through judicial review.
'The grounds for the legal challenge are the failure of the Department for Transport to comply with the legally binding requirements of the Strategic Environmental Assessment (SEA) Regulations 2004 and the Conservation of Habitats and Species Regulations 2010.
'The SEA Regulations require a full strategic environmental assessment of any important infrastructure project and an assessment of all alternatives to be completed before any proposals are presented for public consultation. The Government has failed to do this with HS2.
'A separate letter of complaint regarding the UK Government's non-compliance with the SEA Directive is also being sent today to the European Commission, inviting the Commission to investigate the actions of the UK Government on this matter.'
Meanwhile a spokesman for 51m, Buckingham County Council leader Martin Tett, added: "We are taking this stance with regret. We would far rather that the Government had listened to the people of this country who have decisively rejected this massively expensive project and instead opted for the far better, cheaper and more quickly delivered alternative put forward by 51m.
"Communities in the Midlands and the north of England risk being bypassed and left to decline by HS2. We should be investing in our existing rail and road infrastructure across the entire country to bring jobs and growth now when it is needed."
However, the transport secretary has described the HS2 project as 'the nuts and bolts of Britain'.
In a speech on 26 January, Ms Greening said: "Systematically going through the evidence and the alternatives, it was clear to me that the argument in favour of HS2 was compelling. A modern, fast, reliable railway that will transform connections between our cities, regions and the Continent, truly rebalance our economic geography, with a legacy of jobs, growth and opportunity for generations to come, and change the way we travel, just as the first railway did in the 19th century.
"But behind the headline statistics, HS2 is also about believing in better. Do we believe in just making do? Is that all we have to offer our future generations?"
Reader Comments:
Views expressed in submitted comments are that of the author, and not necessarily shared by Railnews.
Why only consider either an"over the top"250mph new railway system or a"patching up" of the existing network? There must be other more innovative intermediate solutions to the mainline capacity problem.
If London-Scotland warrants a very high speed line on cost-benefit criteria,should it be going via Birmingham, Manchester, Leeds etc or should it be more direct,avoiding the expense of buiding in built-up areas whilst having connecting spurs at strategic points onto conventional lines for access to intermediate cities?
Alternatively,if super speed to Scotland is not cost-effective,how about new build cutoff stretches at strategic places on the WCML and ECML? Examples might be Tring-Nuneaton( utilizing the ex-GC),Potters Bar-Huntingdon and possibly Newark-Temple Hirst Jcn,all bringing capacity relief and reasonable costs,lying in open country.
For improved speeds, another possible investment could be cab-signalling, allowing existing Pendolinos and 91's to reach their 140mph potential.

Local London news programmes on Friday and Evening Standard reported how Camden Council is to take legal action against HS2 and its affects on housing around `Euston. Well when one thinks of the massive oportunities to gain more housing around Euston given the amount of land wasted outside this station one has to ask whose real interest are those on Camden Council representing?

Afterall the go-ahead for HS2 has only just been announced so why are they not prepared to await a decision on what is planned for Euston and any land affected?




Back in the 1950s the Aircraft Industry thought that speed was the answer to all its problems. So they built Concorde and Concordeski. Beautiful and clever but not economic. The future of Air Travel lay in Mass Transit and slower speeds. Railways should learn the lesson now. There is more to be gained by decreasing loading and unloading times of trains than speeds of 250 mph. If you ever see an HST load/unload at Reading you will see how much delays there are. We are just at the start of the debate. We may need a bypass to the West Coast Main line but it may well not be High Speed.

I note that at least one of the anti-HS2 groups has proposed building a new section of WCML, through open country, bypassing Stafford as part of their alternative plans. This seems to me to be a perfect example of a "Not in my backyard" argument rather than any other.

No Business Plan No Consultation Undemocratic Judicial Review to cost £1.5million (at least) to local ratepayers. plus cost to taxpayer plus lost revenue from delay.
Those who pursue review refuse to say how much it will cost are the very same whingers who criticised HS2/Government for lack of information.
Their conceit is magnified when they have the audacity to shout their 'rights' to defend THEIR lawns yet ignore the RIGHTS of others (many more) to have all the benefits from HS2.
The local freebie carried out a survey and found 65% wanted HS2 with just 9% against.
Shows as factual information became available the ANTIs case progressively lost ground till now when tables are COMPLETELY reveversed
Lets get on and build HS2, Judicial Review may be 'legal' but is of doubtful democratic value. in fact a lwyers charter to print money - more jobs going to London

I take it the costs of any action will NOT be bourne by Council Tax payers? Perhaps Eric Pickles could give an answer as he would soon condemn Labour councils who proposed spending money on projects they did not like!!

Anyway HS2 is many years away so let them take this to judicial review that way they will jhave spent their (OR SHOULD THAT BE OUR?) money long before construction starts.

These are simply people who are like spolit children who have always got their own way and now they are not they start screaming like spoilt brats!!

Anyway imagine Michael Portillos rail journeys without the glourious bridges and viaducts that are part of our heritage and if someone wanted to demolish a Brunel viaduct these same people would be up in arms saying their heritage was under threat!!!

Its time we knew who is funding these groups and what their interests are?

It seems Midsommer is in revolt.

Correction: 51m is the amount that could be distributed to EACH constituency

Opposition groups are just bitter that despite their best efforts there were only 56,000 responses to the consultation, 15,000 of which were from a chain letter and the net response was yes to hs2.

The HS2 prefered Route 3 was first published in February 2010 and the 3 main parties all included support for High Speed Rail in their May 2010 General Election manifestos; more than 26 million people then voted for these parties.

The 51M group has nothing to do with people, rather it is an amount (£51M) that could be shared between each parliamentary consitiuency if HS2 did not proceed. But when Justine Greening held a private meeting with MPs on 21.11.11 to discuss HS2, the minutes show only 10 MPs (out of 650) opposed the proposal; hardly a major revolt.