Posted 21st December 2010 | 15 Comments
HS2 goes ahead with route changes to lessen impact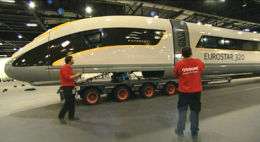 Future through train from Birmingham to Paris? This is Eurostar's next generation rolling stock, which could one day run to the Midlands and North
THERE has been an enthusiastic welcome for the transport secretary's announcement about the route of HS2 between London and Birmingham, which includes a major interchange at Old Oak Common. But opponents to the scheme are continuing to protest.

The government has conceded that some property values will affected, although there has been a rethink since the original announcement was made by the previous government in March.

The network will be developed in two main phases. The first will be London-Birmingham-Lichfield plus a link to HS1, and the second will not only include the arms of the 'Y' to reach Manchester and Leeds, but also a spur to Heathrow Airport.

Some High Speed trains would continue on the conventional lines to Scotland, bringing the Glasgow-London journey time down to 3h30.

The projected journey time from London to Birmingham will be 49min – or less for non-stopping trains.

Through trains from the provinces to the continent will be able to run via the HS1 link, which will be via a new tunnel from Old Oak Common to the North London line near Chalk Farm, from where 'existing infrastructure' would be used to reach HS1 north of St Pancras.

The announcement did not mention possible issues of structure gauge enlargement which would appear to be needed to allow full-size trains, including double-deckers, to use such an HS2-HS1 link.

Philip Hammond told the Commons that apart from the major interchange at Old Oak Common, which will provide a direct connection with Crossrail so that High Speed passengers can easily reach central London – or Heathrow Airport before the spur is built – parts of the route through sensitive areas will be shielded.

He said: "For instance, in Primrose Hill, work to identify the most appropriate locations for the necessary vent shafts has shifted the proposed tunnel, and thus also the vent shafts themselves, to the north, away from the most sensitive areas of this part of London, locating them alongside the existing railway.
"Between Amersham and Wendover, opportunities to cover section of the proposed cutting to create a 'green bridge' and longer 'green tunnel' have been incorporated into the route design to reduce its visual impact and avoid severance of public rights of way.
"At Hartwell House, by moving the alignment away from this historic property, HS2 Ltd have been able to ensure that the line would not be visible from the House itself and that additional earthworks and planting can be undertaken to further reduce visual and noise impacts.
"And in the most northerly section of the route, an improved alignment has been identified which would move the line further from Lichfield."

He also had some words of comfort for property owners: "Where a project which is in the national interest imposes significant financial loss on individuals, I believe it is right and proper that they should be compensated fairly for that loss. So I have asked my officials to prepare a range of options for a scheme to assist those whose properties would not be required for the construction of the railway, but who would nonetheless see a significant diminution of value."

However, one objector living near Banbury told the BBC: "I'm in a hamlet of five and its planning to come straight through us, taking out the other four houses. It's going at roof level above our house so we'll be there with it about 50m away from our bedroom window if it does come through.
"It's a fantastic community and I'll have that taken away - my friends, my neighbours, my community, the house where I was planning on spending the rest of my life."

With the detailed reports from HS2 Ltd having now been made public, the next step will be a major consultation, starting in the New Year.
Reader Comments:
Views expressed in submitted comments are that of the author, and not necessarily shared by Railnews.
The UK needs High Speed 2

If you do support HS2, do not be silent supporter

Search for YesToHS2 and sign the YesTo petition.

We need to make a start on HS2 as soon as possible to improve our creaking infrastructure. However, the route which is in greatest need of modernisation is line to south Wales, the poor quality of which is limiting the development of the principality.

For the price of this wretched project, we could have 103 Airdrie/Bathgate line reopenings. Reintroducing routes which would make a real impact on local communities, rather than another line between London and Birmingham, aimed at the business traveller and priced accordingly.

Improving the national network works - see the total route modernisation of the Chiltern Line in the 80s (which was slated for closure), ECML electrification and the reopening of the Bicester and Robin Hood lines.

"This money would be better spent improving the existing network"

It's a nice idea but it's been tried before and it doesn't work;
• WCML upgrade = 10years, £10bn and a nightmare for the travelling public!
• New branch lines and/or rejuvenating disused lines - what are you going to do with the hundreds of thousands of extra NIMBYs you'd create when they realise a new/rejuvenated line is coming through their back yard!
• Rural areas - not very many customers there / are you advocating ongoing subsidies - in the longer term that idea will cost even more than HS2!





Note to the north, we have built one of these before in Kent, you are saying nothing new. Kent recovered from the construction phase and the sky did not fall in Communities get on with things much as before and property prices rose because of the improved access to London and Europe. The noise reduction measures were good and in fact, made the M20 quieter (for some reason when this was built no noise reduction measures were built in -unlike for the railway).


Presumably like most high speed trains TGVs etc the new stock built for H.S 2 will be non tilt so once north of Lichfield will be restricted to 110 mph max through to Glasgow ,15 mph slower than the present stock,so whilst im sure HS2 when built will be a superb piece of railway it will offer little further north for all the money spent and years taken to build for many years to come till it gets extended further.

While I welcome any new rail infrastructure improvements, I think this awesome amount of money would be better spent improving the existing network, and expanding the network to areas that don't have a railway station any more. All a high speed line will do is improve journey times between major cities; it will do nothing for the rural areas and lesser towns.

the wcml is close to being at capacity already and the m1 and m6 are often very congested.

when people say upgrade the existing network they are effectively saying dont built new lines near me build them somewhere else as the major way of increasing capacity in the infrastructure is by more lines no matter where they are.

we do need and want hs2.

The Heathrow tunnel link looks vastly over-engineered, so it is unlikely to go ahead.

I prefer the 2M solution of a radial line from Heathrow around London, linking to all of the existing main lines. It doesn't need to be high-speed.

We aren't going to get trainloads of people from Heathrow travalling to many single destinations in England, so what's the point in complicating the route? Instead, send trainloads from Heathrow to intermediate stations around London and make it easy to interchange.

I'm pleased to see that common sense is prevailing at the DfT. Through running trains from the provinces to near European mainland destinations are an absolute must if the modal shift driving the environmental case for HS2 is to be realised. I'm still disappointed that the long overdue outline plans for the NW. England and Yorkshire/E.Midlands arms are still not in the public domain - presumably the idea was to allow consultation on phase 1 to begin before providing the NIMBY element with any more ammunition?

As yet another who will have to suffer not just 1 line but 3 including the two curves into the center of Birmingham that presently are planned to be 20 m in the air when it crosses over the M42 that is allready crossing the ordinary roads Hammond and HS2 have apparenly just chosen to ignore any possible mitigation by blythley saying no alternative could be found.

There is a possible alternative except that it requires land from Severn Trent who can hire expensive lawyers so they can be NIMBY's rather than the ordinary person to be shaken out of their home

A desperately disappointing decision. HS2 is a project that this country neither needs nor wants. It's absolute lunacy to be building what is essentially a duplicate WCML, particularly at a time of national crisis and when the £30bn+ costs could be more usefully invested in upgrading and reopening the national network.

There is a case for high-speed rail in the UK, but HS2 is not it. HS2 is a classic example of a political vanity project being sold as an essential infrastructure improvement. Just have to hope that a Tory rebellion brings down the current PM and a more common sense approach prevails. Labour have my vote if they promise to cancel this.

Read the 61 page consultation paper on how to link Heathrow with HS2 and you will see the name Northolt feature prominently. Could it be that Heathrow has its third runway already? It just needs some infrastructure to link it all up!!

It isnt just the financial loss that must be considered, it is the loss of community, the loss of belonging, home, quality of life within settled surroundings over many years to consider. No one to date speaks about these significant losses.
There are elderly people to consider who will by uprooting lose their orientation, who will find it very very difficult indeed to start again.
Is this what is called collateral damage, that does not warrant compensating?

If I'm not mistaken, all of the scenarios considered in the "High Speed 2 review of HS1 to HS2 connection final report" Do incorporate track realignment bridge changes etc, to enable GC gauge trains incl double deck. However my main concern is that the Government will go for for the single track option, which would only allow "4 trains an hour" (Hammonds words) given the appetite of DB and Eurostar for longer HS through routes, this part of the plan seems a bit short sighted.
detailed report is available at
www.dft.gov.uk/pgr/rail/pi/highspeedrail/proposedroute/hs1connection/