Posted 30th March 2011 | No Comments
National Express shake-up urged after DfT rejection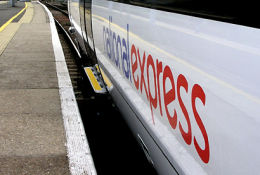 A SHAREHOLDER which owns almost a fifth of National Express Group is calling for a shake-up at Board level, following the revelation that the Group failed to be shortlisted by the Department for Transport for the next East Anglia franchise.
However, the position of chief executive Dean Finch and his management is not being called into question.
The US hedge fund operator Elliott Advisers holds 17 per cent of NXG, and wants changes to 'provide a fresh perspective'. EA is putting forward three candidates as new non-executive directors. They are Spanish banker Javier Alarco Canosa, entrepreneur Marc Meyohas and transport guru Chris Muntwyler.
In a letter to other shareholders, EA said: 'Now is the time to look to the next phase in the company's future, as we believe National Express requires a freshassessment of its growth opportunities and the positioning of its assets'.
National Express had faced a challenging period when it was forced to relinquish the East Coast intercity franchise in 2009, because revenue was lower than expected.
Its former chief executive Richard Bowker resigned in July 2009 and was succeeded by Dean Finch in February 2010.
Elliot has praised Mr Finch's performance since then, saying: 'We see exciting opportunities for National Express and believe existing management has done a commendable job in turning the company around.'
But it went on to warn that the Group does not face an easy ride in the near future: 'National Express faces fierce competitive pressures from European state players who have both strong balance sheets and low costs of capital. Particularly in the highly competitive UK transport market, we expect the company to be increasingly at a significant disadvantage.'
National Express said the membership of its Board was already under review, and new non-executive directors were being considered. A vote on any proposed changes is due in early May.