Posted 24th March 2011 | 16 Comments
National Express demands explanation for Anglia snub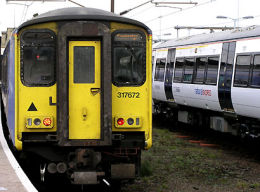 NATIONAL Express is 'seeking urgent clarification' after the Department for Transport omitted the Group from its list of shortlisted bidders for the Greater Anglia franchise, which NX runs at the moment.
Virgin, however, is one of the approved contenders for West Coast.
The next Greater Anglia, which starts in February 2012, is to run for just 17 months as part of the DfT's longer-term restructuring of the franchise pattern.
National Express had been demonstrably unpopular after it relinquished the East Coast franchise ahead of time in 2009. The transport secretary at the time, Lord Andrew Adonis, told journalists that he wanted to strip NXG of its remaining two franchises – c2c and National Express East Anglia – as well, although perhaps he was dissuaded from taking the matter further after a scrutiny of the small print in the franchise contracts.
More recently, following last year's change of government, NXG had appeared to be back in favour at the Department, having been awarded modest extensions of both its remaining franchises.
But today's list of shortlisted contenders for the next East Anglia contract has cast fresh doubt on NXG's standing in Whitehall, because the three who will now receive formal Invitations to Tender in April are Abellio Greater Anglia Limited (NV Nederlandse Spoorwegen), Eastern Railway Limited (Go-Ahead Group PLC) and Stagecoach Anglia Trains Limited (Stagecoach Group plc).
NXG chief executive Dean Finch said he would be seeking 'urgent clarification from the Department for Transport to explain this decision', adding: "We are naturally very disappointed. We believe we submitted a very positive and high quality pre-qualification document. We are also proud of the significant improvements delivered since we started running NXEA."
Meanwhile, although a consultation on the next West Coast contract is still in progress, the DfT has announced the names of those bidders who will receive the ITT in May, after the consultation has concluded.
The four on the shortlist are given as Abellio InterCity West Coast Limited (NV Nederlandse Spoorwegen), First West Coast Limited (FirstGroup plc), Keolis/SNCF West Coast Limited (Keolis SA and SNCF) and Virgin Trains Limited (Virgin Group Holdings Limited).
The Department said today that it expected to announce the successful bidders for both franchises in the autumn. Greater Anglia would start on 5 February 2012 and run for 17 months (expiring in July 2013) with an option to extend by up to one year. It added: 'This shorter franchise will allow time for reforms arising from the McNulty review into rail value for money to be properly considered and built into the terms of the subsequent Greater Anglia franchise.'
InterCity West Coast will start on 1 April 2012 and run for 14 years (expiring in March 2026) with an option to extend for a further year.
However, a complication has arisen because the Office of Rail Regulation has recently said that it will grant track access rights for West Coast for just ten years from 2012, and also expects to launch a recast West Coast Main Line timetable in December 2013. Bidders will have to bid for West Coast on the understanding that they cannot count on particular paths or timings.
Reader Comments:
Views expressed in submitted comments are that of the author, and not necessarily shared by Railnews.
So, lets see then, National Express is not shortlisted, yet the State owned rail operators from Holland and France are permitted to bid.

In case you all need reminding, Holland and France have not liberalised their own domestic rail systems, yet want to earn profits by bidding for operations in other countries. These two bidders ought to be rejected from the bidding process based on sheer hypocrasy alone.

A watchword for this current UK Government has been 'fairness'. How fair is it that Dutch and French companies have access to our markets, yet UK companies are blocked from theirs. I thought there were EU trade laws against this kind of stuff ?

Why is it assumed that NX have been snubbed? Civil servants who do all the work have to ensure that they can back up recommendations to their political bosses with reasoned judgeement according to strict criteria. NX should be asking and many other overserers would also be interested to know how they failed to meet that criteria. Judgement of past performance may have been a factor in NX not being shortlisted but at present we do not know.

Stagecoach should be removed. Frying pan to fire springs to mind. How about substituting Virgin instead, or are they not interested?

It seems that all Privatisation will soon have accomplished would be Nationalisation of our railways by other countries that did not privitise their rail networks!!!

Anyway with the cost of the tendering process and the ridiculous short terkm of this new award it would be better of NO ONE submits an offer and leaves he DFT to sort out the situation which might mean begging NX to continue running this franchise!!



What a complete waste of money a 17 month franchise is, which one way or another will end up being paid for by the public. Surely it makes more sense to extend NXEA for the extra time and then re-let whatever franchise emerges from the McNulty review on a much longer basis, say 15-25 years? It might even give NXEA the opportunity and impetus to put it's house in order before the group is kicked out of rail transport altogether. Constant refranchising helps no-one, passengers, employees or tax payers

I spotted this news story on Southend Echo newsboard outside a newsagents earlier to-day and odd thing was when I return by sister company C2C to Benfleet Station there was a crowd of ticket inspectors in attendance!!!

Odd thing is return after 9pm and the ticket office is closed and the railway seems to be free to use!!!

Perhaps if Stagecoach get NXEA it might link the lines to Cambridge to Waterloo via another Crossrail (just kidding!!).

Having had another half hour delay getting home on Wednesday night I am glad to see the back of National Express. Delays, cancellations, shabby trains, price hikes and passing the blame onto Network Rail is what I've come to expect from this lot despite having to pay them over 3 grand a year to travel to work. I hope things can only get better under a new operator.

The DfT are as guilty of failure as NXG, but looking at the companies brought forward to the tendering stage Stagecoach should be disqualified for their past performance as it will be replacing like for like.

I'm very pleased that NXG have been overlooked for the new franchise. They have invested next to nothing in their trains and stations and are seemingly creaming off the profits instead. The Class 315 interiors are 3rd world looking and really filthy. They can't even be bothered to have their livery painted on many trains.

Compare their poor standards to FGW or SWT, a marked difference.

That was a a bit 'Furious of Tunbridge Wells'! Apologies.



First are already running services on the WCML through the transpennine franchise. First also have experience on the Great Western route and they run the Anglo - Scottish sleepers. This is a company which has proven itself a competent operator when it comes to express inter-city services and would be my choice.

It's a pity it comes down to money and not capability.

It just goes to show than last minute cosmetic changes are not enough to secure a franchise...... Bye bye Nxea, you won't be missed!

The term for the Greater Anglia franchise is utter nonsense.

Staff will be TUPE'd over for between 17 and 29 months, which will give them a degree of uncertainty, and clearly no one has given much thought to them in this process.

And I'm not sure who looks the most stupid - Transport Secretary Hammond and his sidekick Cruella, for attending two recent high profile NX events, or NX for asking them.

Let's just hope that whoever takes over has the rest day and overtime issue sewn up,unlike London Midland !

After Arriva was swallowed up by DB, it was rumoured that Go-Ahead might be taken over by Keolis and also that First Group was being targetted by another large European transport concern. Therefore, without wishing to sound too nationalistic, the fact that - following DB and Abellio - SNCF have now come on to the scene by submitting bids for both franchises, it is a clear indication that the big European state-owned railways would dearly love to take eventual control of Britain's rail network.

Mr Finch must accept that the DfT will have made their decision based on the quality of the bids, and if other operators have lodged a more cost effective or ambitious bid, they are obliged to only allow those through to the final stage.

What a mess. Yet another reason to wrap the whole lot up into one big franchise that concentrates on putting passengers first for a change and save a lot of money that is wasted running the current franchise merry go round. It might even be possible then to offer a national timetable with good old fashioned connections across the network. If we are really brave it could be called British Rail PLC