Posted 1st July 2009 | 6 Comments
Bowker resigns from National Express — Government takes over East Coast services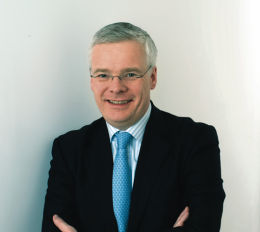 Richard Bowker
RICHARD Bowker has resigned as chief executive of National Express Group — and its flagship East Coast inter-city rail service is being taken over by the Department for Transport until the franchise can be re-let.

News of Bowker's resignation was given to the City shortly after seven o'clock this morning. Minutes later the Transport Secretary Lord Andrew Adonis went on BBC Radioi 4 to announce his department will take control of East Coast services.

He said all the NX East Coast staff would continue to be employed, that all tickets will be honoured and services will continue as normal.

It is not yet clear if the DfT will also take over responsibility for National Express's two other franchises — East Anglia ands c2c. The normal rules are that if a company defaults on one franchise it must also hand back others, too.

Lord Adonis said the action resulted from underlying financial problems in the National Express Group.

"The government is not prepared to renegotiate rail franchises because I'm simply not prepared to bail out companies that are unable to meet their commitments," Transport Secretary Lord Adonis told BBC Radio 4's Today programme.

Under the East Coast franchise National Express was contracted to pay premiums to the Government totalling £1.4 billion by 2015. But the present recession has depressed growth in the numbers of passengers travelling and led to others to trade down from First Class to standard tickets and cheaper fares.

Reports have suggested that National Express is likely to have lost around £20 million running the East Coast franchise in the first half of this year.

In a trading statement, National Express said that the "challenging economic environment" meant it was seeing fewer passengers on the East Coast Mainline, and "significant" levels of people downgrading from first class and full fares.

The last time a train operating franchise was taken back into public control followed Connex being sacked from running South Eastern. The action then was taken by the former Strategic Rail Authority — whose chief executive then was Richard Bowker. Later the franchise was re-advertised and let to Go-Via, which also now operates London Midland and last month was re-awarded the Southern franchise.

A Leeds-based customer services assistant for National Express East Coast, who also worked with GNER, the previous company running the East coast franchise,said: "We only heard about all this on the news this morning. Nobody from the company told us.

"We knew something was coming, but not as fast as this. It happened to GNER, and now to us.

"At least with the Government running us, we know our jobs are safe."
Reader Comments:
Views expressed in submitted comments are that of the author, and not necessarily shared by Railnews.
You can ofcourse do it the "Dutch way". One nationalised railway company for the core network and private bus company's run the regional lines as feeder routes for their bus network. It worked out well here with over 500% more passengers in 4 years time.

I think its time for a major change in the rail system, why dont the government listen to indsutry experts and not anks and so called bus companies running the railways, it does not work. Why dont they just let 1 company run InterCity Networks and then regionalise the rest, it makes more sense then re tendering the franchise as it will probably go to First Group who are not really that good at running trains FGW only last year was under threat from DfT. As for new possibilites i think Virgin Should be Given East Coast as well West Coast at least you know that the service will be better and the staff are not moanng 24/7

National Express has got its fingers burnt, what did they expect? Their franchise bid was unrealistic, GNER's then current bid was less than NatEx. Surely poor company strategy not to take into account possible changing cicumstances when bidding. The period for quick fixes to improve efficiency had already passed. Shareholders in these companies need to take their boards of directors to task and not expect the government and tax payers to support their dividends.

Its the whole bidding sytem thats at fault, they bid £1.4bn and even at the time it was widely acknowleged they could not make a profit while paying the government that much.

This closed bidding system has to go, if the government was really acting in passengers interest rather than the Treasurys then they would allow companies to say offset £200mn they would pay the government in return for extra investments or cheaper fares, instead they have to use secret bidding raising the price hugley and try and make it back through high ticket prices.

What are you on about mate go back to the pub. The whole debarcle is because of stupidy in government. What idiots even accepted the contract. Rather than have another stealth tax and install auto gates at every oppurtunity the government should have 20 yr franchises and share any profits or losses rather than demanding a payment watever the economic climate. Personally this is the beginning of the end of franchising. The railway should be split up on the old five BR regions including the infrasructure and sold or floated as independent entities no bus compnaies running them. It worked under the old LNER, GWR etc...

As for Southern Railway being the worst run company if you check the figures its Virgin that have the worst figures for trains ariving on-time. And Go-Ahead don't have the same problems that Nat Express do so they obviously doing something right. As for BR they were an utter shambles they closed 40% of the railway and didn't open any new lines not an inch.

Think before you rant!

This latest privatasion debacle only goes to show once again what a complete
waste of public money the present railway is ,if Nat Express have problems why were they awarded the franchise in the first place? there wasnt alt wrong with the prevous franchise.,it seems we as taxpayers are paying more in subsidies then ever was in the 'good old days'
And as for GoVia still running the SouthCentral franchise(the worst run railway....ever).
Makes the old BR look good tho'!