Posted 27th October 2023 | No Comments
Union claims ticket retailer will 'profit' from office closures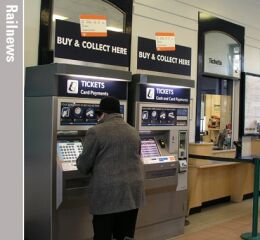 Updated 11.58

The RMT has launched a broadside against third-party ticket retailer Trainline, alleging that the company is 'profiteering' at the expense of passengers and taxpayers. The union claims that Trainline is also set to gain from ticket office closures.
The union has spoken out just days before the passenger watchdogs are due to announce their recommendations in connection with the proposed closure of more than 900 station ticket offices in England, to save costs. Under the proposals, staff would move out on to station concourses, where they could assist passengers directly, but the RMT has said that two thousand jobs would then be at risk.
The union has pointed out that passengers booking on Trainline are charged a booking fee, which does not apply on the official National Rail web site. Trainline is also entitled to the 5 per cent commission which is granted to third party retailers.
But the RMT added that Trainline's search criteria do not give priority to the cheapest ticket, and that its system does not always retrieve all the possible fares.
The company is expected to earn revenue of £200 million this year, while the RMT claims the closure of nearly all ticket offices in England will save only £100 million.
RMT general secretary Mick Lynch said: 'Private companies and contractors that are operating within the railways are making a killing while the government is pushing for the closure of all ticket offices.
'Half the revenue Trainline is expected to make this year could be used to help fund the railways properly, instead of the cost cutting agenda train operators have embarked upon with the ticket office closure programme.
'Passengers do not want algorithms in apps giving them the ticket that the companies want you to buy so they can make the most profit.
'They need ticket office staff who can recommend the best and cheapest ticket as well as making the railway a safe and secure place for all to go about their travels.'
Trainline responded: 'We are proud to be one of UK rail's biggest advocates helping attract more people onboard trains while saving our customers 35 per cent on average for their journey.
'Not only does our tech identify the best value journey for a customer's search criteria balancing price with ease and convenience, we continue to innovate to launch cost-saving products like SplitSave which we brought into the mainstream.
'The ticket office debate remains in the hands of Government and Industry who must hear the views of customers. If this leads to changes, we will help as much as possible to find solutions for affected customers and ensure the accessibility and sustainability of train travel can remain unrestricted.
'All retailers, including independent retailers like Trainline and Train Operating Companies, are paid the same flat commission rate by the industry for online ticket sales, which is lower than the commission paid by the industry for sales through ticket offices and ticket vending machines.'