Posted 5th September 2023 | 1 Comment
Ticket office closures 'discrimination by design'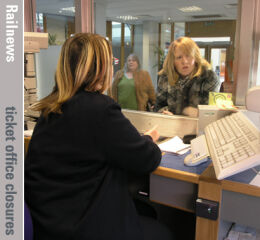 The proposed closure of most station ticket offices in England has been condemned as 'unlawful' by a local authority in the east of England.
The Cambridgeshire & Peterborough Combined Authority said it had voiced its 'deep concern' about the effects of scrapping ticket offices, which are set to close at many major stations in London and elsewhere as well as in smaller places.
The consultation closed at midnight on Friday and has attracted 680,000 responses, according to the passenger watchdogs Transport Focus and London TravelWatch, which now have the task of sifting through the responses and making recommendations by the end of October.
The Combined Authority in Cambridgeshire and Peterborough has sent its own response, which describes the process as 'flawed', which means that it is unlawful. The Authority is calling for the consultation to be restarted, because it says it fails to 'inform the public properly of the plans'.
The authority alleges that the process is unlawful because it says the plans to discontinue use of parts of railway stations do not comply with section 29 of the Railways Act 2005.
It also says Equality Impact Assessments of the planned changes at individual stations should have been made available to inform anyone considering the effects of the proposals.
Without these, the Combined Authority argues that the effect on vulnerable people, such as those with poor vision or limited mobility, or those who need to get the cheapest travel, can't be properly assessed.
It says: 'Any fair consultation gives enough time and detail to enable intelligent, meaningful comment and that the information is shared in a way accessible for all would-be participants.'
It also asks for a figure to be put on staff changes at each station and says that 'staffed, accessible ticket offices are an essential part of the rail network and must be protected'..
The Mayor of Cambridgeshire & Peterborough Dr Nik Johnson added: 'As I've said from the start, fully staffed and properly accessible ticket offices should be treated as an essential, non-negotiable part of the rail system.
'As a Combined Authority, we've made our position known to the train operators, objecting to their proposals for widespread closure, and making clear our concerns about a consultation process that risked preventing meaningful participation.
'So much of our work is dedicated to improving public transport such that it become the obvious choice for more and more of our residents. These proposals fly in the face of that approach, as stations without ticket offices could become no-go areas for many, wilfully excluding people who require support, and denying access to those who can't buy their tickets online.
'This is discrimination by design and must be opposed.'
Last night the Rail Delivery Group said: 'We appreciate all the input we've received so far from the public and stakeholders. We want all our passengers to feel supported during any transition, and train companies will now work with independent passenger bodies at a local level to take on board the feedback.
'In the meantime, we will continue to engage with passengers, accessibility and safety groups to make a better and more robust railway.'
Reader Comments:
Views expressed in submitted comments are that of the author, and not necessarily shared by Railnews.