Posted 12th September 2023 | No Comments
Protests mount over proposed ticket office closures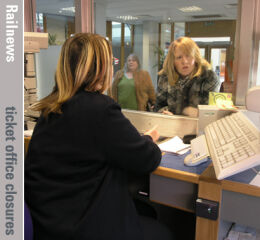 Opposition to proposals to close nearly all station ticket offices in England is growing, as more local authorities voice their objections. At least one is calling train operators to account at a special meeting, while a Mayor has tried using a station while his vision was artificially limited.
Cambridgeshire & Peterborough Mayor Dr Nik Johnson joined Royal National Institute for Blind People campaigners at Ely station, where Greater Anglia is proposing to close the ticket office.
He was given three sets of special glasses that simulate a range of eye conditions. He then tried to find his way around the station and use the ticket machines. The first set replicated total loss of peripheral vision, the second age-related macular degeneration, and the third, cataracts.
Wearing the glasses and assisting himself with a white stick, the Mayor had to negotiate his way through station doors, find available ticket machines and try to work them, getting a taste of what travel would be like for blind and poorly-sighted passengers without the help of ticket office staff.
Dr Nik Johnson is medically qualified. After the trials, he said: 'I'm very grateful to the RNIB for the chance to experience what using train services is like for blind and partially sighted people. It was incredibly humbling, but also hugely motivating, and I'm determined to make sure public transport is there for everyone, including the campaign to keep properly staffed, fully accessible ticket offices open.'
Meanwhile, Devon County Council is taking separate action to counter the closures plan. This would affect every staffed station in Devon, including the major junction of Exeter St Davids, where 183,315 tickets were sold at the office last year, which was 12.1 per cent of the total number of journeys. The council has invited Great Western Railway and South Western Railway to a meeting at County Hall, where they will be questioned.
A national consultation about the closures ended on 1 September, and the passenger watchdogs Transport Focus and London TravelWatch are now sifting through a total of 680,000 responses. They are due to make recommendations to the transport secretary by the end of next month.