Posted 3rd July 2023 | No Comments
ASLEF starts overtime and rest day working ban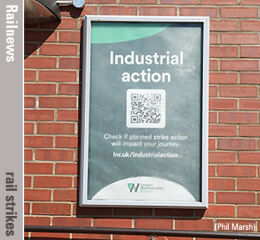 Train services in England could be cancelled or altered at short notice, because a ban on overtime and rest day working is being staged by the drivers' union ASLEF from today until Saturday.
The restriction is part of the union's continuing dispute with the industry over pay.
The union's general secretary Mick Whelan said: 'Once again we find ourselves with no alternative but to take this action. We have continually come to the negotiating table in good faith, seeking to resolve the dispute. Sadly, it is clear from the actions of both the train operating companies and the government that they do not want an end to the dispute. Their goals appear to be to continue industrial strife and to do down our industry.
'We don't want to inconvenience the public. We just want to see our members paid fairly during a cost of living crisis when inflation is running at above 10 per cent, and to not see our terms and conditions taken away.
'It's time for the government and the companies to think again and look for a resolution.'
National Rail is warning that problems are most likely on Chiltern Railways, Govia Thameslink Railway (all divisions), Greater Anglia, Great Western Railway, South Western Railway (including Island Line) and TransPennine Express. GWR said its sleeper services between London and Cornwall will not run again until Sunday night.
Other operators who may be able to provide their full timetables are Avanti West Coast, CrossCountry, East Midlands Railway, LNER, Northern, Southeastern and West Midlands Trains.
Operators who are not expecting to be affected, including those which are outside the scope of the dispute, are c2c, Caledonian Sleeper, Docklands Light Railway, Glasgow Subway, Grand Central, Elizabeth Line, Heathrow Express, Hull Trains, London Overground, London Underground, Lumo, Merseyrail, ScotRail, Transport for Wales and Tyne & Wear Metro.
Meanwhile, ASLEF cancelled a strike which it had called for yesterday on Avanti West Coast, after a 'sick note policy' was withdrawn.
Mick Whelan said: As we have always said, we want to maintain a culture of positive industrial relations. This outcome shows that when management come to the table and understand our members' perspective we are able to resolve issues effectively.'
More serious disruption is expected later in the month, when the RMT stages three 24-hour strikes which will affect the majority of operators in England, on 20, 22 and 29 July.