Posted 27th May 2022 | No Comments
Pay offer for ScotRail drivers improved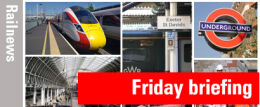 Drivers at ScotRail have been offered an improved pay increase from 2.2 per cent to 4.2 per cent, according to reports. It's understood that it followed new talks with the drivers' union ASLEF. The earlier offer had contributed to a driver shortage, and as a result ScotRail axed a third of trains from its timetable at the start of this week, withdrawing about 700 services so that the rest could run more reliably with the resources available. ScotRail is said to have described the offer as 'final'. The increase will now be put to ASLEF members in Scotland.
Wheels fault subject of formal investigation
A formal investigation has been launched by Transport for London into faults affecting wheels on the Metropolitan Line's S8 fleet. The timetable was reduced for a while, but a full service was restored earlier this month. The Mayor of London Sadiq Khan has ruled out suggestions that wrongly set lathes could have been to blame, but he confirmed in a reply to Conservative London Assembly member Susan Hall that an investigation has started.
US company makes offer for FirstGroup
FirstGroup has said it was considering a takeover offer from a US private equity company. I Squared is offering 118p a share plus a possible 45.6p. The approach has followed the sale of First's USA businesses First Transit school bus services and Greyhound coaches. In Britain First runs Great Western Railway and TransPennine Express. It is also the majority shareholder in South Western Railway and Avanti West Coast, and recently launched open access services between London and Edinburgh under the brand name Lumo.
Rail performance falls back
New figures published by the Office of Rail and Road show that nearly all operators ran fewer punctual trains between January and March this year, as Covid restrictions were lifted. Even so, punctuality was still better than before the pandemic. Between January and March, 1.64 million trains were planned. Of these, 72.4 per cent arrived on time, 89.1 per cent arrived within five to 10 minutes of the booked time and 3.9 per cent were cancelled. Only Greater Anglia improved its punctuality in the first quarter of 2022, while most operators' reliability got worse.