Posted 31st March 2022 | 7 Comments
Passenger figures bounce back to 80%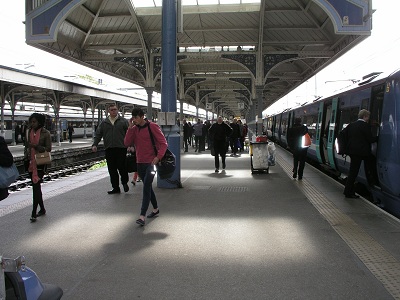 ---
THE latest figures from the Department for Transport show that railway passenger figures made a strong recovery in March.
The peak day was 18 March, when passenger figures reached 80 per cent of pre-lockdown levels, but the totals during the rest of the month were mostly more than 70 per cent.
The figures compared very favourably with the lowest levels seen in April and May 2020, when they dipped below 5 per cent in response to the first Covid lockdown and its restrictions on travelling.
The Railway Industry Association's policy director Kate Jennings described the figures as 'hugely positive'. She continued: 'To have around 80 per cent of pre-Covid passenger levels during the middle of this month, only a matter of weeks after the end of Coronavirus restrictions, shows that passengers are returning in good numbers. These statistics are especially strong over the weekends, which is a clear vote of confidence in using rail for leisure travel.
'Taking the train is a safe and sustainable way to travel, helping connect communities and driving economic growth. We hope to see these numbers continue to rise.'

---
Reader Comments:
Views expressed in submitted comments are that of the author, and not necessarily shared by Railnews.
Well Mr Smith of Bletchley where did you get the idea that my comment fitted into the idea of wholesale support for public/private ownership? My comment is directed at Northern trains specifically. Experience shown that Arriva/First were in the business of expanding services. Northern now clearly not when perusing the May timetables.
My suspicions are the the Mayor of Manchester's comments in the past had coloured a lot of the travelling public's views in the north making them anti Arriva/First. Of course there was going to be delays with Northern's operators at the time trying to run a service when electrification works to make for a reliable and enhanced service were being carried out. Complaints re overcrowding on TPE services when the comments were made 5 car Nova units were being introduced replacing the 3 car Siemens sets. Did he ever travel by train begs the question? Horses for courses indeed without added political agenda.

My apologies for making a point I've rather laboured in the past, but it seems relevant here.
The old argument between supporters of wholesale public or private ownership / operation assume all the railway's diverse passenger services can be best run in the same manner.

Perhaps we need "horses for courses" rather than "one size fits all" ?

Time someone told Northern. Running reduced timetables with less trains through to December and further reduced from May. If this is what you get from a government run company forcing people like myself into the car because for example the service from Hull to Halifax will be reduced from hourly to two hourly bring back Arriva or First. These companies enhanced services to make more profit and didn't run trains to fit a budget. Got what you wanted Unions, don't bleat when staffing levels are cut as a result.

Huge denial here. What about passenger revenue relative to 2019?!!! And what is the variation across TOCs?!!! Rail in UK still depends on a £1bn a month handout to run processions of near-empty trains; money that could/should be far better spent eg social care.

[The Commons transport select committee was told on Wednesday that leisure travel by train reached 104% of pre-Covid levels in some areas during March. It was also told that revenue and passenger numbers rise and fall roughly together. The railway is not receiving £1bn a month. There has been total support of £14 billion since March 2020, which is an average of £580 million a month. The Committee was also told support levels are now falling as passenger numbers recover. The DfT said it expected passenger numbers to level off (reach a 'plateau') eventually, but at the moment they are still rising.--Ed.]

So if this is the case then we need to see full reinstatement of the timetable so that we don't go back to having people wedged in like sardines and there needs to be more of a duty of care on the TOCs to reduce this in my view... Martin

Took my first trip to Didcot Railway Centre by train last Saturday with the Grandchildren. First trip for over 2 years. Plenty of room with little contact with other passengers both directions. But I don't think as a 72 year old I'm going to risk London and its Underground yet. Actually it was sharing a Car with my Grandchildren back in October for 2 hours which is when they gave me Covid.