Posted 23rd May 2022 | No Comments
First day of reduced ScotRail timetable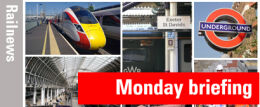 ScotRail's new timetables have come into force today, cutting the number of trains by a third. ScotRail has axed around 700 services because continuing staff shortages have meant that the service was unreliable, and ScotRail said the new timetables would be easier to achieve with the staff who are available. The new timings have been bitterly criticised because the last trains on many routes are now running earlier, cutting late night links between major towns and cities. The driver shortage is being attributed to the effects of the pandemic, which hampered driver training, and also a continuing pay dispute with ASLEF which had reduced the number of drivers who are willing to work overtime. The union has rejected a 2.2 per cent increase for drivers on the grounds that inflation is much higher. ASLEF and the RMT have warned that strikes could follow, and are balloting their ScotRail members.
Elizabeth Line on final countdown
Services on the Elizabeth Line are due to start running between Paddington, Liverpool Street and Abbey Wood tomorrow morning, The central London section had been due to open in December 2018. but the Crossrail project was delayed by problems with the construction of stations and the proving of signalling software, while Bond Street will not open until later this year. The cost of the project has also risen by more than £4 billion. Trains from Reading and Heathrow will continue to terminate at Paddington for the time being, while trains from Shenfield will go no further than Liverpool Street.
First train calls at new station
Train services returned to a Scottish village this morning for the first time since 1964. Reston station has been rebuilt, and the first train to arrive was the 06.16 from Edinburgh, to be greeted by a piper on the platform. The station will also be a new railhead for the nearby town of Eyemouth. A TransPennine Nova train has been named 'St Abb's Head' after a coastal nature reserve north of Eyemouth to mark the occasion.