Posted 3rd February 2020 | 10 Comments
HS2 decision could be imminent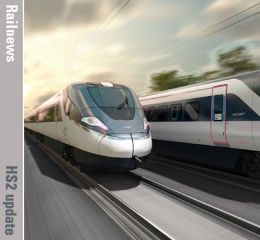 RUMOURS are growing that HS2 is about to be given fresh approval, even if timescales have lengthened and costs have almost doubled.
Chancellor Sajid Javid met the Prime Minister before the weekend, and it was reported that the Treasury will support the project.
While the key Oakervee Review of the project is awaited, Network Rail chief executive Andrew Haines is also understood to have warned that that alternative upgrades to existing main lines, which are virtually full already, could take almost 30 years, and that there would have to be regular and disruptive weekend possessions on the East Coast Main Line alone until the 2040s unless HS2 is built.
Speculation that a thumbs-up for the high speed project is imminent has been fuelled by the Prime Minister. Speaking on Sky News, Boris Johnson told a 10-year old interviewer that 'in a hole the size of HS2, the only thing to do is keep digging'.
However, Mr Johnson also criticised the project's management as 'hopeless' in the same interview, accusing them of wasting money and leaving 'a mess'.
Not everyone is in favour of HS2, including the now routine opposition from campaign groups such as StopHS2 and also continuing criticism from Lord Berkeley, who had been Douglas Oakervee's deputy until almost all the review team, including Lord Berkeley, were stood down at the start of November, leaving Mr Oakervee and DfT officials to complete their research unaided.
The Government is still declining to say when the Oakervee findings will be made public. Mr Johnson has only told MPs that the decision will be made 'very shortly'.

Reader Comments:
Views expressed in submitted comments are that of the author, and not necessarily shared by Railnews.
John, London a section of HS2 in Calvert area will be built on former GCR route but built to 21st Century standards .

While news today of go ahead for East West rail central sections which cross HS2 at Calvert so perhaps a new interchange station between East West Rail and HS2 at Calvert plus direct link from East West rail to HS/ to allow through running from Wales and West Country and HS2 ?


Odd thing is MPs in Chiltern area have opposed to HS2 have supported East West Railway yet they both occupy same amount of land!

Newsflash 1: the Chiltern line into Moor St is also at currently at, or close to, capacity. The plans for Midlands Hub will put more trains there via the Camp Hill chords, with some extra track. To suggest the main London service could divert there as well as trains from Moseley and Water Orton is ludicrous.

Newsflash 2: grade separation at Stechford would have negligible effect in improving Bham-Cov, but at immense expense in terms of £s and Network Rail disruption, including the inevitable overruns. (Many intermodals use Cov-Nuneaton!) The main problem on the corridor is the mix of fast and slow passenger services.

Newsflash 3: HS2 is the only show in town. It relieves the entire WCML, both the Trent Valley, and the original route or "bypass" as some call it!

Coventry-Birmingham is on the WCML Birmingham bypass, not affecting fast north south inter-cities. BTW, The London-Birmingham/West Mids trains can go back on the Chiltern Line which again will alleviate the WCML south from Birmingham.

Also East West Rail have proposed running a Milton Keynes service on the Chiltern. London-Aylesbury- Calvert-on to Varsity east- Bletchley-MK. Again trains taken off the WCML.

Capacity is everywhere if you look. With just reinstating Beeching Cuts lines.

Yes, I've experienced the Coventry - New street congestion myself.


A large part of this seems to be due to heavy container freight traffic to Southampton .This could be largely cured if a new grade separated junction were rebuilt at Berkswell to take this freight traffic direct to Kenilworth, bypassing the Coventry area, together with a grade separation at Stechford Jcn.

Just replace the current management team, and get on with delivery of HS2, with accelerated timescales ideally.

John (London) - the most congested mixed traffic railway in GB is Cov-Bham. Trains are unreliable, 'expresses' routinely crawl behind freights/stoppers, and peak trains are packed. Daily commuters are forced to stand, often not just in vestibules but along aisles. That's before allowing for continuation of the growth we have seen for 20 years. How would reopening the GC south of Rugby assist, exactly?

Thirty years to upgrade the ECML? Nonsense. It just need the bottlenecks removed.

Capacity problems on the WCML south of Rigby they keep telling us. A 33 mile disused section of the Gt Central Line from Rugby to Calvert can be reinstated giving a full "fast" bypass of the south of the WCML right into London.

They must think we are stupid.

The timescale for an upgrade to the existing main lines sounds fine, but no mention is made of the cost. Imagine rebuilding all the bridges and moving the M6 in order to upgrade the WCML alone. Probably more than building a new line. No mention of costings from people who just want to scrap HS2. So whilst building a new line, it may as well be a fast one. So we can scrap the idea of 3rd runway at Heathrow on the basis that trains are greener than planes. A high speed link from HS2 into Heathrow would remove the need for quite a few existing connecting flights to the midlands.

Whoever is at fault in all this, we on the route of the forthcoming (?) Eastwest rail line have been waiting for 25 years for anything to actually be done in terms of physical infrastructure. Meanwhile, no end of consultations and senior appointments seem to have been using up taxpayer funds over this period, which ought to have been paying for the infrastructure.

Is this particular to this country? Is HS2 subject to it?

Personally, I'd prefer a more "horses for courses" approach, with a separate high speed line on an ECML alignment targetted at centres further north than Manchester and Leeds ( Northeast England and Scottish Central Belt) , with capacity relief for the WCML achieved with conventional new infrastructure largely based on the former Great Central route.

If and its still a big if,the vanity project AKA HS2 does go ahead better not give it to Not Work Fail they couldnt build a lego railway! its taking them a month to clear up a low speed derailment at Eastleigh plus 3 months for a landslip between Redhill-Tonbridge.not forgetting track and signalling failures 24/7.